KMRC Skrifa – The Great Western Pannier Tanks


With the arrival of the brand new, long anticipated and highly popular 94xx class of pannier tanks from Bachmann and with the 16xx class from Model Rail Magazine, we take a brief look at the background of the very characteristic Great Western Railway 0-6-0 pannier tanks that continued to built by British Railways until the early 1950s. We also round up the pannier tank models currently available.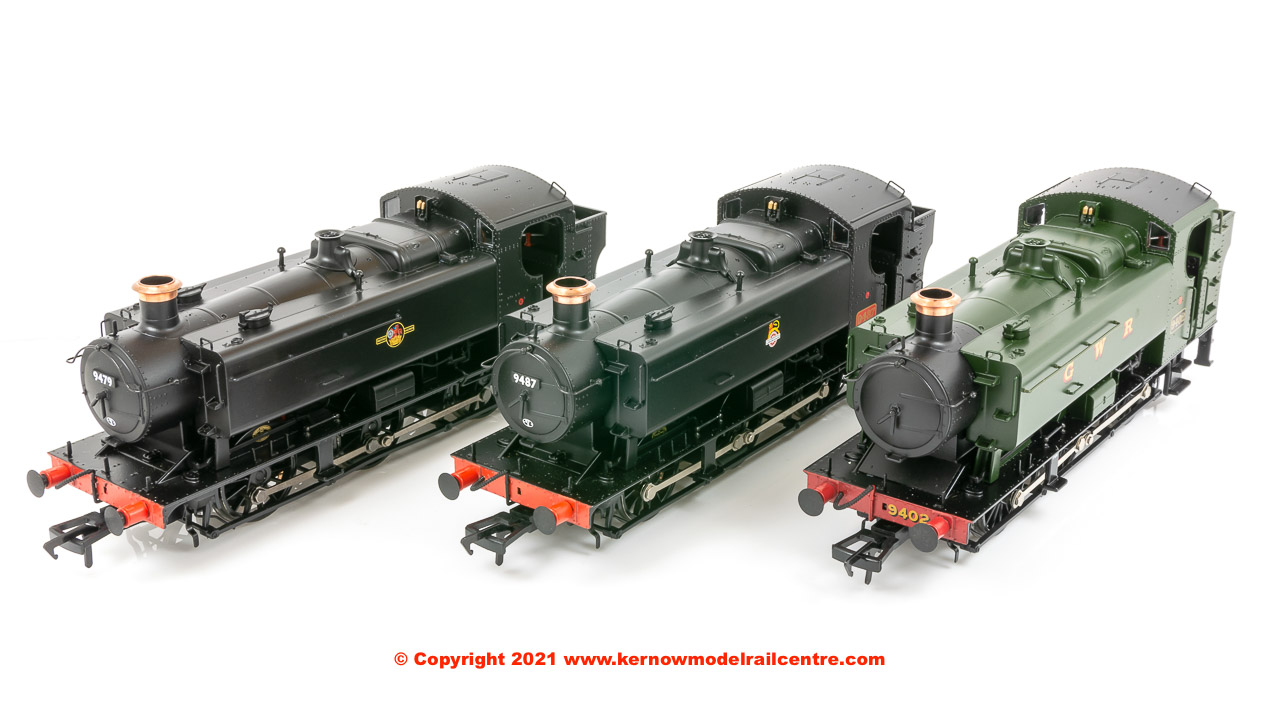 The majority of the early Great Western Railway tank locomotives were saddle tanks, where curved tanks were mounted across the top of the boiler, as the GWR did not favour rectangular side tanks. Many were later fitted with the square topped Belpaire fireboxes so to make the construction of the tanks easier they were replaced with the pannier type supported by and carried on both sides of the boiler.
The first rebuilding of saddle tanks with Belpaire fireboxes and gaining Pannier tanks commenced in the early 1900s and the rebuilding continued until on a pretty much ad-hoc basis beyond Nationalisation in 1948.


The one class of saddle tanks that escaped being rebuilt with pannier tanks is our very own 1361 class that were built in 1910 and lasted until withdrawal in 1961/2. For more information on the 1361 class see our dedicated page to our models here>>>


Subsequent tank locomotives were built as with pannier tanks from new commencing with the 57xx class in 1929. The last of the GWR pannier tanks designs were built in 1956. Such tanks can be classified as either small tank engines with a wheelbase, less than 15' or large tank engines with a wheel base larger than 15'. Driving wheel diameters also varied between classes (shown in brackets below).

Small pannier tanks

The small wheelbase locomotives built from new with pannier tanks include the Collett 54xx (5'2"), 64/74xx (4' 7.1/2") and the smaller 1366 (3'8") classes introduced between 1930 and 1934. The 70 strong Hawksworth 16xx (4' 1.1/2") class were built by British Railways between 1949 and 1955.

In model form the versions of the six 1366 class were produced by Heljan, but not currently available.
The 16xx class are now available having been commissioned Model Rail Magazine, and produced by Rapido, and can be ordered via the Model Rail Offers website here>>>

Although having a short wheel base the Hawksworth 15xx (4' 7.1/2") class of ten 1949 built pannier tanks had a large boiler and these were announced by Rapido UK in December 2020 and are planned to be available during 2021/2.

Large pannier tanks


The Collett 57xx, 8750 and 9700 (4' 7.1/2") class were first introduced in 1929 with 863 being built up to 1950. They were the not only the largest class on the GWR but also the largest class of any British steam locomotive. The 8750 sub class first introduced in 1933 had a higher and improved cab to give better protection to the crew. A further variant of the class were the eleven 97xx class built in 1933/4 for use between Paddington and Smithfield Market on the Hammersmith and City line fitted with condensing equipment and part of the tanks extended down to footplate level, and were also with modified ATC equipment and London Transport tripcock brake valves.
A variety of detail changes occurred during the building of the class that included: whistle shields, additional bunker steps and hand rails, shutters and doors and different top feed arrangements. As always with any modelling refer to prototype photographs for reference.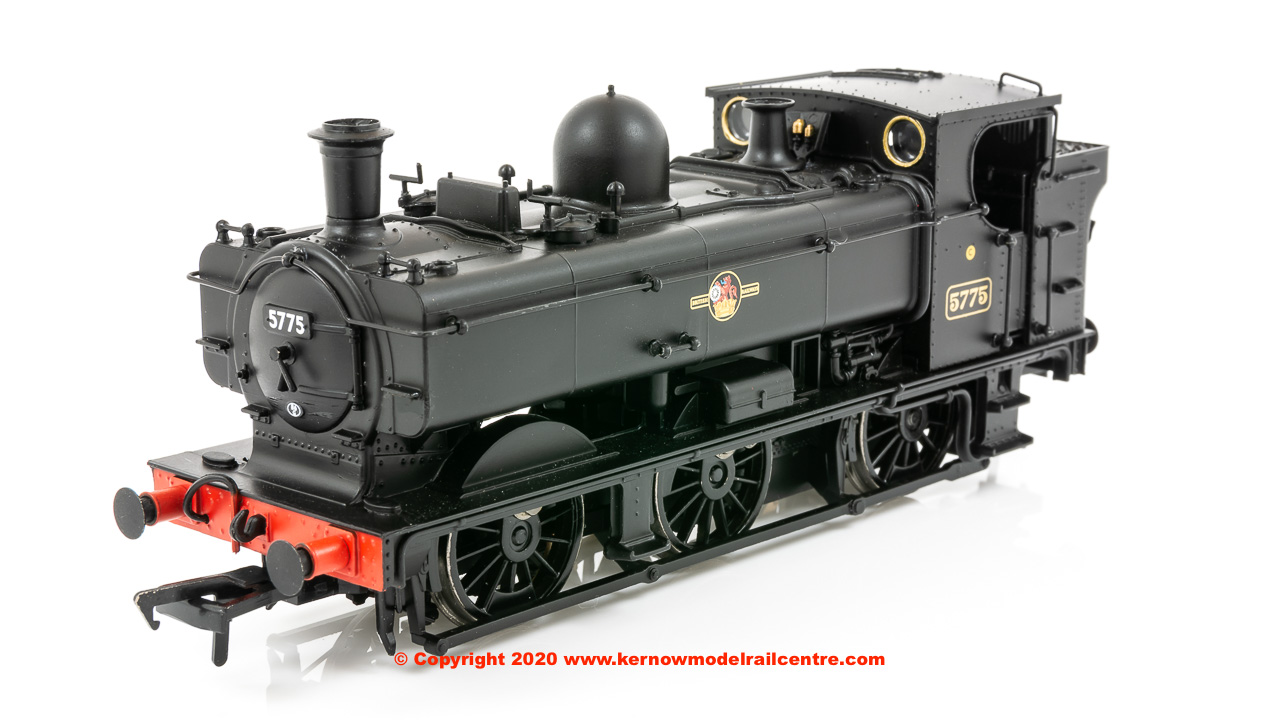 The Bachmann 32-216A 32-216A GWR 57XX pannier tank 5775 in BR Black is seen left, it's smaller cab compared to the 8750 class version below can be seen.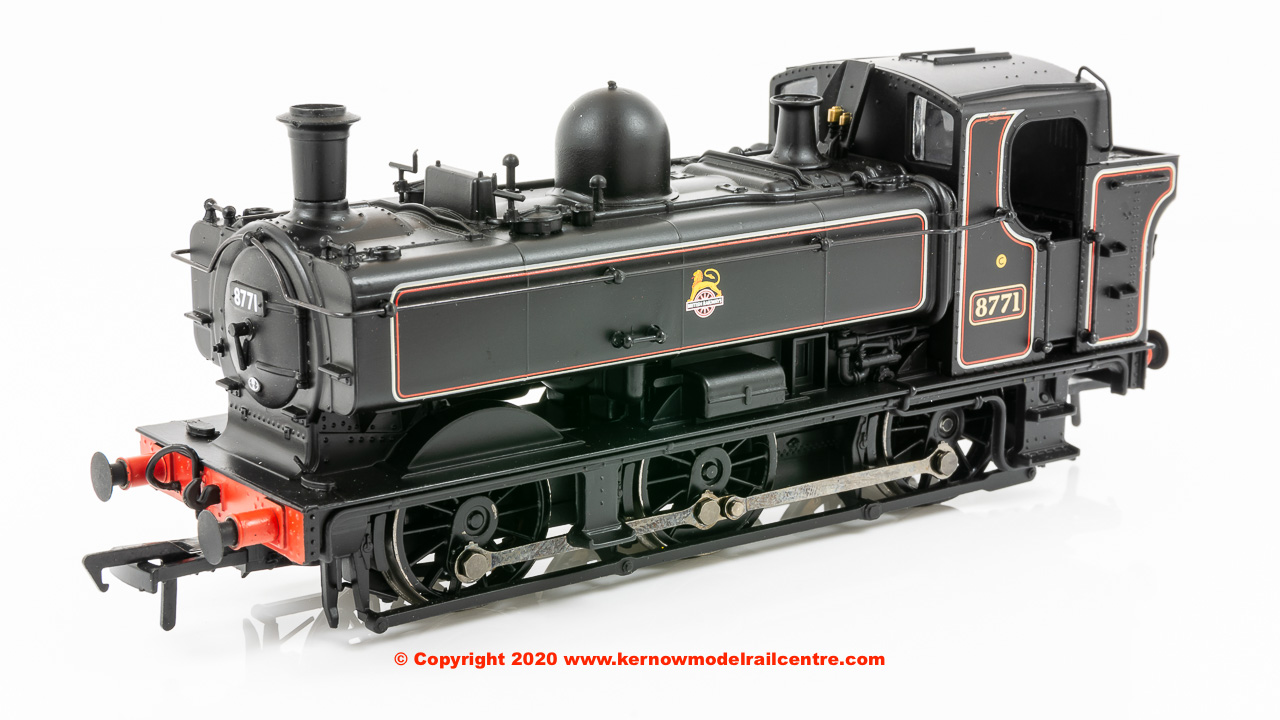 The Bachmann 32-250A GWR 8750 pannier tank 8771 in BR lined black, left, the rectangular spectacle plate front and rear windows are one of the identifiable features of the 8750 class when compared to the round spectacled 57xx/class.


The Hawksworth 94xx (4' 7.1/2") class were essentially the final development of the pannier tank designs, whilst powerful their weight gave them a limited route availability. The first ten were built by the GWR in 1947 with a further 200 being built by contractors for British Railways and the last member of the class was introduced in 1956.

Bachmann have initially released three different numbered versions of the powerful looking 94xx class they have proved to be immediately popular and only two of the Sound Fitted versions versions are still currently available, (note the Bachmann Sound Fitted versions still produce a range of sounds when operated on DC).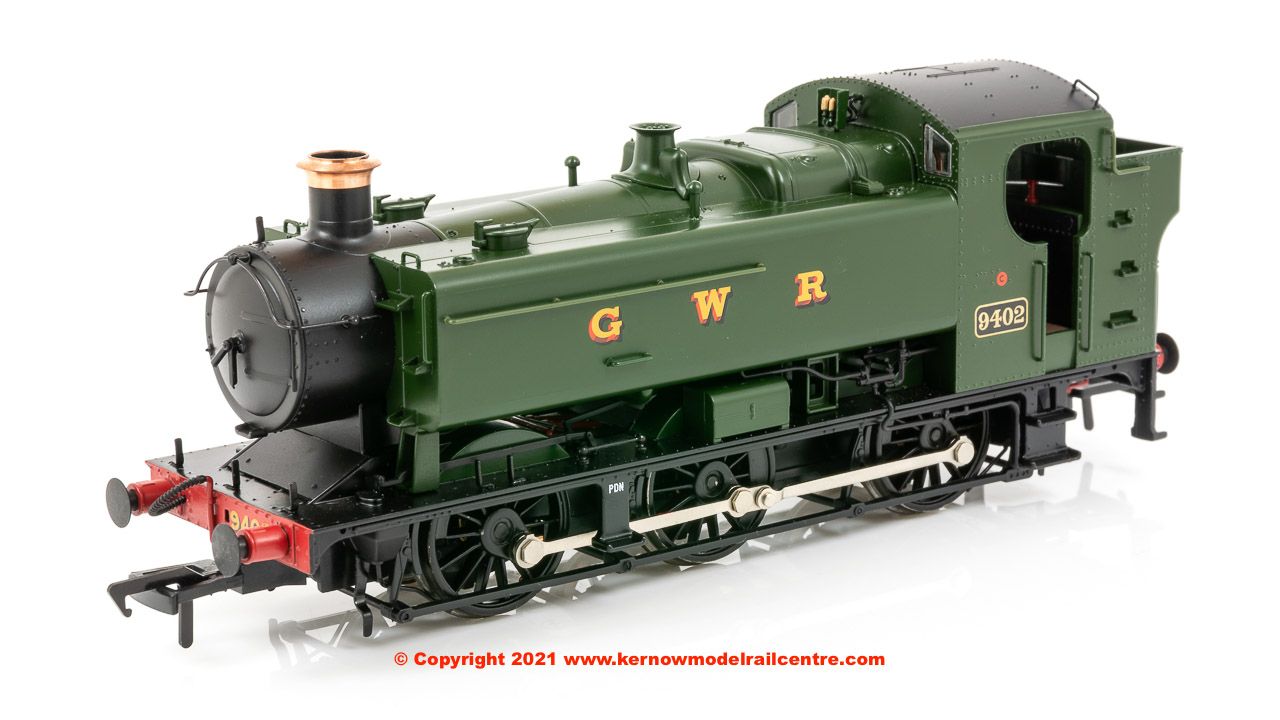 35-025 94xx pannier tank number in GWR green (SOLD OUT)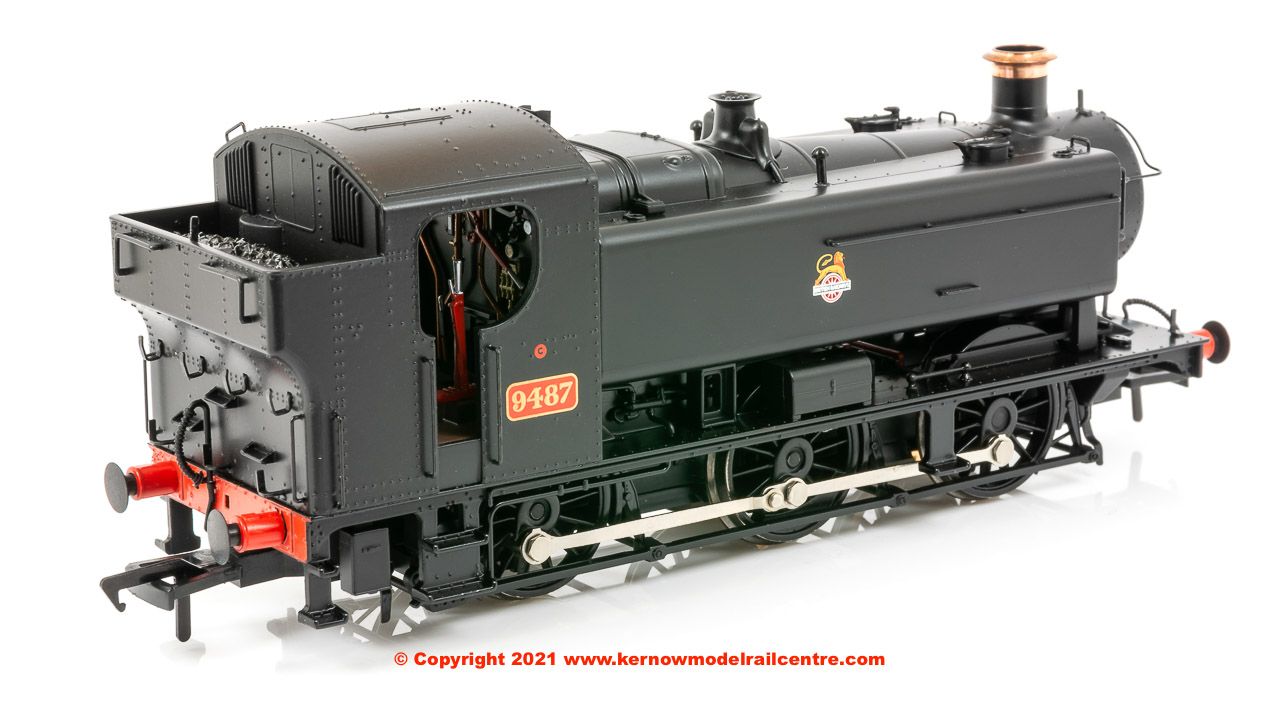 35-026SF 94xx pannier tank number 9487 in BR black with early emblem Sound Fitted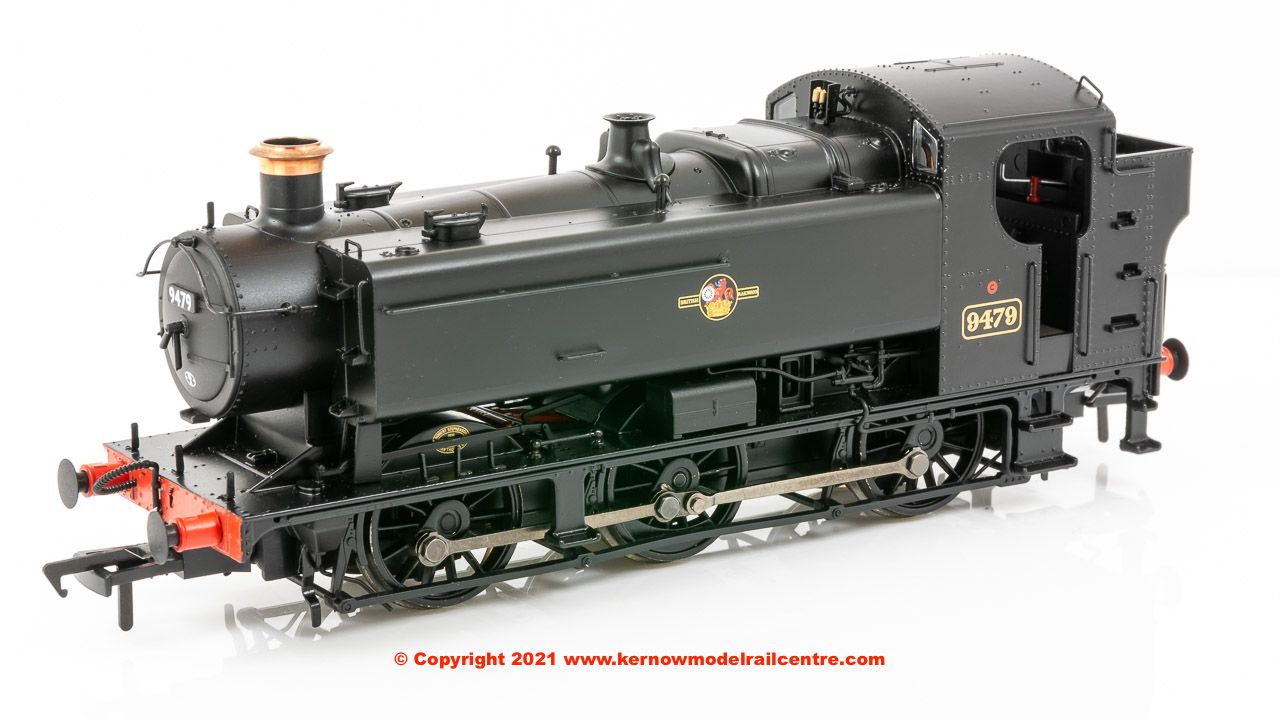 35-027SF 94xx pannier tank number 9579 in BR Black with late crest Sound Fitted

For N Gauge modellers Dapol have produced both the 57xx and 8750 classes and for more details on these models click here>>>


Many other pannier tank models have been produced in the past including versions from Hornby, Replica and Bachmann.

Our Skrifa post is only a brief summery of the history of the GWR pannier tanks for further reading we recommend the GWR modelling site here>>>


Keep in Touch

We also publish regular project updates on our "Latest News" section here and also in our Weekly newsletter, if you are not already signed up for the newsletter you can do so here.

What do you think? Get in touch with your thoughts, suggestions for future post or suggestions for future models!


Please use kernowshow@live.co.uk to get in touch! Please note that although all emails to this address will be read, we will not be able to reply to every email.


For general email enquiries, order tracking etc, please use the Contact Us section of our website as usual.