LSWR Covered Van - Diagram 1410 - O Gauge


We have commissioned the LSWR Diagram 1410 Covered Van in 0 Gauge as an Exclusive model with the tooling owned by Kernow Model Rail Centre.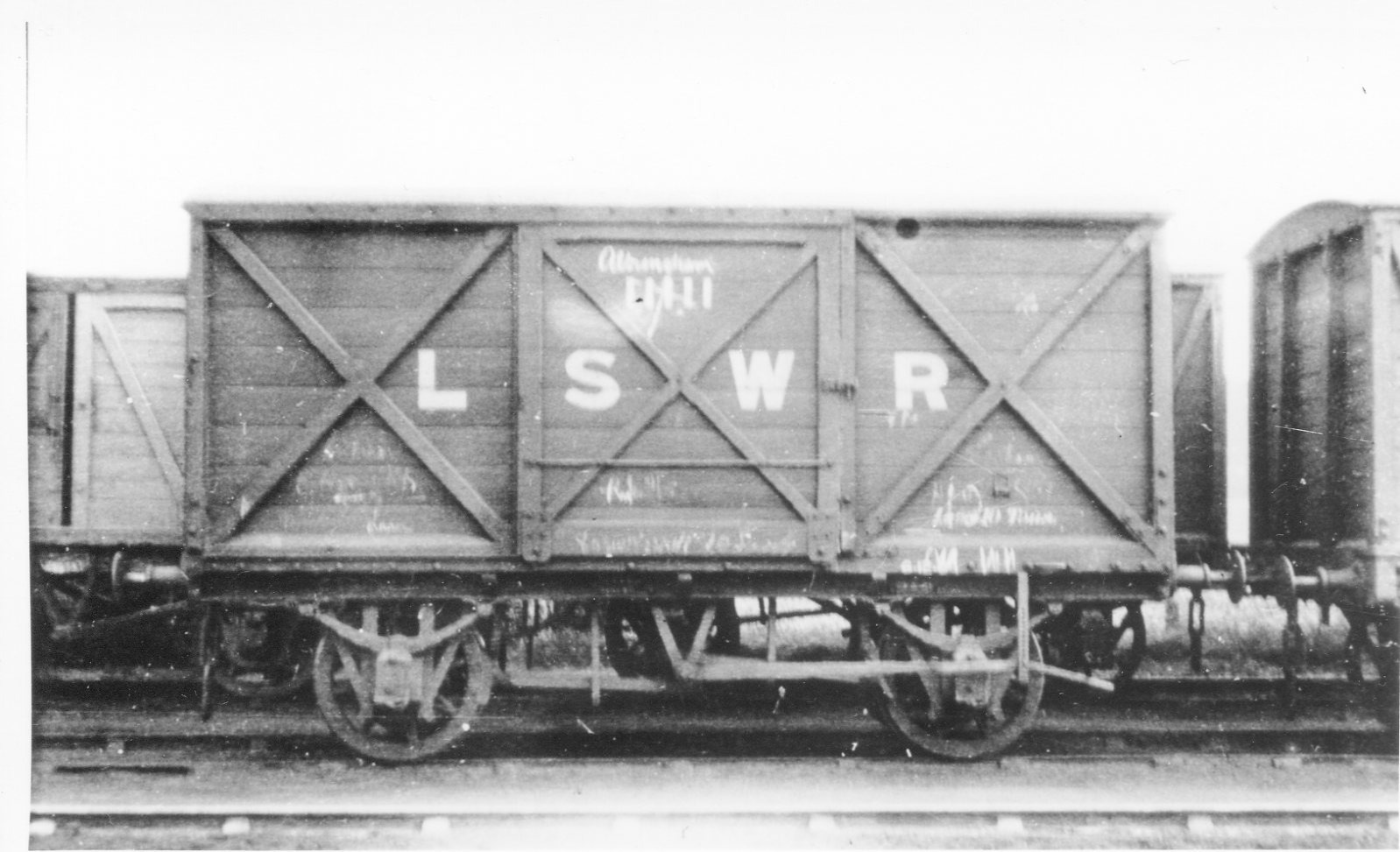 The numerous LSWR 10 ton covered vans were built between 1885 and 1922 to a few different diagrams as the design was developed. Different body styles were combined with either timber or steal chassis with two axlebox types; Panter or Warner's, and several different brake systems.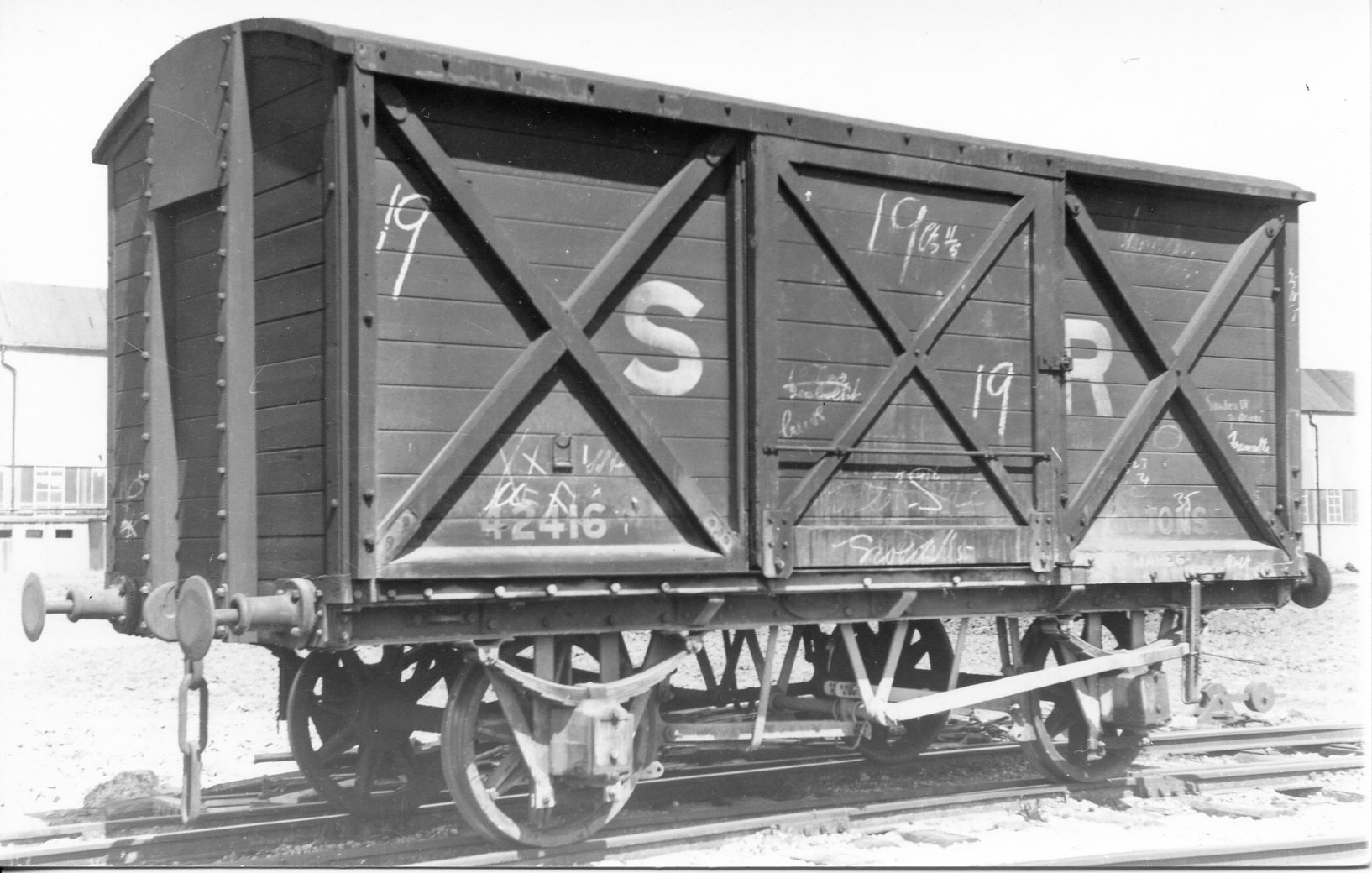 The low roof, sliding door Diagram 1410 covered vans were the most common LSWR covered van with well over 1000 built. Although many were scrapped or entered departmental use before Grouping many passed into SR ownership at grouping with a number, many in departmental use, surviving beyond nationalisation.

Brake gear varied from: single sided double block, 'Morton Clutch', the rarer for this diagram 'Lifting Link' and most commonly what the SR called 'Freighter' that had independent brake gear on each side.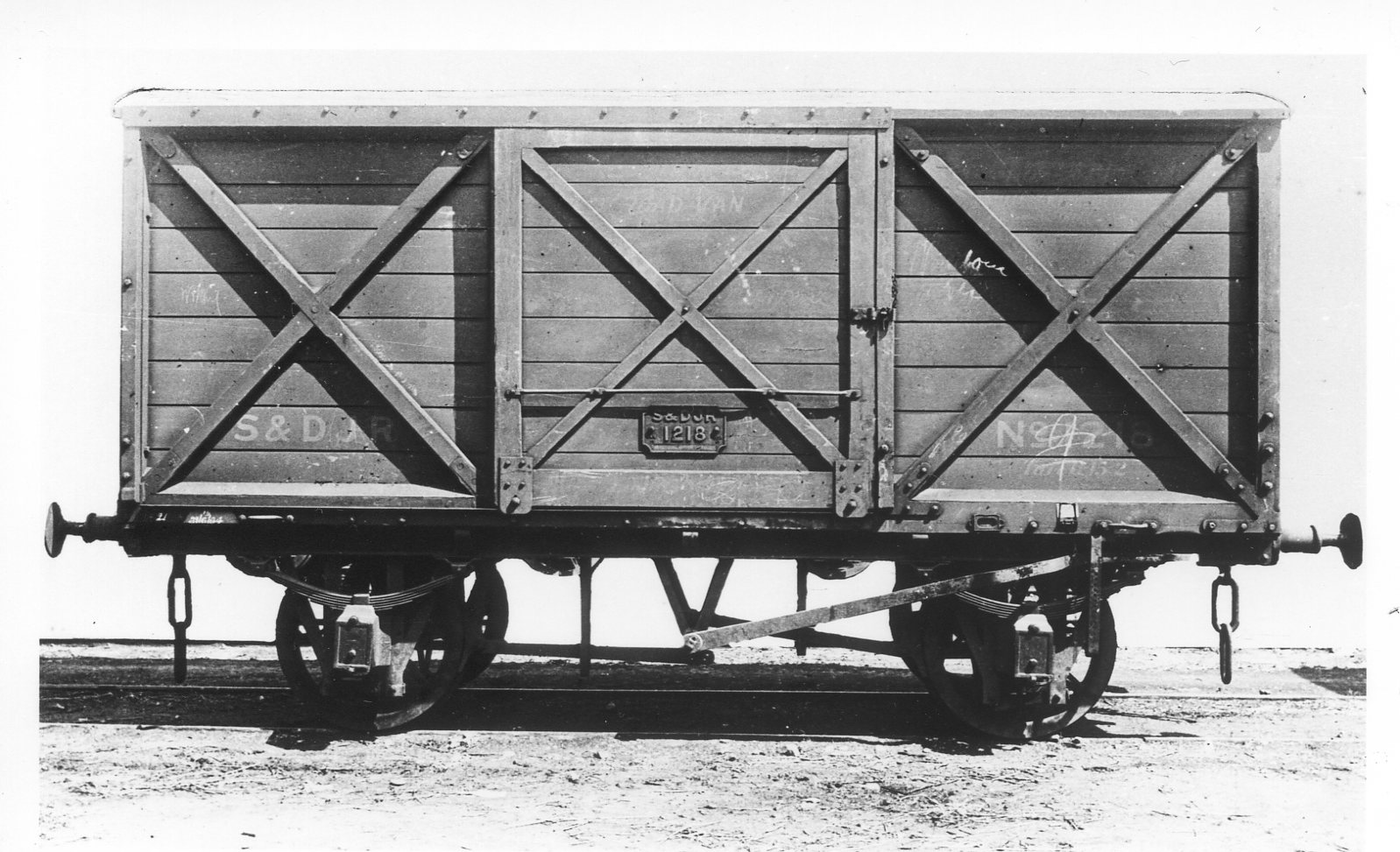 Ten covered vans to the Diagram 1410 were built for the Somerset & Dorset Joint Railway (S&DJR) they differed from the LSWR versions as they did not have the end vents and only single sided brakes. They later were absorbed into SR stock and had end vents fitted, become identical to D1410 vans.

We are grateful to Mike King for his assistance with this project and the images above are also courtesy of and copyright Mike King.

Return to Page Top

The Models


The tooling suite for the models allows for bodies with either 8 1.2" or 6 1.2" end planking with and without the end vents on steel chassis, 8 open spoke or 10 closed spoke wheels, and single sided, Morton, freighter or lifting link brake styles. The specification of the model includes highly detailed body and chassis, prototypical brake gear and safety loops fitted, beam compensation, sprung buffers and a sprung coupling hook fitted with metal three link couplings.


The models are priced at £77.95 excluding postage these are available in stock now.


Initially six livery versions are available, with two running numbers per livery: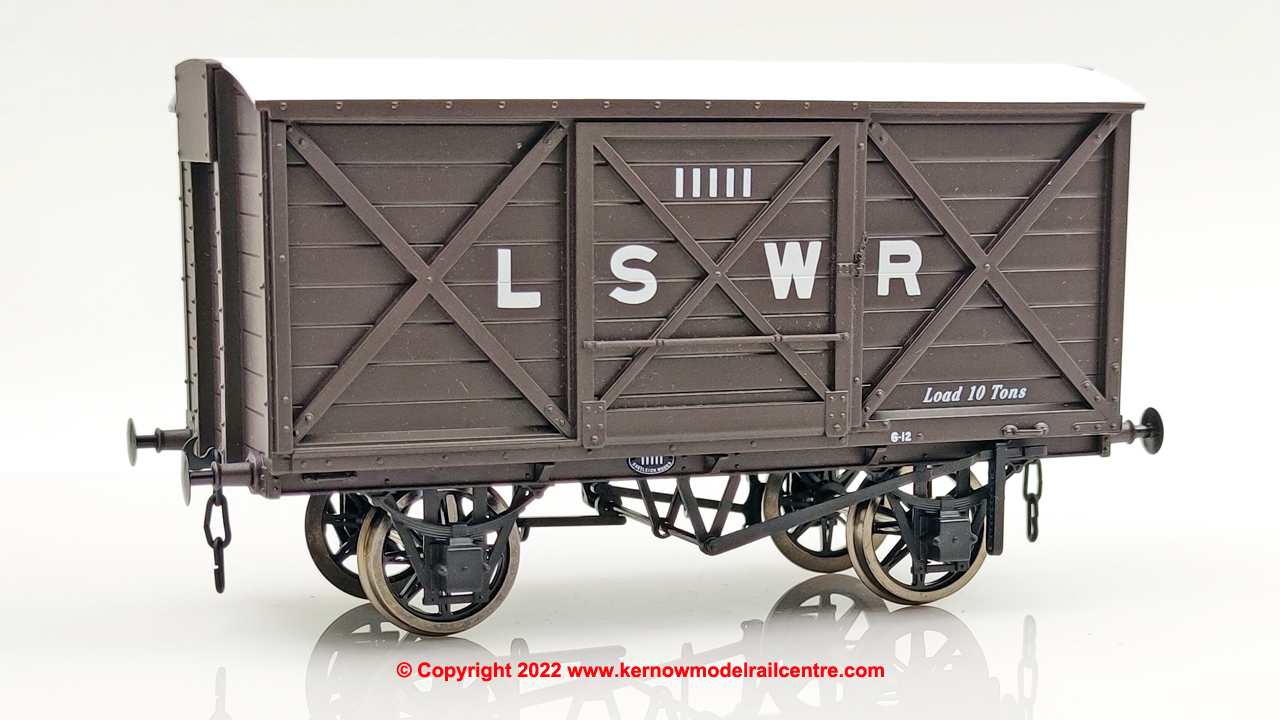 K7010A LSWR D1410 Covered Van with 8 1/2" end planking, mixed Panter and Warner axleboxes, 8 open spoked wheels, and Morton Clutch brakes in LSWR Brown livery number 11111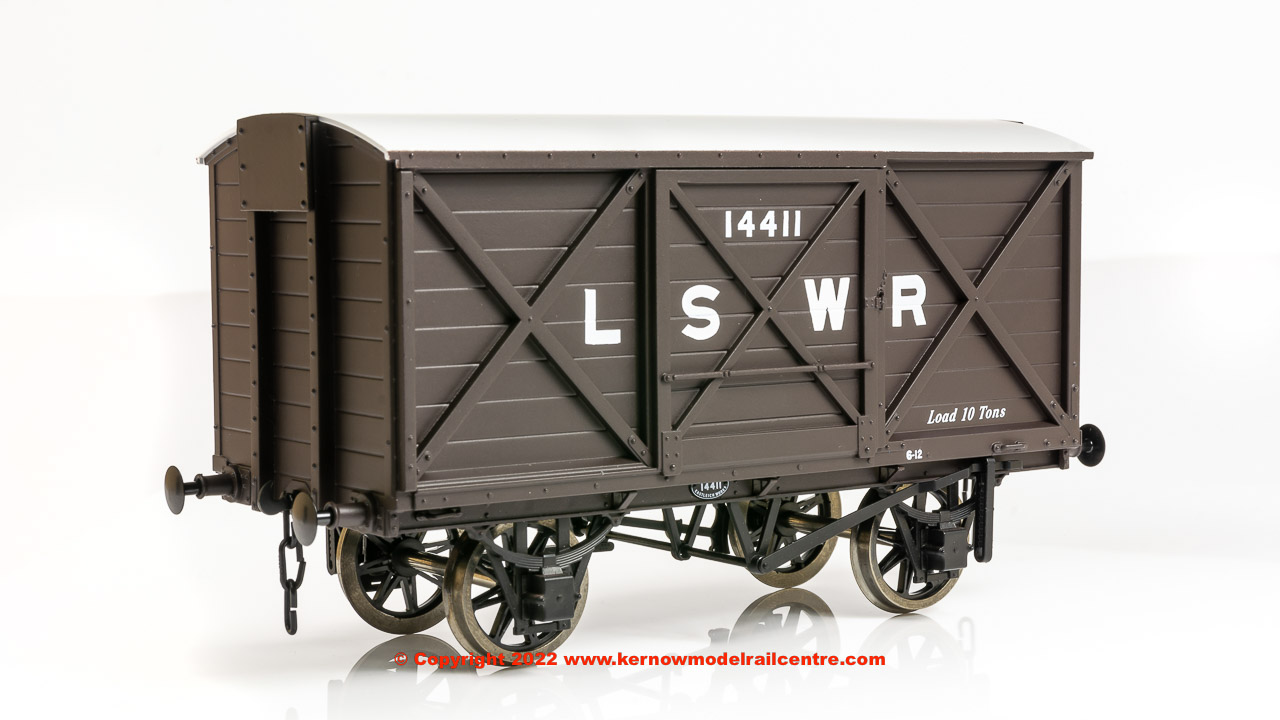 K7010B LSWR D1410 Covered Van with 8 1/2" end planking, mixed Panter and warner axleboxes, 8 open spoked wheels, and Morton Clutch brakes in LSWR Brown livery number 14411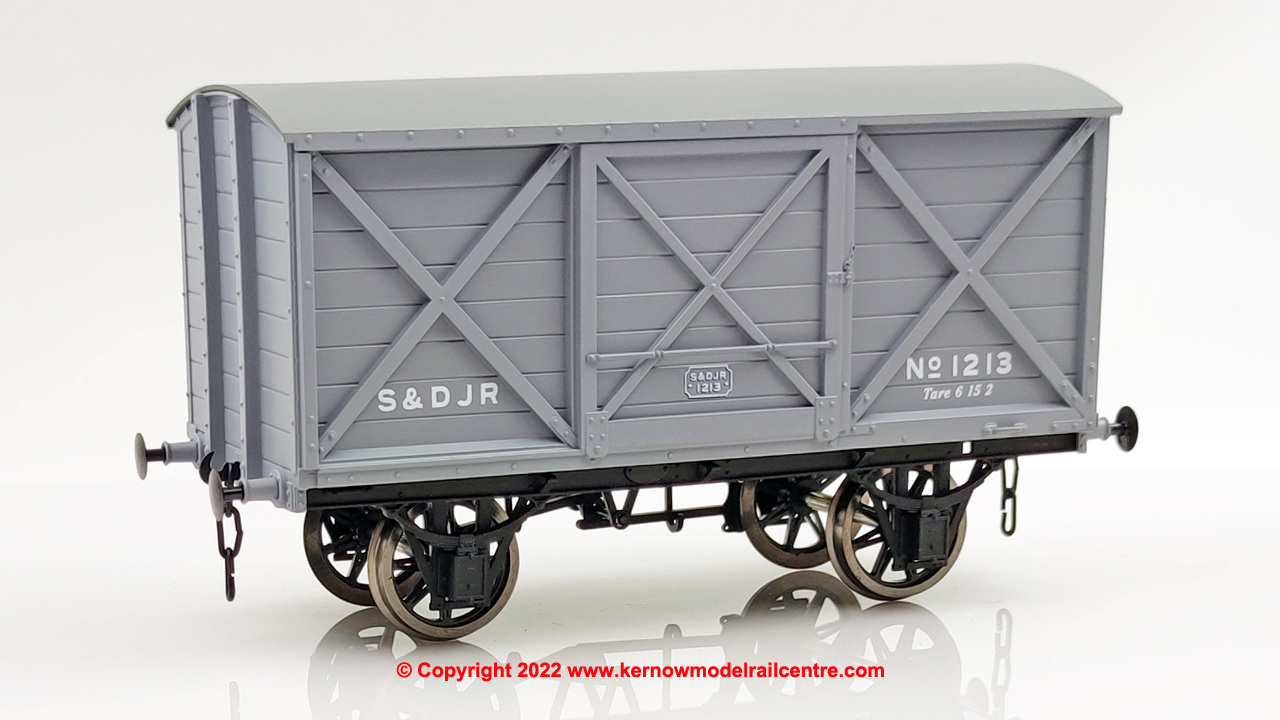 K7010C LSWR D1410 Covered Van with 8 1/2" end planking, no end vents, Panter axleboxes, 8 open spoked wheels, and single side brakes in SDJR Grey livery number 1213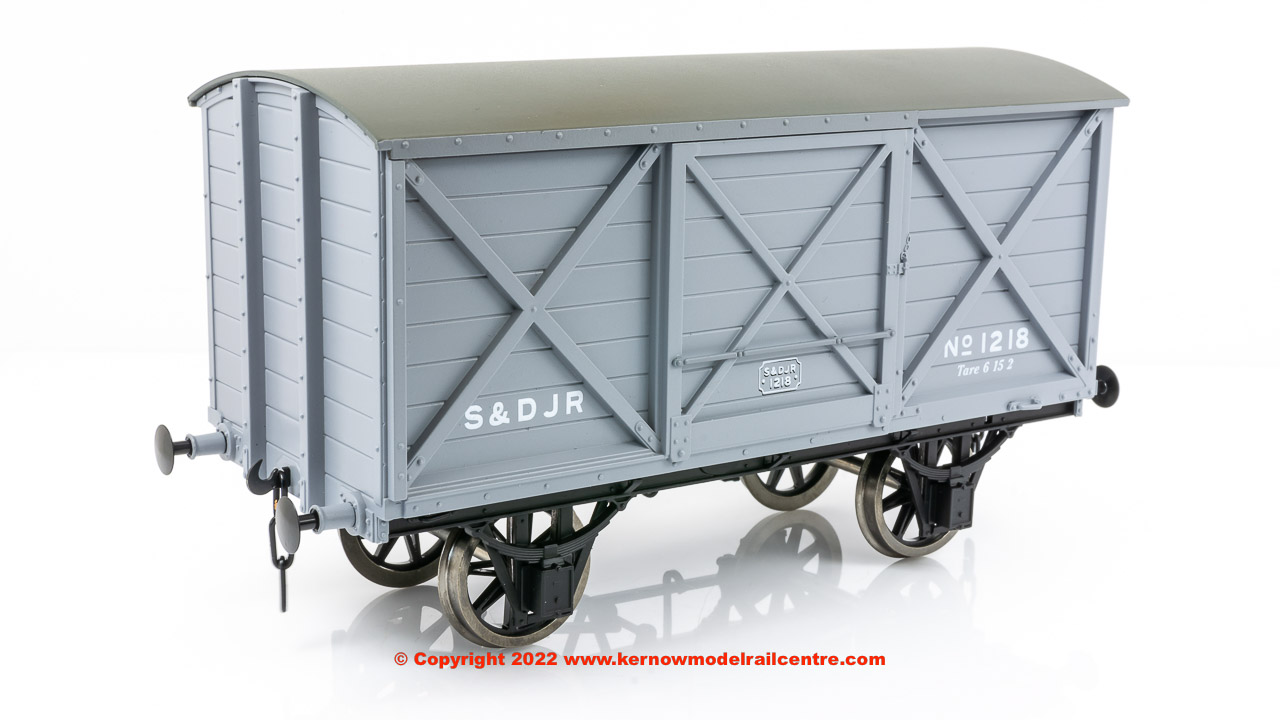 K7010D LSWR D1410 Covered Van with 8 1/2" end planking, no end vents, Panter axleboxes, 8 open spoked wheels, and single side brakes in SDJR Grey livery number 1218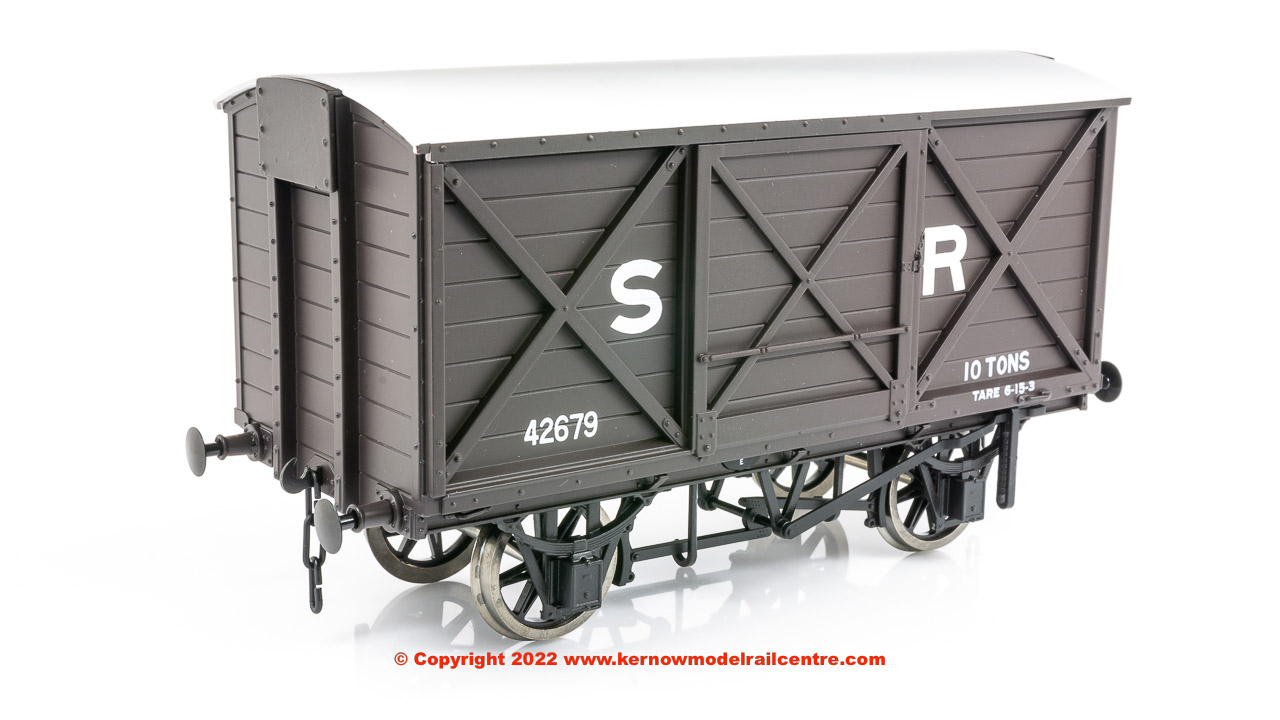 K7010E LSWR D1410 Covered Van with 8 1/2" end planking, Panter axleboxes, 8 open spoked wheels and SR freighter brakes in SR Brown pre 1936 livery number 42679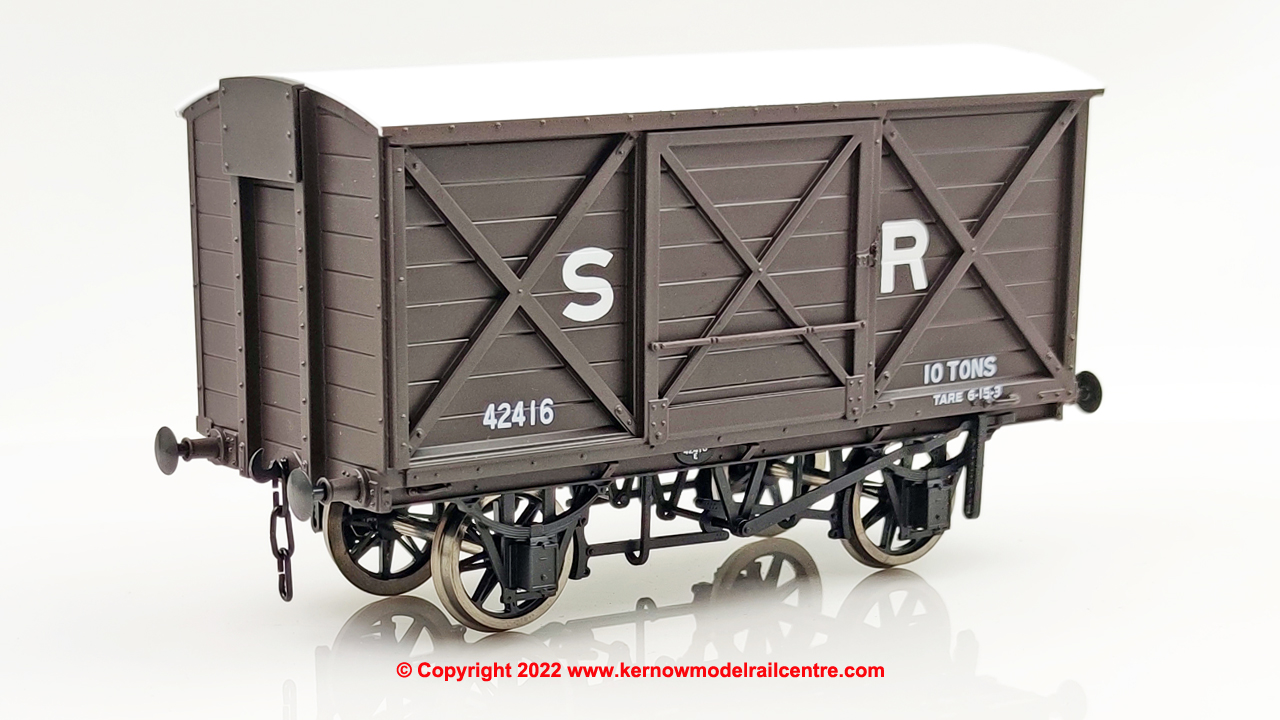 K7010F LSWR D1410 Covered Van with 8 1/2" end planking, Panter axleboxes, 8 open spoked wheels and SR freighter brakes in SR Brown pre 1936 livery number 42416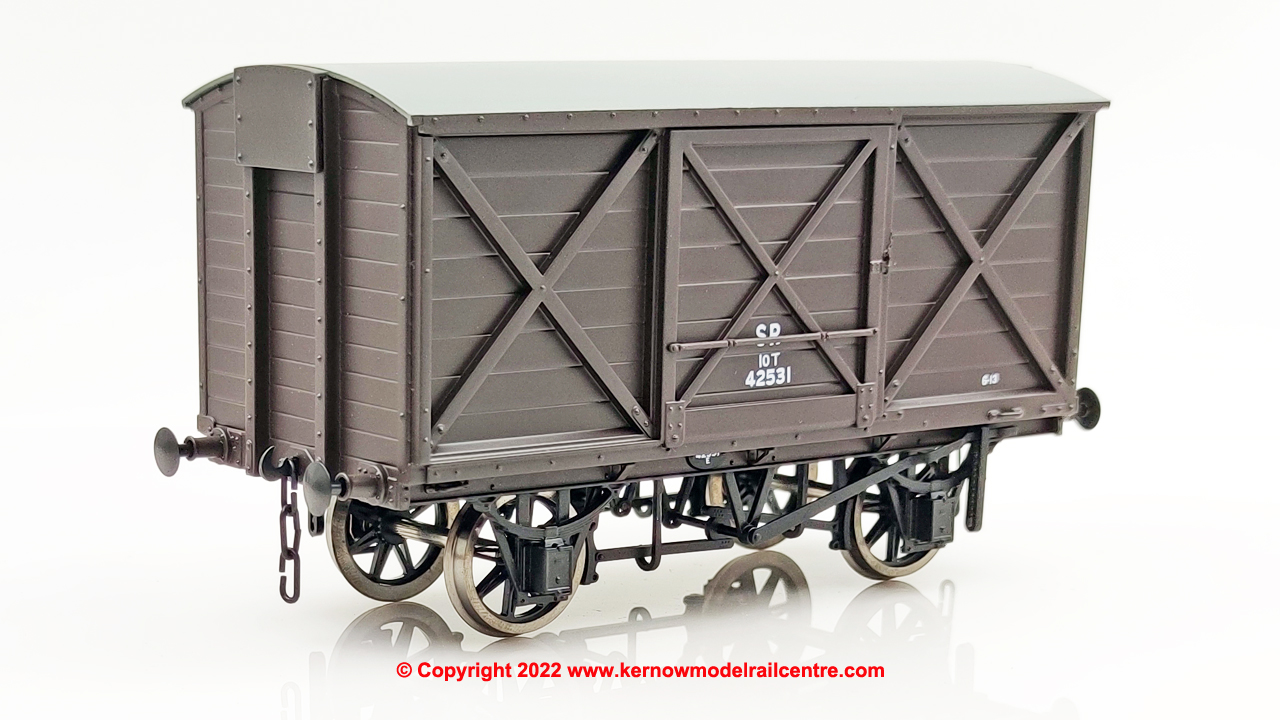 K7010G LSWR D1410 Covered Van with 6 1/2" end planking, Panter axleboxes, 8 open spoked wheels and SR freighter brakes in SR Brown post 1936 livery number 42531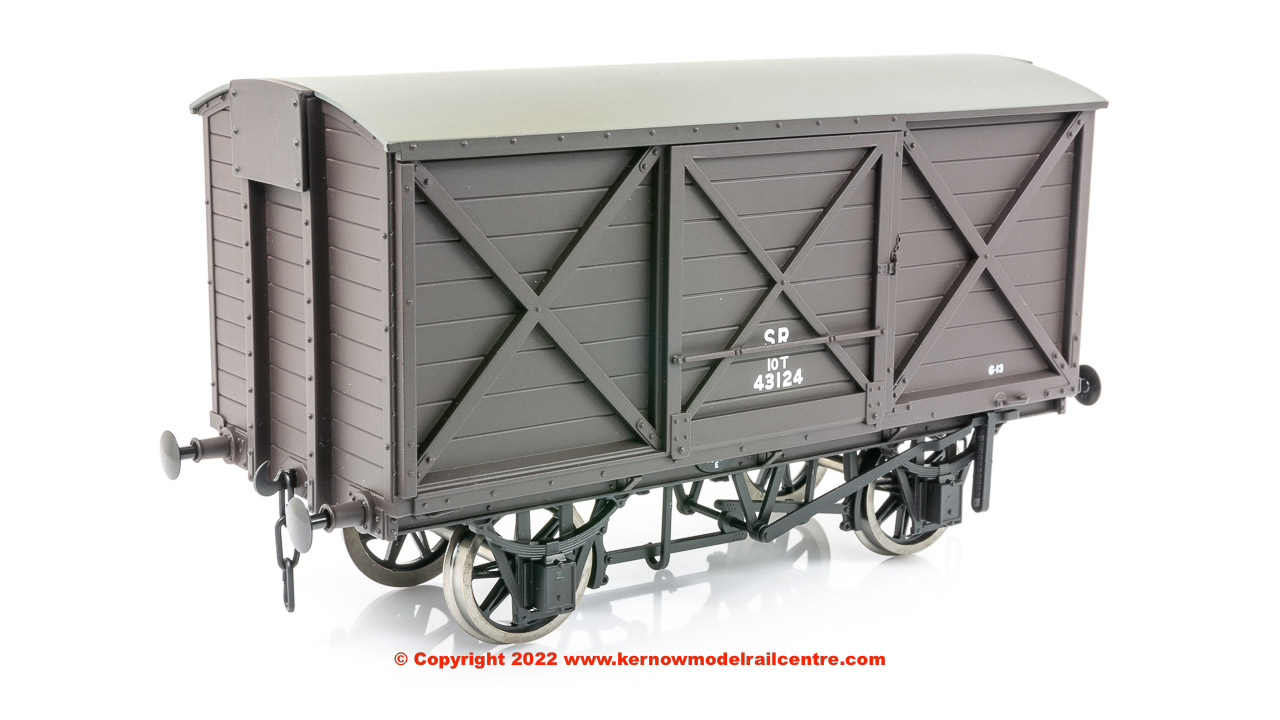 K7010H LSWR D1410 Covered Van with 6 1/2" end planking, Panter axleboxes, 8 open spoked wheels and SR freighter brakes in SR Brown post 1936 livery number 43124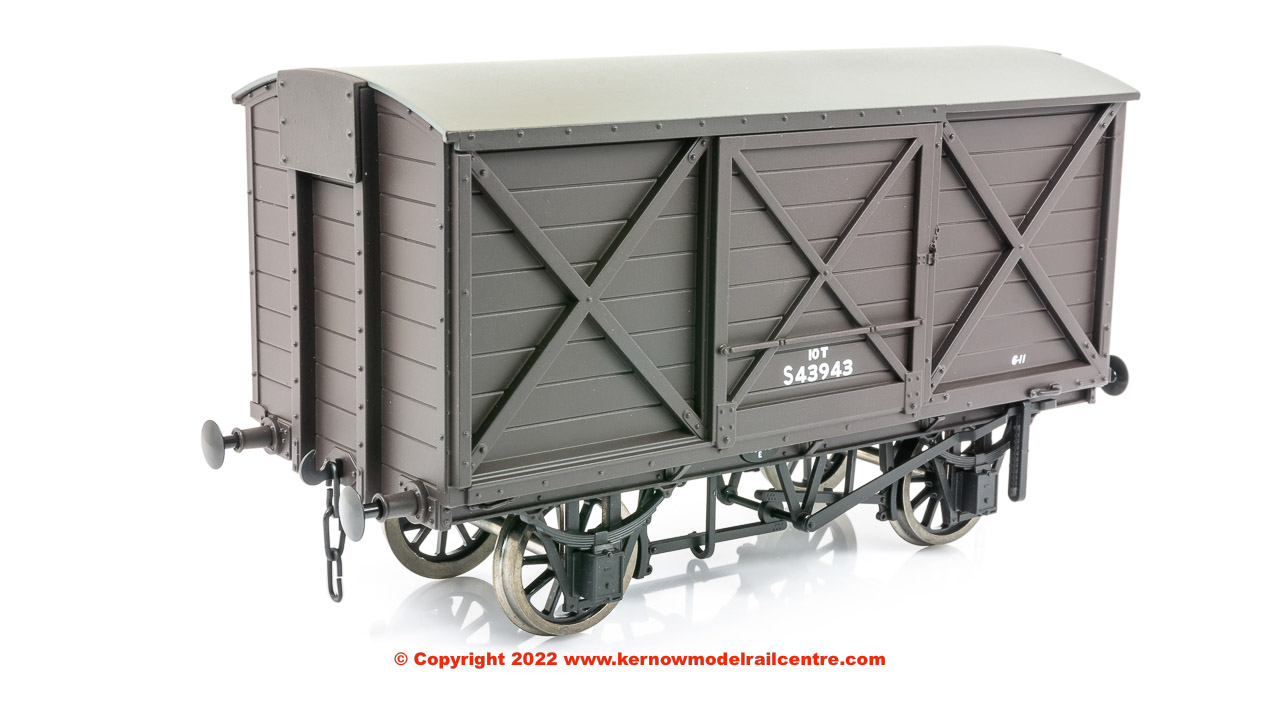 K7010J LSWR D1410 Covered Van with 8 1/2" end planking, Panter axleboxes, 10 closed spoked wheels and SR freighter brakes in BR Brown livery number S43943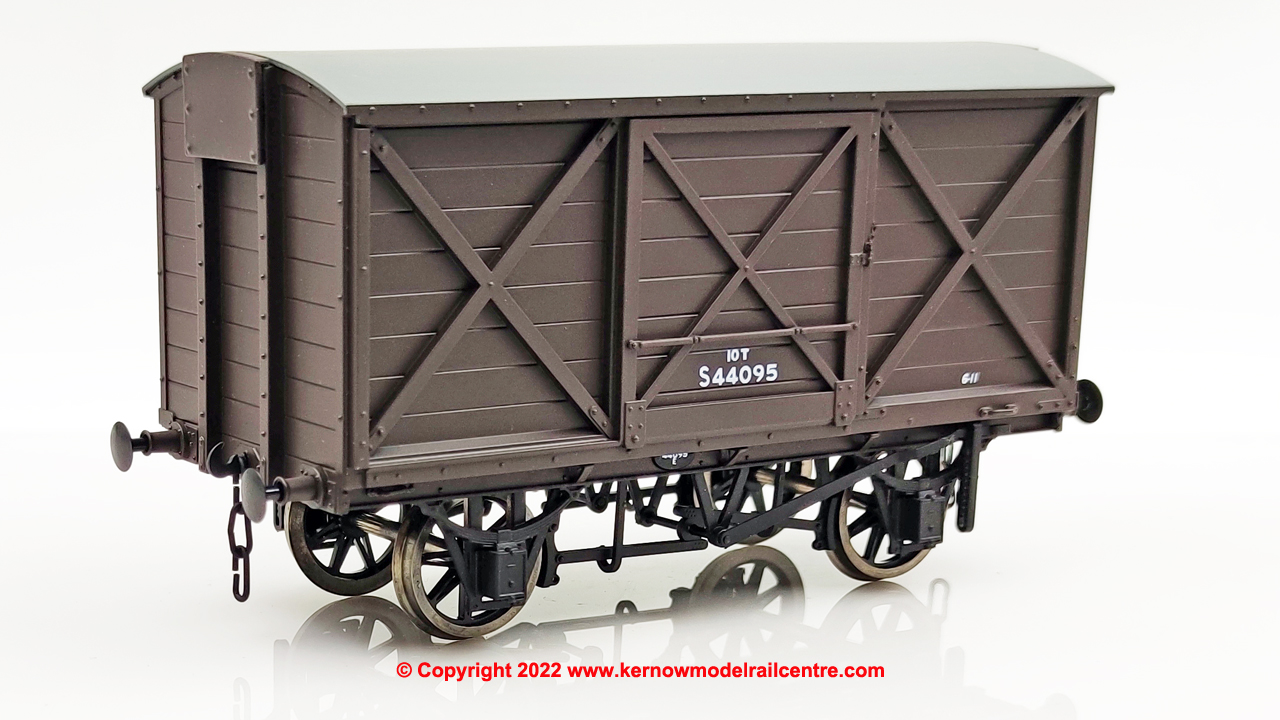 K7010K LSWR D1410 Covered Van 8 1/2" end planking, Panter axleboxes, 10 closed spoked wheels and SR freighter brakes in BR Brown livery number S44095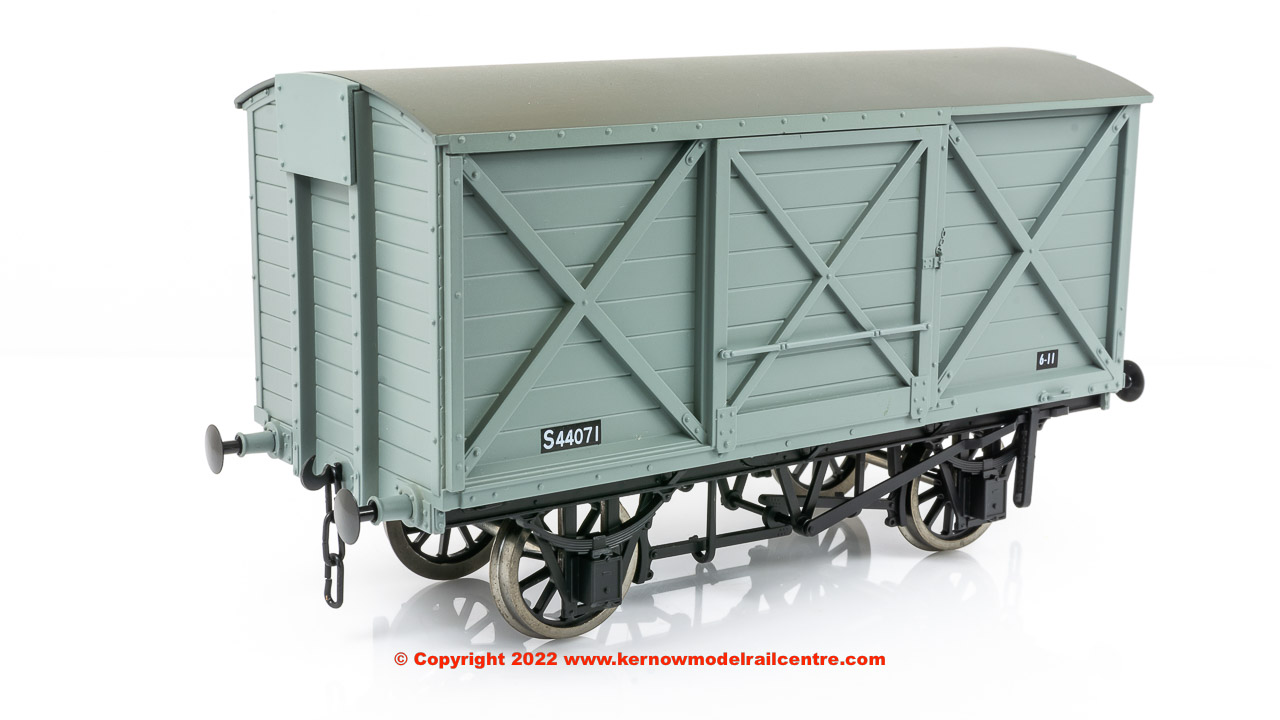 K7010L LSWR Di410 Covered Van 6 1/2" end planking, Panter axleboxes, 10 closed spoked wheels and SR freighter brakes in BR Grey livery number S44071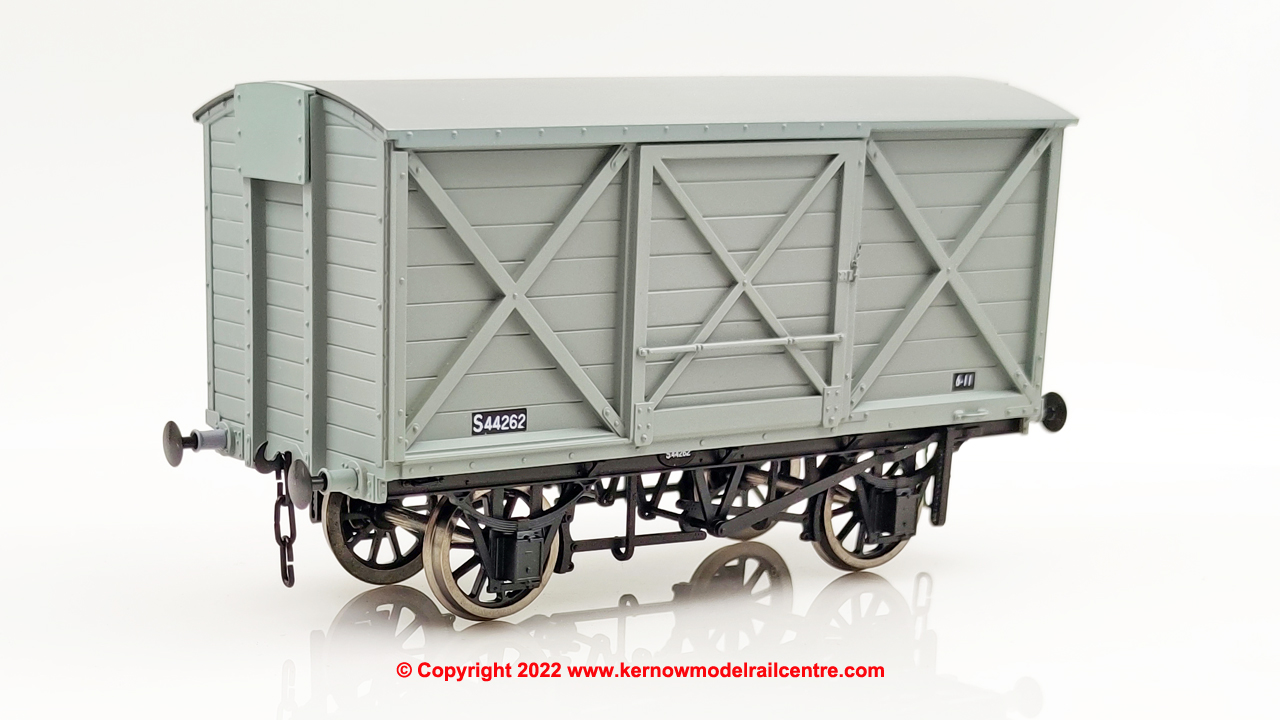 K7010M LSWR D1410 Covered Van 6 1/2" end planking, Panter axleboxes, 10 closed spoked wheels and SR freighter brakes in BR Grey livery number S44262