KMRC Skrifa – Catering for Southern travellers by Hornby


As we are talking Southern Railway catering vehicles it might be worth sitting down and having some light refreshment to go with the read as things are going to get a little confusing and complex!
The Southern Railway even with its relatively short distances involved, when compared with some of the other railway companies, still provided full dining services by pairing a Kitchen dining car with a dining saloon on many of its services such as Waterloo – Exeter, Waterloo – Bournemouth / Portsmouth and Weymouth, Southampton boat train services and the Brighton to Plymouth, and some Victoria – Dover services. They could also be found on the though Cardiff, Newcastle and Birkenhead services off the Southern. These paired vehicles would either be inserted within the middle of longer coaching sets, especially for the through services off the Southern; or within a train made up from multiple shorter coach sets, such as on the West of England line.


The Southern Railway (and subsequent the Southern Region) contracted out its catering services: on the South Eastern and Central Divisions it was The Pullman Car Co, and the South Western Division was originally Spiers & Pond (the LSWR contractor) superseded by Frederick Hotels in 1930.

Hornby Southern catering vehicles since 2018


The first newly tooled Southern Railway Maunsell catering versions were first introduced in by Hornby in 2018 and the subsequent 'A' versions currently available from Hornby are:
R4816 SR Maunsell Kitchen Dining First to Diagram 2656, Number 7869, and R4816A No. 7865 in unlined SR Green; and R4817 BR Maunsell Kitchen Dining First to Diagram 2651, with post 1939 / 1939 modifications, No. S7861S and R4817A No. S7858S in BR(s) Green.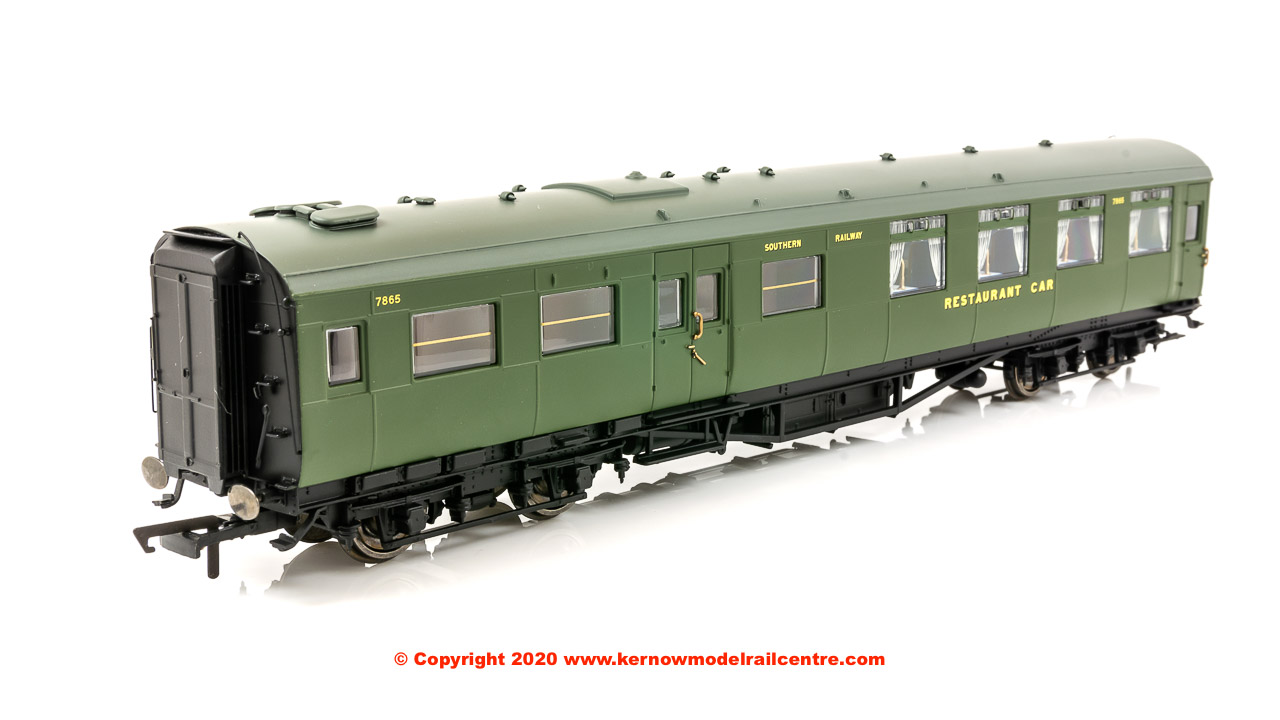 Read a review of these models here by our Graham Muspratt on his website here>>>


The Diagram 2656 cars were built in 1932 and a later batch built in 1934 and other than the cooking equipment fitted were similar in body style to Diagram 2650. Hornby have chosen to produce these models in unlined olive-green which is totally correct for post 1940s condition.


One of these 1932 built vehicles No. 7864 (not to be confused with the Diagram 2652 Dining Saloon Thirds R40030 Number 7864 with the earlier use of the number being produced by Hornby in 2021 see below) is preserved at the Bluebell Railway and funds are actively being raised for its full restoration see here for details on how to contribute.


The Diagram 2651 in BR(s) green represents one of the six, originally built in 1927, coaches post rebuilding around 1935 to include the characteristic recessed double doors. There were some slight bodyside differences between these and the subsequent 20 similar cars built in 1929 and 1930.


These catering vehicles would usually have been paired in service with Maunsell Diagram 2005 Open thirds such as R4537 Number 1400 or R4833 Number 1375 in SR Olive Green and R40101 number S1338S in BR(s) Green.


Hornby 2021 releases


TheHornby 2021 range sees the introduction of new tooling for two more Southern / BR(s) catering vehicles.


The originally announced Maunsell Diagram 2652 Dining Saloon Thirds R40030 and R40030A as numbers 7864 and 7867 respectively representing them original condition in SR lined olive green. Six of these dining salon thirds were built in 1927 and they were in service actually paired with the first Maunsell Kitchen / Dining Firsts to Diagram 2651 that were also built in 1927 and numbered 7858-7863.

Modellers licence would have been required as this Diagram in original its 1927 form has not been produced by Hornby and therefore will have to be incorrectly paired with the Diagram 2656 Kitchen Dining First instead.
The main difference between the two diagrams is that the earlier Diagram 2651 did not originally have external door or the vestibule at the dining saloon end and have smaller kitchen window adjacent to the double doors. The first batch of the Diagram 2651 were later modified to include the end doors and vestibule (although the smaller window remained) these and the subsequent later builds were built with vestibules were confusingly all to the same diagram number.



The six Diagram 2652 Dining Saloon Thirds only lasted in this from until 1930 when they were reclassed as Open Thirds and renumbered in the range 1363 to 1368.
Hornby advised at the end of January that the models R40030 and R40030A to be numbered 1363 and 1366 respectively to the longer and more flexible usage 1930 to wartime period.

During the war all except No. 1376 were converted for Ambulance Train use during WWII.


Just to add to the complexity and confusion with the SR catering vehicles the Diagram 2656 having been built post 1932 took over the numbers 7864 to 7869!


Four of the six now Open Thirds were converted in July 1947 to Third / Composite Dining Saloons to Diagram 2658 and numbered 7841-4. These conversions have been announced by Hornby as R40031 Maunsell Dining Saloon Third / Composite to diagram 2658 Number S7841S and R40031A Number S7843S in BR(s) Green.



These four were actually paired with the Kitchen / Buffet cars to Diagram 2659 that themselves were converted in 1947 from Diagram 2656 Kitchen / Dining firsts, and not yet available in ready to run form. So therefore will have to be incorrectly paired with the Diagram 2651 Kitchen Dining First in BR(s) green instead. The other two were now fitted with 48 loose 2 +1 chairs and classified as First Class diners and numbered 7846/7 were were paired with newly converted Diagram 2661 Buffet cars for use on the reinstated 'Night Ferry" service.


S7841S, previously numbered 7841, 1365 and 7866, is currently surviving awaiting full restoration at the Bluebell Railway.


Also announced for 2021 are further versions of the Kitchen / Dining Firsts as R40029 Number S7998S to Diagram 2655 and R40029A Number S7955S to Diagram 2656 in BR crimson and cream livery. These would be suitable to be paired with the Maunsell Diagram Open Third R4835 Number S1346S in crimson and cream that was released by Hornby in 2018! This version is still, at the time of writing, still available here>>>


We did say at the top of this piece it was a bit confusing, we hope this Skrifa post has helped clarify in some way...


Keep in Touch

We also publish regular project updates on our "Latest News" section here and also in our Weekly newsletter, if you are not already signed up for the newsletter you can do so here.

What do you think? Get in touch with your thoughts, suggestions for future post or suggestions for future models!


Please use kernowshow@live.co.uk to get in touch! Please note that although all emails to this address will be read, we will not be able to reply to every email.


For general email enquiries, order tracking etc, please use the Contact Us section of our website as usual.
Back to KMRC Skrifa Index
Return to Page Top