KMRC Skrifa – Starting younger railway modelers with Playtrains from Hornby


Start an exciting model railway journey with 'Flash', 'Bolt' and 'Thunder'.

We take a look at the brand new Playtrains system announced by Hornby as part of their 2021 range.

Playtrains by Hornby is toy train system aimed specifically at youngsters just starting out on their first railway adventures. Playtrains will be available in the 3rd Quarter of 2021 so pre-order now by clicking the links below.
The system comprises of battery operated and remote-controlled locomotives complete with working lights, three speeds in both forwards and reverse, plus multiple sounds. With easy clip together track, a TrakMat, accessories such as facial expression stickers, 'Quickbuild' card station and tunnel, the initial 'Flash' train set can be further expanded with several track extension packs including points. A one stop shop for all things Playtrains with fun and exiting features along with character stories is available via Hornby Playtrains Portal here>>>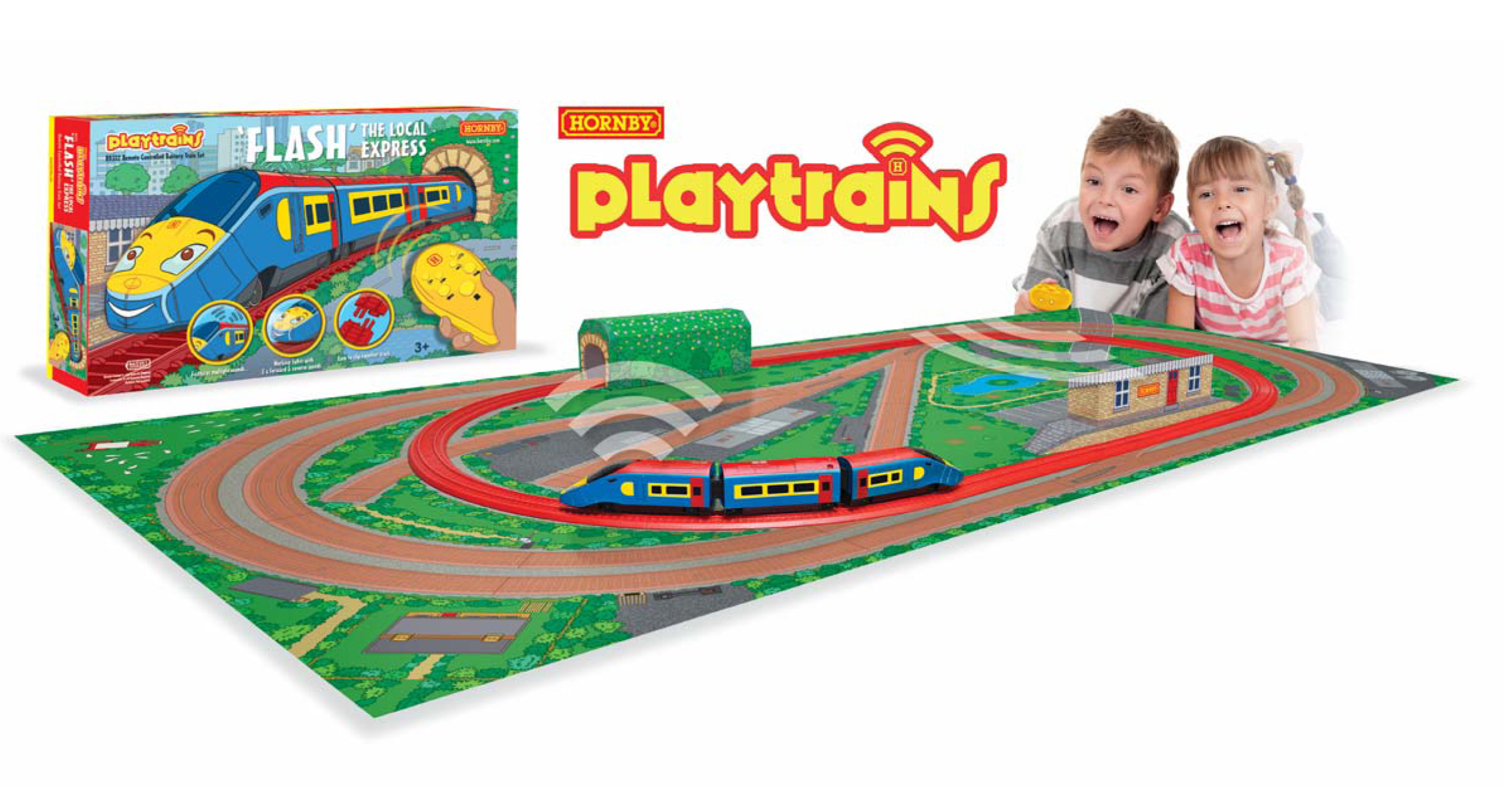 An easy-to-use remote control can be simply switched to a train using the A/B switch underneath the controller, ensure that the train being run matches to A/B, then off you go. A second remote controller is available to enable twice the fun at the same time!

For those wondering the trains have an Italian flavour 'Flash' is based on the ".italo" high speed train, whilst 'Bolt' and 'Thunder' are similar to the Ferrovile dello Stato (FS), Italian State Railways, E.402A class locomotives.

Start with 'Flash' The Local Express Train set.

This complete set includes 'Flash' the passenger train, an oval of track, a TrakMat, remote control and a cardboard station and tunnel.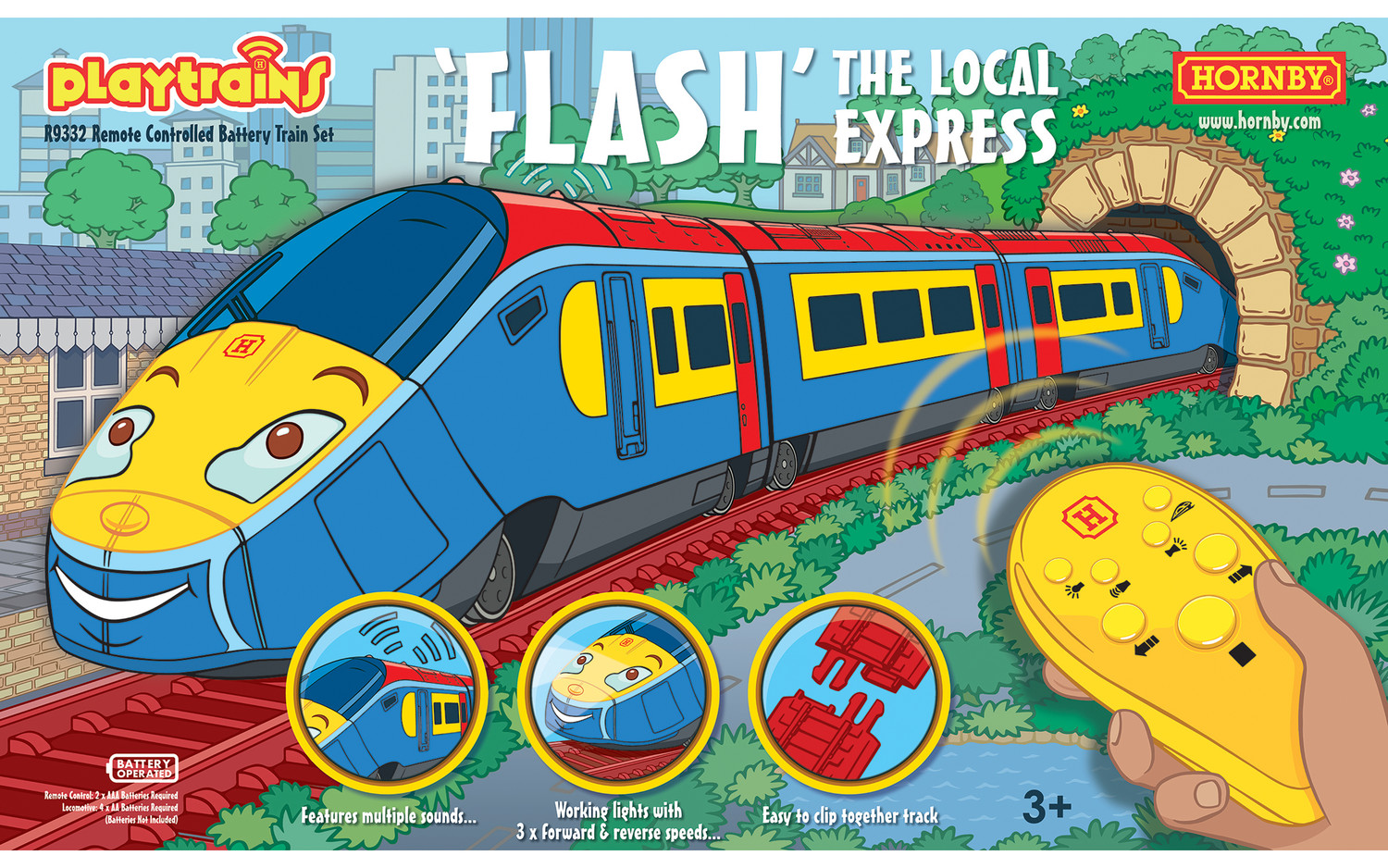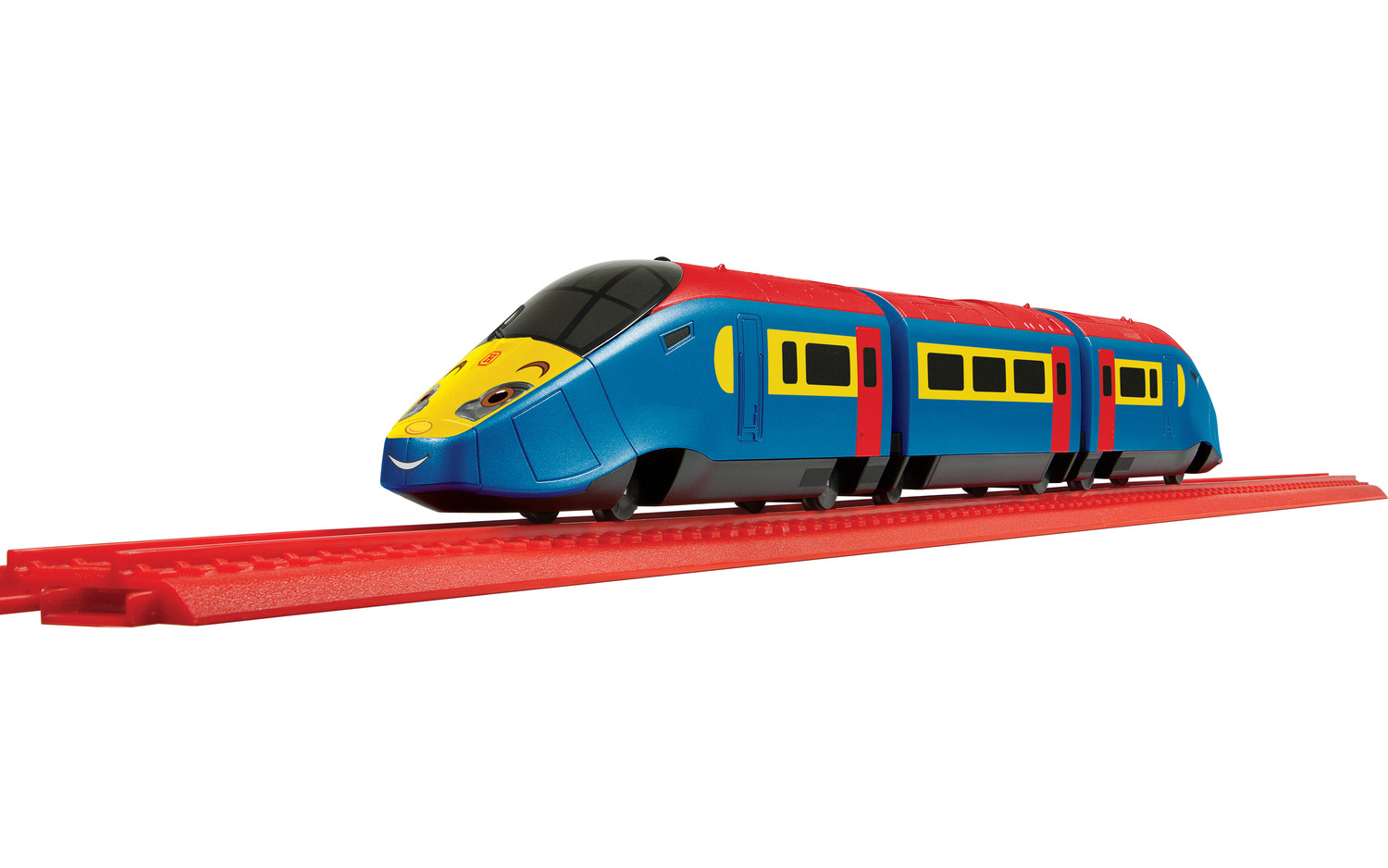 R9332 Hornby Playtrains 'Flash' The Local Express Remote Train Set £44.99

Extend 'Flash' with the R9315 Hornby Playtrains Local Express 2 Coach Pack £14.99

Moving the goods with 'Bolt' and 'Thunder'.

These additional train packs with locomotives and additional wagons can be run alongside 'Flash' perhaps bringing the pasta and meatballs…

R9312 Hornby Playtrains 'Bolt' Express Goods Battery Train Pack comprising of 'Bolt' and two closed wagons. £26.99

R9314 Hornby Playtrains 'Thunder' Express Goods Battery Train Pack comprising of 'Thunder' and one closed wagon. £20.99

Extend 'Bolt' or 'Thunder' with the R 9316 Hornby Playtrains Express Goods 2 Closed Wagon Pack. £14.99

'Bolt' or 'Thunder' can also haul the R9341 Hornby Playtrains Express Goods 2 Open Wagon Pack. £14.99

Build and expand the Playtrains world and layout with the Track extension packs and a second controller to double the fun.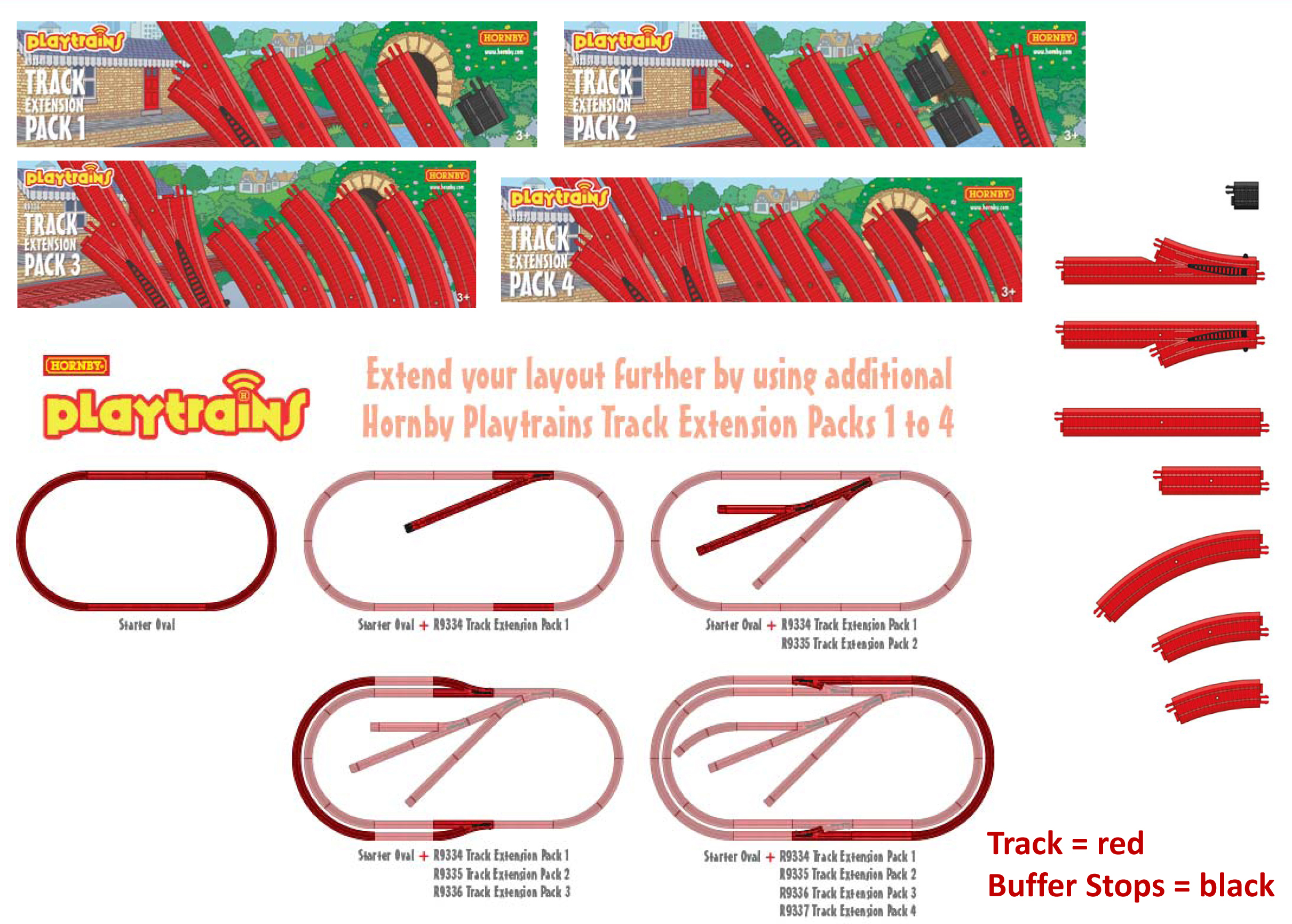 R9334 Track Extension Pack 1. Contents include: 1x L/H Point, 3 x Double Straights, 1 x Buffer Stop £9.99

R9335 Track Extension Pack 2. Contents include: 1 x L/H Point, 1 x R/H Point, 2 x Double Straights, 2 x Buffer Stop £16.49

R9336 Track Extension Pack 3. Contents include: 1 x L/H Point, 1 x R/H Point, 2 x ½ Curves, 4 x 2nd size Large Curves £16.49

R9337 Track Extension Pack 4. Contents include: 1 x L/H Point, 1 x R/H Point, 2 x Double Straights, 4 x No. 2 Large Curves £19.99

R7330 Playtrains remote control, control any of the Playtrains locomotives using this additional remote control. £9.99

The expanding world of Playtrains...

Look out in the future for more characters via additional train sets and train packs, more 'Quickbuild' buildings and accessories, to give more adventures and more fun. Playtrains will become a key, expanding and evolving part of the Hornby range for years to come introducing new generations to railway modelling.


Keep in Touch

We also publish regular project updates on our "Latest News" section here and also in our Weekly newsletter, if you are not already signed up for the newsletter you can do so here.

What do you think? Get in touch with your thoughts, suggestions for future post or suggestions for future models!


Please use kernowshow@live.co.uk to get in touch! Please note that although all emails to this address will be read, we will not be able to reply to every email.


For general email enquiries, order tracking etc, please use the Contact Us section of our website as usual.