Kernow Model Rail Centre are pleased to announce that we will produce the Class 117 and Class 121 WR Suburban DMU in OO Gauge, in conjunction with Bachmann.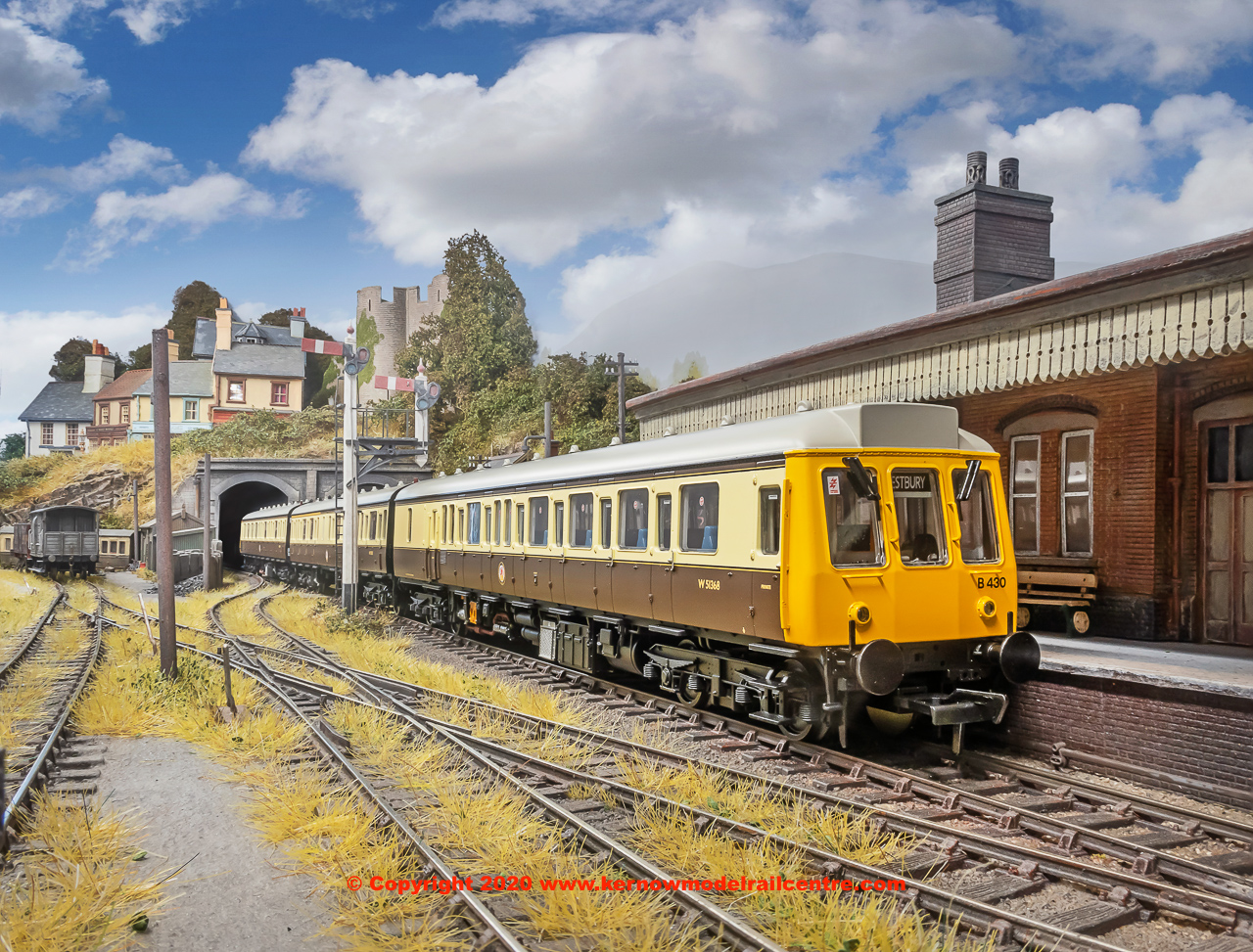 The Prototype - Class 117
The Class 117 Diesel Multiple Units (DMUs) were built between 1959 and 1961 at Pressed Steel's Linwood works in Scotland and were initially allocated to British Railway's Western Region. The units were formed of Driving Motor Brake Second (DMBS), Trailer Composite with Lavatory (TCL) and Driving Motor Second (DMS) vehicles with 42 each of the DMBS and DMS vehicles constructed along with 39 TCLs. Used predominantly as 3 car units, initial workings were on suburban services out of London's Paddington station and in Cornwall. Where additional capacity was required at peak times, the units could be coupled to other DMUs fitted with the same Blue Square code couplings which allowed multiple working giving the driver control of every vehicle in the train from just one cab.
After many years in service on the Western Region, an extensive refurbishment programme saw most units upgraded between 1974 and 1984, with a number of refurbished units moving away from the Western region to replace older designs which were being withdrawn throughout the country. Some Units even went as far afield as Scotland. Following Sectorisation the units which remained allocated to Southall came under the ownership of Network SouthEast, however these would eventually be displaced by new Class 165/166 'Networker' DMUs. The other units which were spread around the country fell under the control of Provincial Services, which later became Regional Railways. Some NSE units were retained as two car units for working the Bletchley to Bedford and Gospel Oak to Barking routes by Silverlink.
The first units were retired from service in 1995, with all of the units withdrawn from passenger service by the end of the 1990s. Many of the class have survived into preservation including a 3 car set which operates regularly on the Gloucestershire Warwickshire Railway.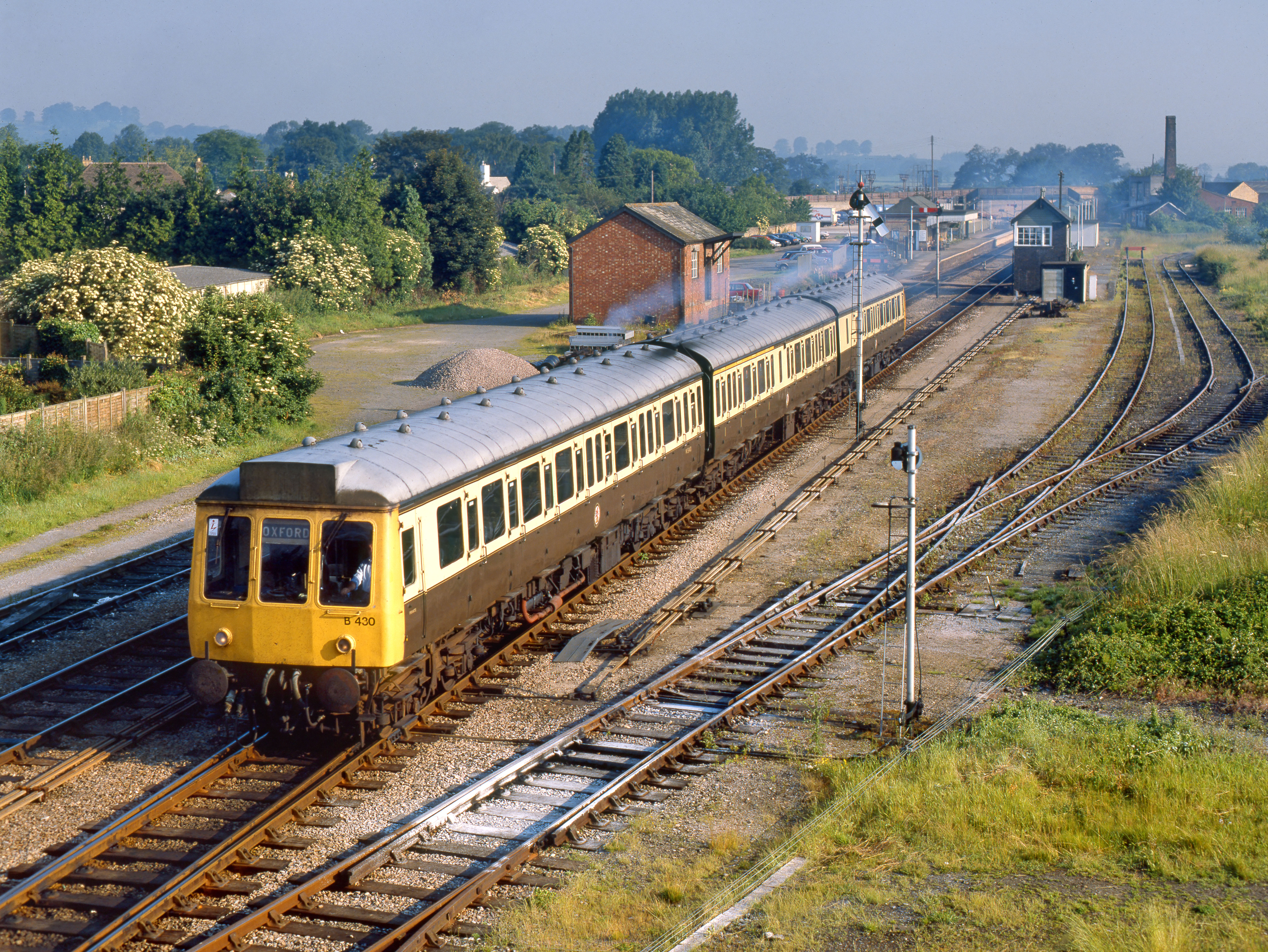 The Model - Class 117 - Update 5th September 2015

Bachmann have announced that they will produce the Class 117 3 Car DMU. They made the announcement at the Bachmann Collectors Club event at the Gloucestershire & Warwickshire Railway on 5th September 2015. We announced our intention to produce this family of Western Region suburban DMUs at Warley (November 2014) and we had already laser scanned a Class 117 and had completed our initial research. After the show at Warley we were at one of our regular meetings with Bachmann and this subject arose and it became clear Bachmann were also working on this model. As we have said before we have no interest in "taking on" a major manufacturer and so immediately offered our research and laser scan data to Bachmann and have been working with them on this project ever since.

The Class 117 will feature switchable directional lighting and also interior lighting. There will be provision for DCC sound and the models will be fitted with a PLUX 22 DCC socket. With through wiring between the vehicles only one decoder will be required for each unit. The tooling will allow for the various differences, such as exhaust pipe variations, gangways and non-gangways, headcodes and headlights etc.

Project update - 2nd August 2019 - First painted samples arrive!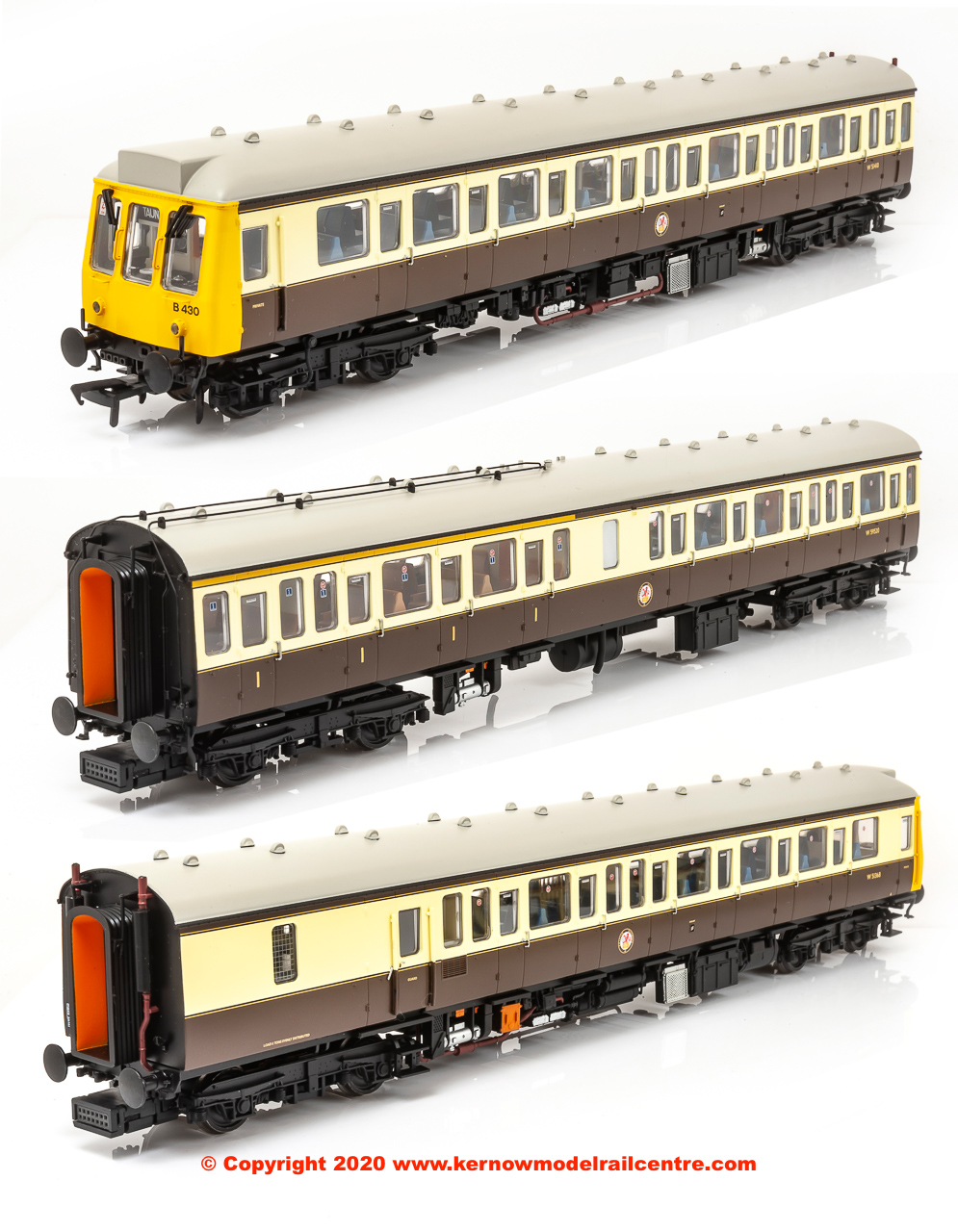 The first releases in the Bachmann standard range as detailed below: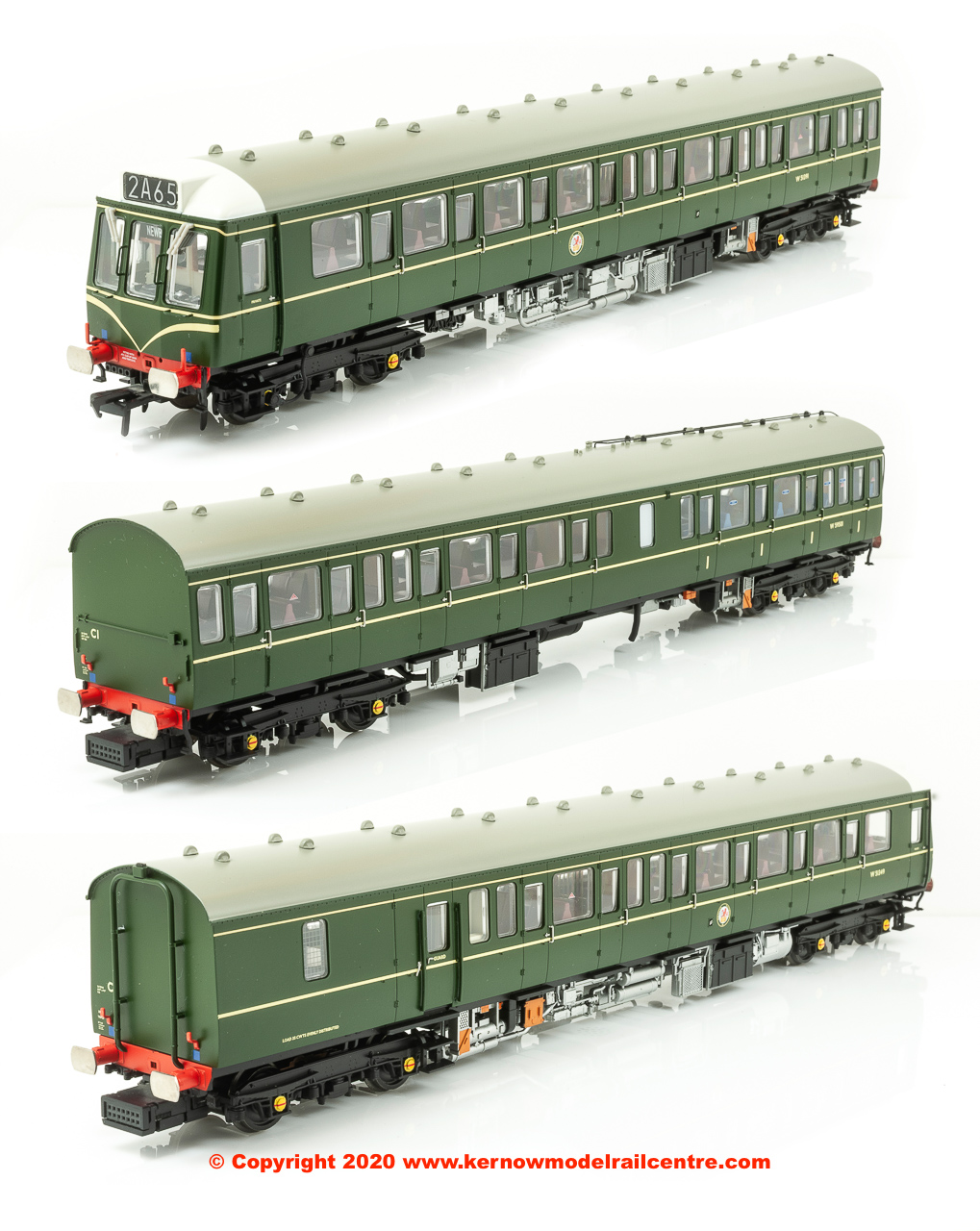 35-500 Bachmann Class 117 3 Car DMU Set BR Green Speed Whiskers SOLD OUT in August 2020!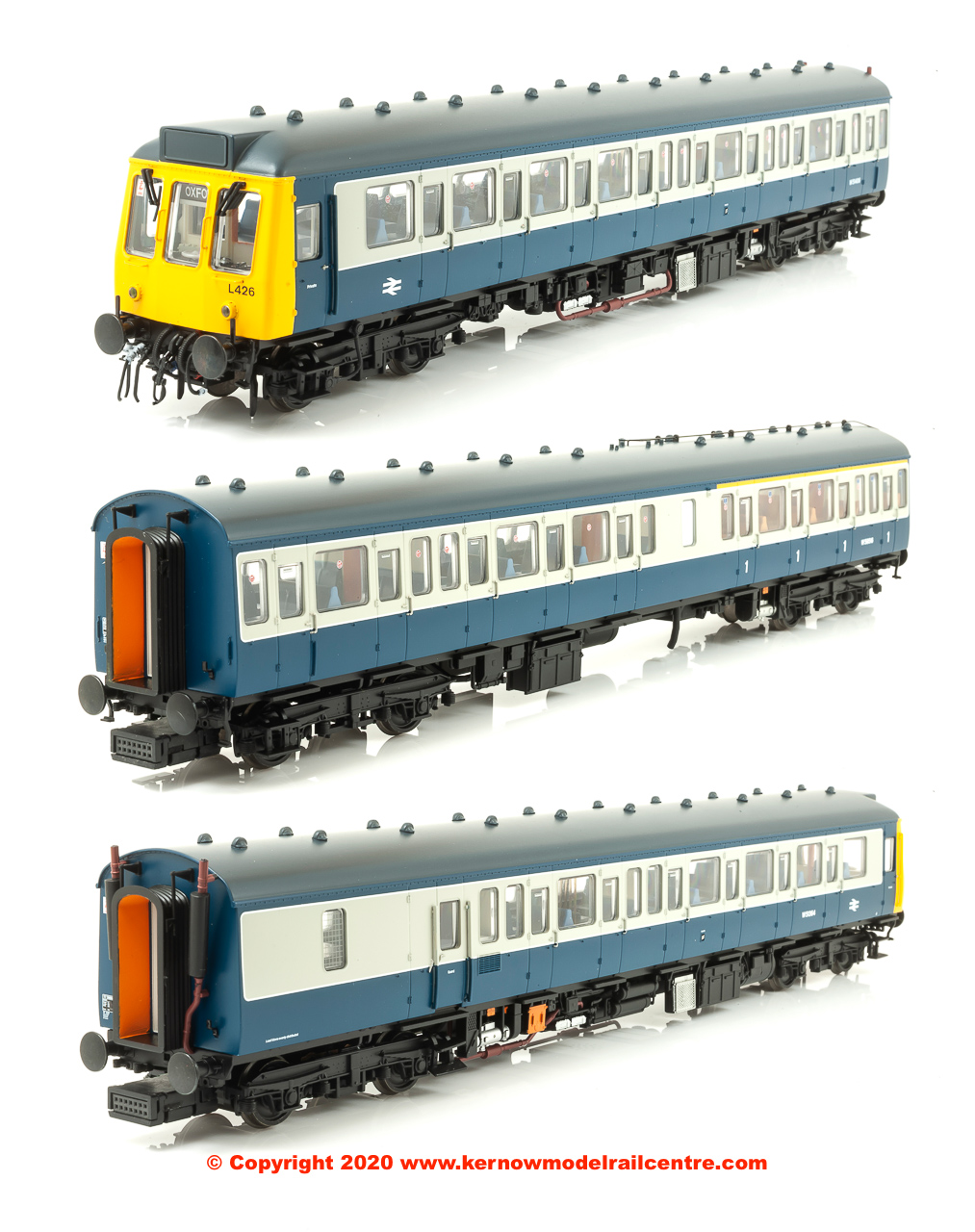 35-501 Bachmann Class 117 3 Car DMU Set BR Blue & Grey £267.95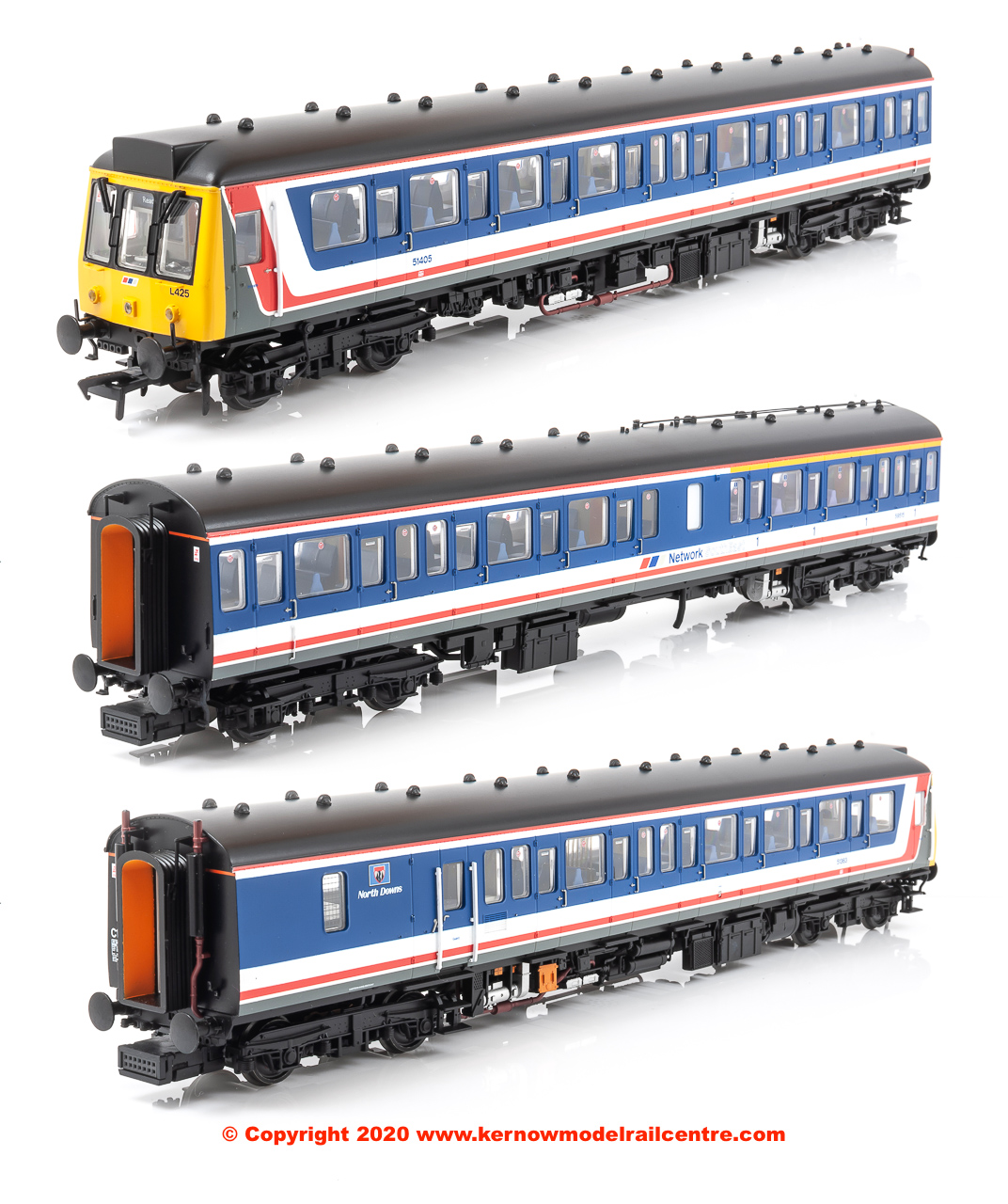 35-502 Bachmann Class 117 3 Car DMU Set Network SouthEast £267.95

In addition the following model will be exclusive to Kernow Model Rail Centre:


35-500Z Bachmann Class 117 3 Car DMU Set GW150 Chocolate & Cream £329.95

The Prototype - Class 121




Essentially a single car version of the Class 117 DMU, sixteen Class 121 units were built by Pressed Steel at their Linwood works in Scotland. Fondly nick-named 'Bubble Cars' by enthusiasts and railwaymen alike, the Class 121 is Britain's longest serving class of DMU with examples still running to this day, 55 years after their introduction in 1960. All 16 were built for use on British Railway's Western Region serving a number of branch lines including those diverging from the main line in the Thames Valley and the Looe branch in Cornwall.
The units were given a new lease of life following an extensive programme of refurbishment under British Rail including the fitting of new interiors and fluorescent lighting. By 1994 and the privatisation of Britain's railways the majority of the class could be found in departmental use and these units came under the control of Railtrack. Four Class 121s remained in passenger service at the time and these came under Silverlink ownership, working between Bletchley and Bedford.
Chiltern Railways continue to operate two Class 121s on passenger services, predominantly between Aylesbury and Princes Risborough whilst Network Rail also has one unit which is used for route learning, video surveying and sandite operations. In addition, eight have survived into preservation and examples can be found operating at various locations across the UK.

The Model - Class 121 - Update 5th September 2015

Bachmann also announced that they will produce the Class 121 Bubble Car DMU. We had also been working on these models and had laser scanned the prototype at the same time as the Class 117 but had not announced this as it was our intention to release it as a surprise at the same time as the Class 117! Again we have been working with Bachmann and shared everything we have on this project.

The Class 121 will feature switchable directional lighting and also interior lighting. There will be provision for DCC sound and the models will be fitted with a PLUX 22 DCC socket. The tooling will allow for the various differences of the prototype.

Project update - 2nd August 2019 - 1st painted samples arrive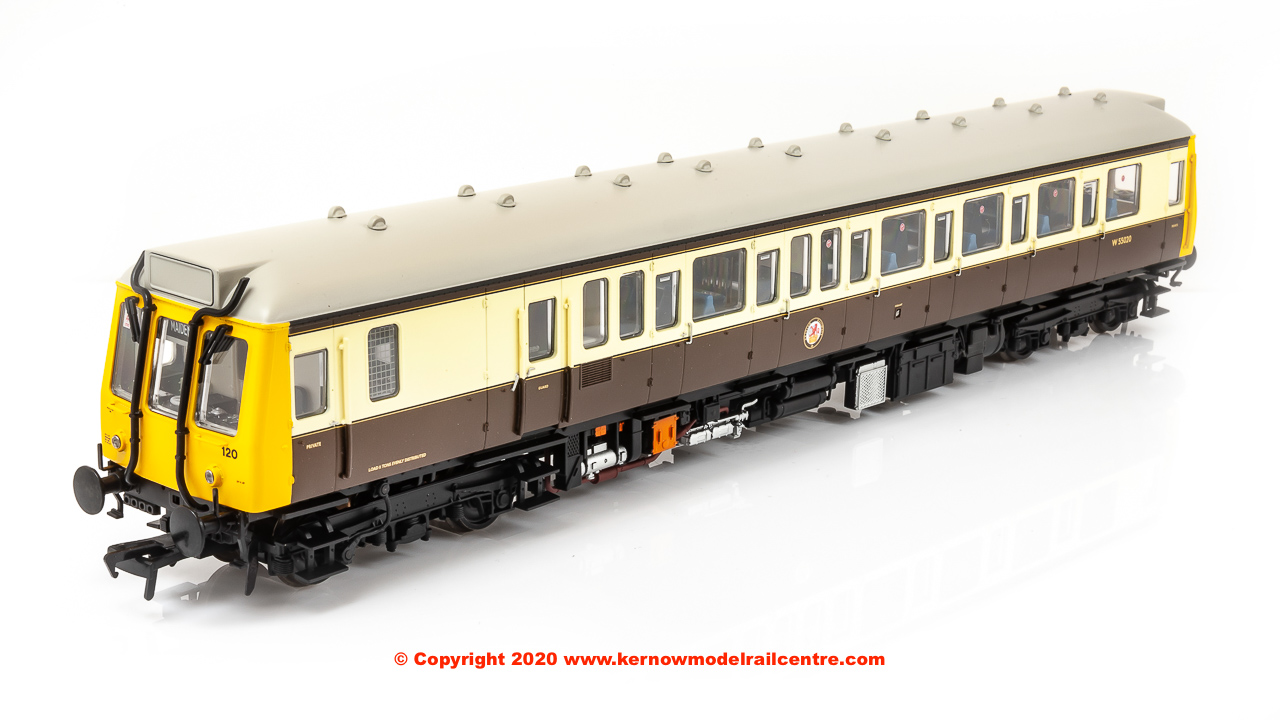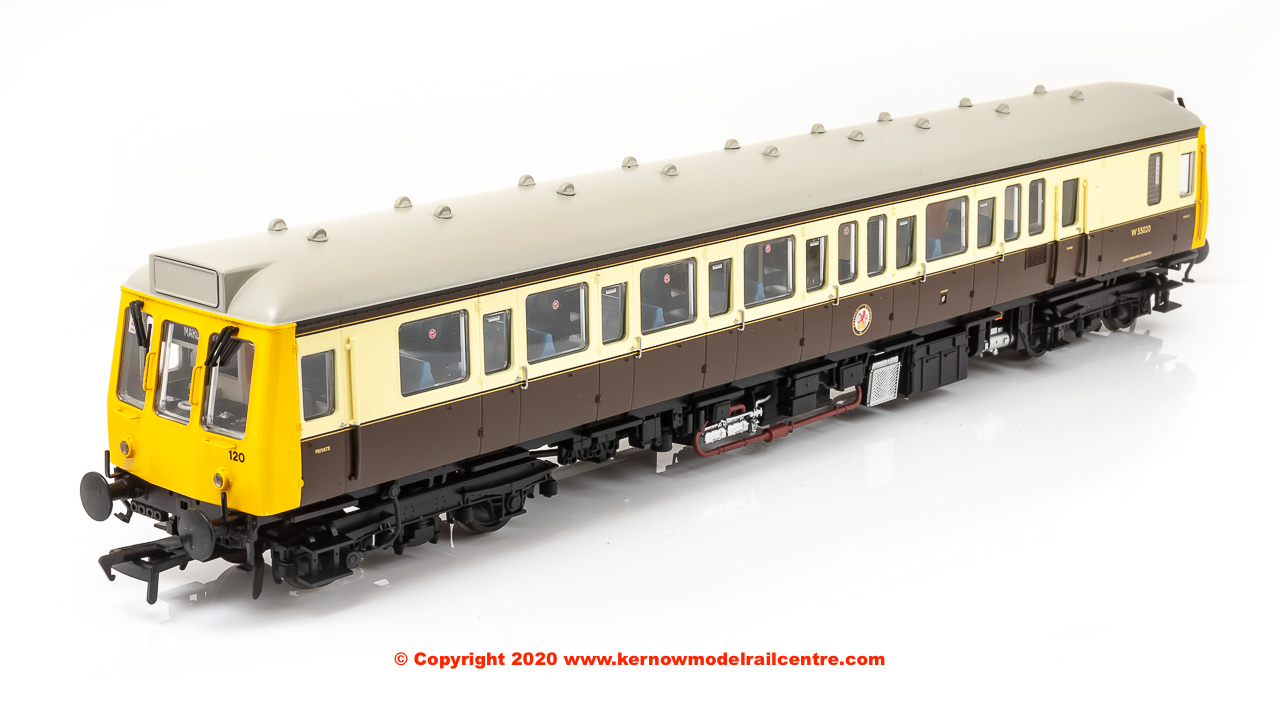 The first releases will be in the Bachmann standard range as detailed below: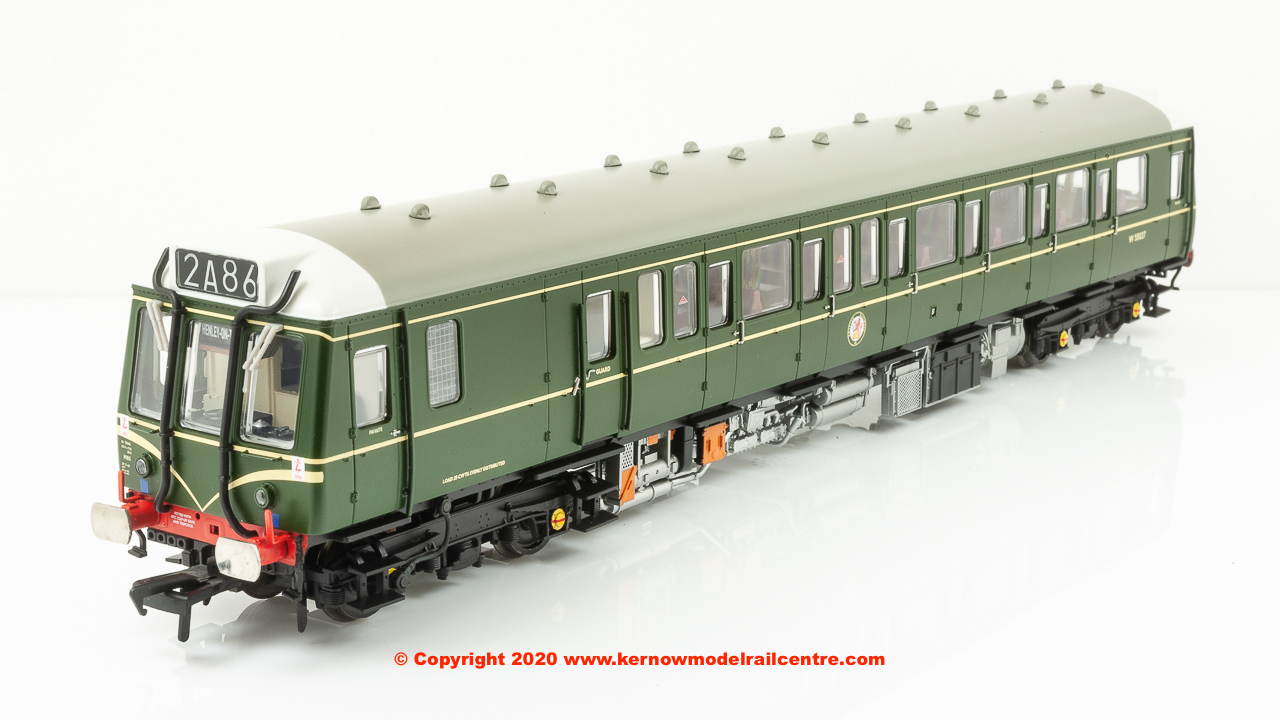 35-525 Bachmann Class 121 Bubble Car DMU Set BR Green Speed Whiskers £131.95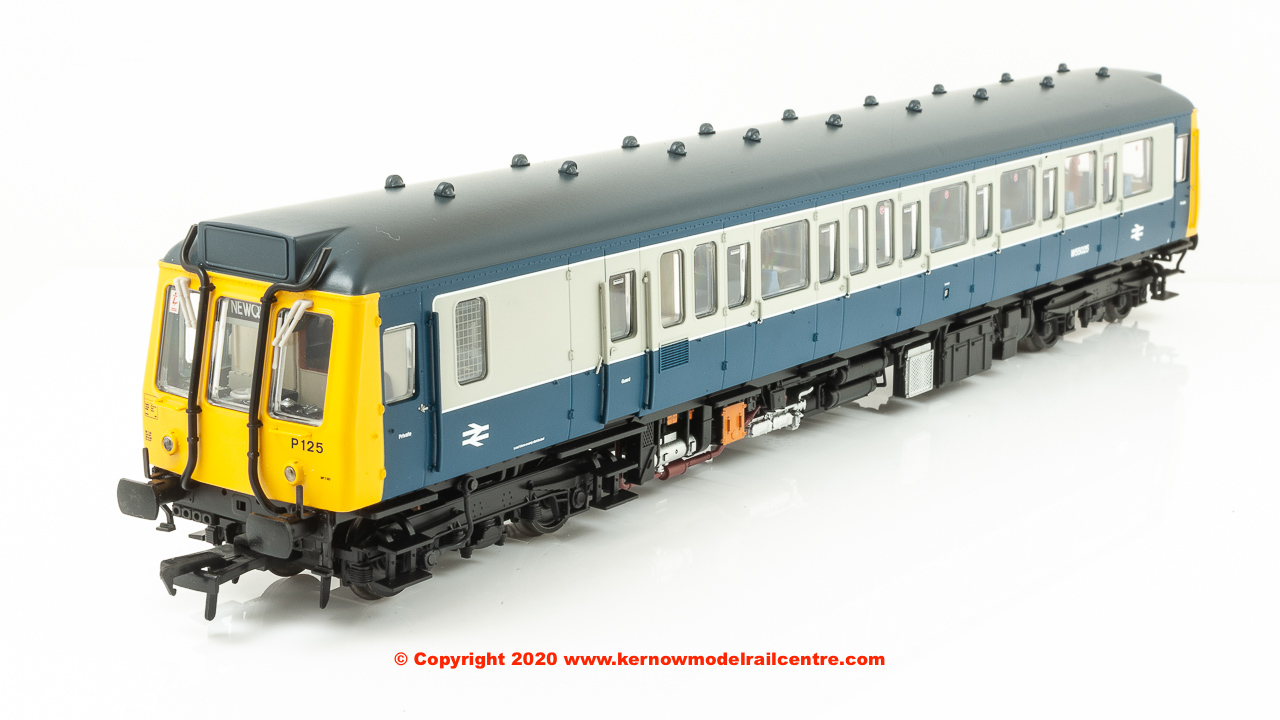 35-526 Bachmann Class 121 Bubble Car DMU Set BR Blue & Grey £131.95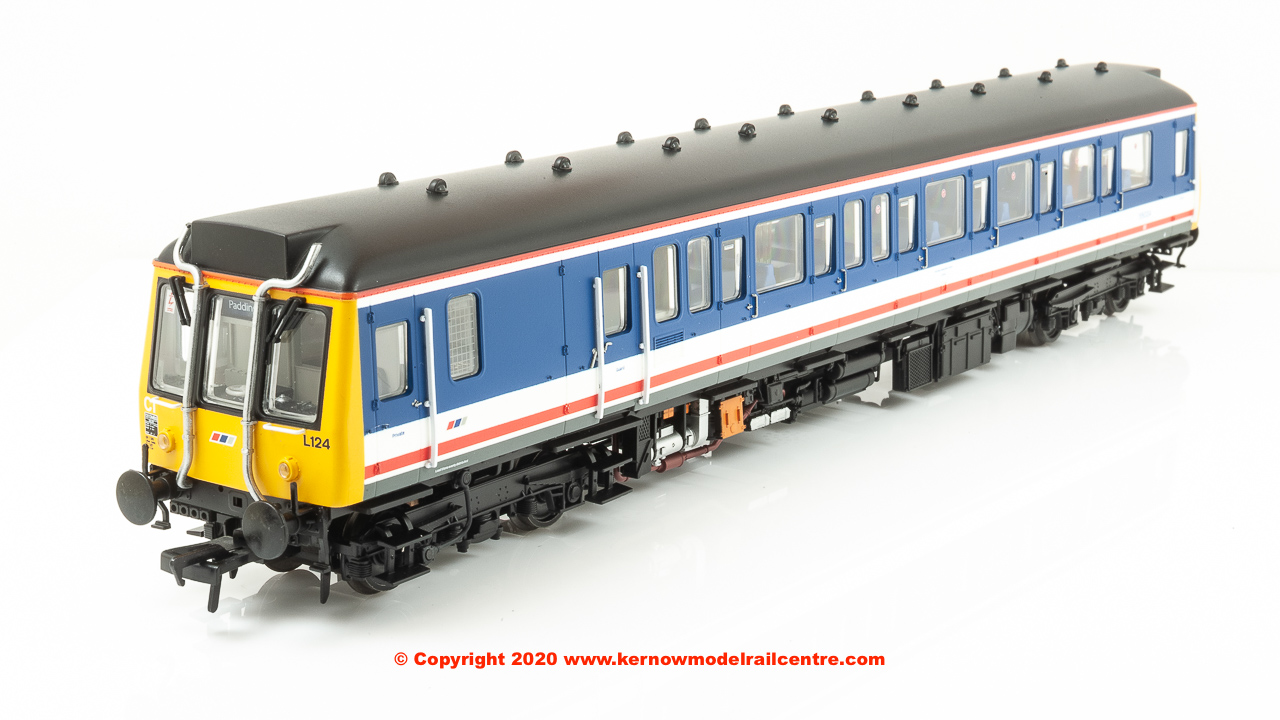 35-527 Bachmann Class 121 Bubble Car DMU Set Network SouthEast £131.95

In addition the following model will be exclusive to Kernow Model Rail Centre: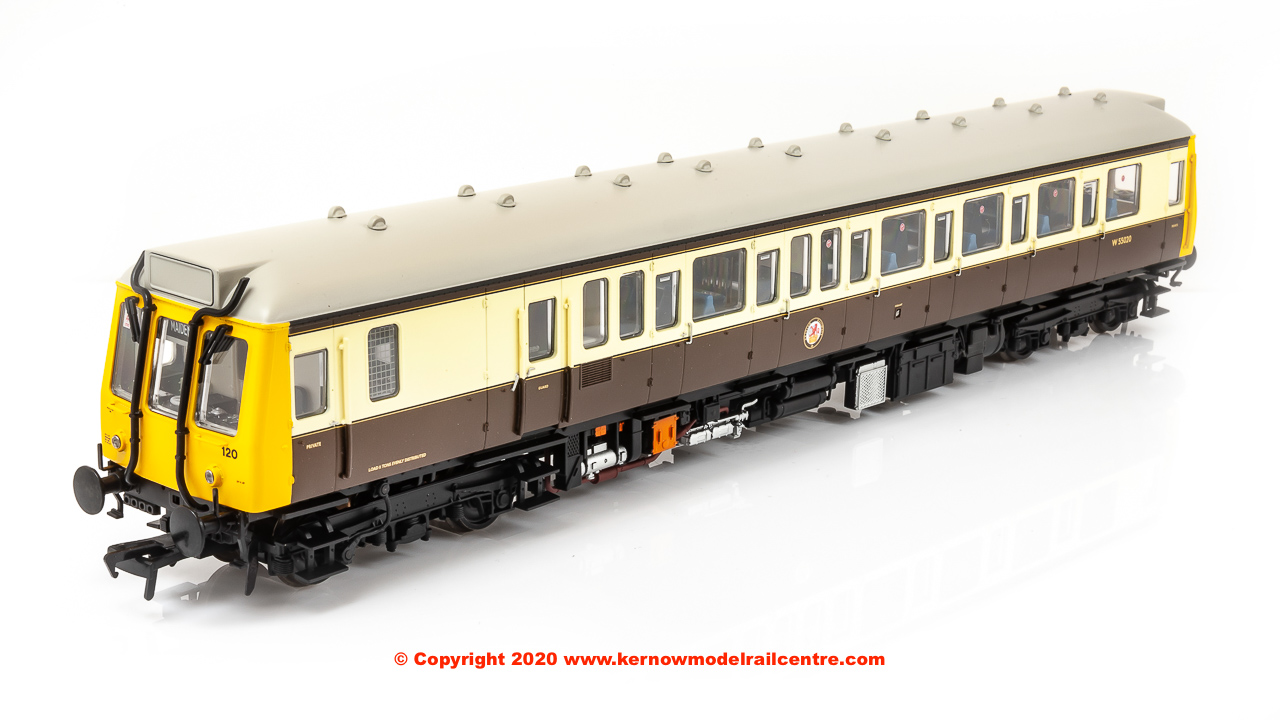 35-525Z Bachmann Class 121 Bubble Car DMU Set GW150 Chocolate & Cream £164.99