Bachmann to produce new GBRf Class 69 locomotives in both 00 and N gauges.
Contributed by: Graham Muspratt
15 Jun 2021 00:00am
To coincide with the first two locomotives entering traffic, Bachmann Europe Plc today announced that it has reached an exclusive agreement with GB Railfreight to produce models of the exciting new Class 69 diesel locomotives in both OO and N scale.
It should be noted that due to the unique nature of this project and the agreements required to bring these models to market, this project is being announced outside of the usual three-month British Railway Announcements programme. Other products, both new tooling projects and new numbers, liveries etc. on existing tooling, will continue to be announced in the quarterly British Railway Announcements once they are within three months of release as has been the case with Bachmann/Graham Farish product announcements since the start of 2020.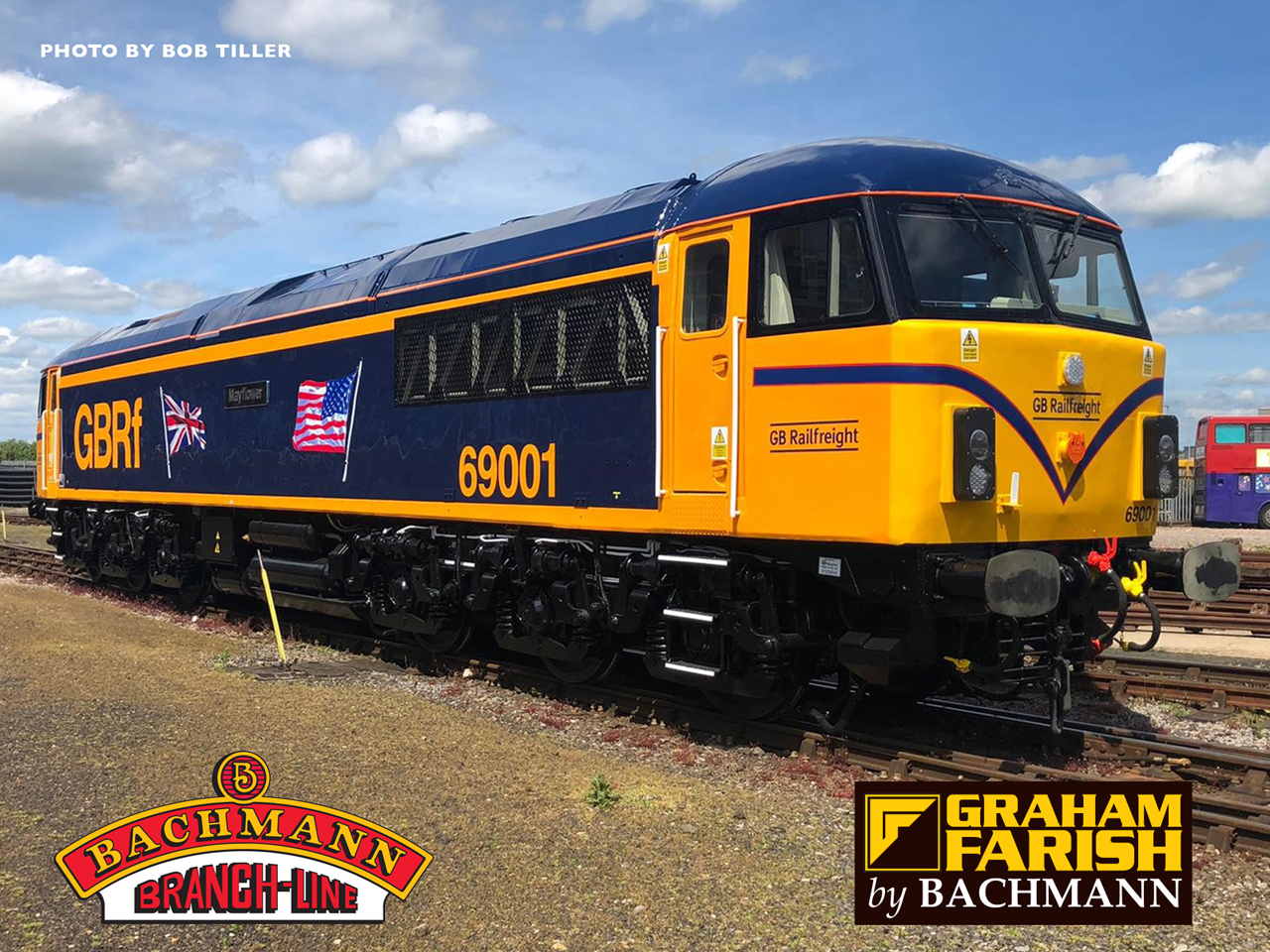 The New Class 69 locomotives are being converted from Class 56s by the American company Progress Rail at their Stoke-on-Trent facility to meet GBRf's growing motive power requirements. Providing improved emissions and fuel economy plus standardisation among the fleet, the new locomotives incorporate various new parts including new EMD engines, the same as fitted to the Class 66 locomotives that have proved so successful for GBRf, along with a new cab interior which too is similar to that of a 66. The Class 56 bogies, wheelsets and traction motor have been retained having all been overhauled to a high standard.
Ten locomotives have been ordered with the option for six more and the first two, Nos. 69001 and 69002 have now entered traffic. No. 69002 carries GBRf's take on the classic BR Blue Large Logo livery whilst No. 69001 has been decorated in a special livery with American
and British flags signifying the American input into the rebuilding of this British-designed locomotive – the name 'Mayflower' has also been applied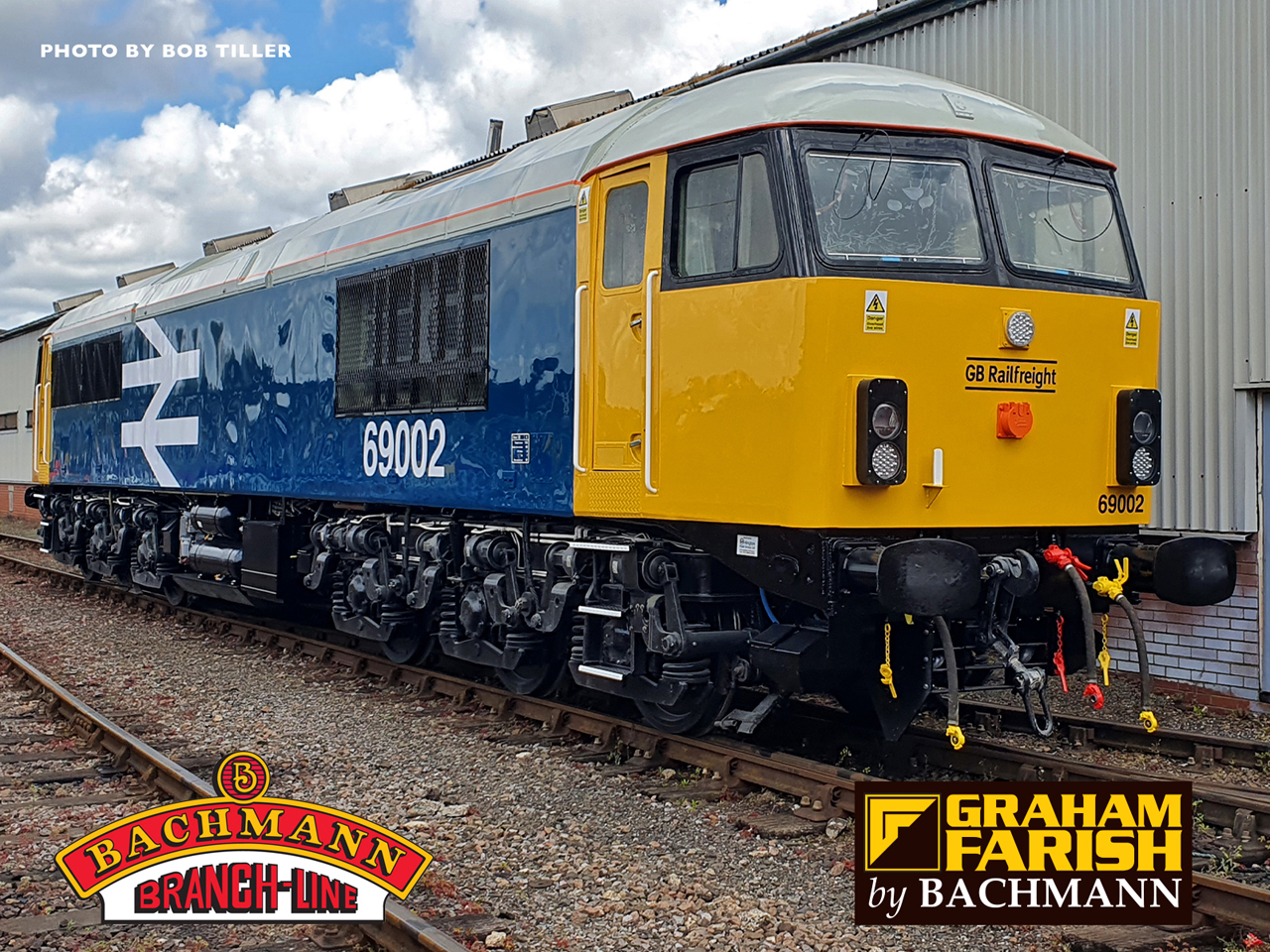 David Haarhaus, Managing Director of Bachmann Europe Plc said: "We are delighted that GB Railfreight have given us the responsibility of reproducing their new Class 69 locomotive in model form. The real locomotives have already grabbed the attention of enthusiasts and we
are sure that these models will be just as popular. We have always enjoyed a strong relationship with GBRf and so we are thrilled to have the opportunity to work with them once again to produce models of these distinctive locomotives. It is perfect timing for us as we will be able to incorporate the high level of detail and features that are associated with Bachmann products, including all of the latest technologies that are being employed on our new generation of locomotives."
David continued: "we recently worked with GBRf to produce the Pride of Britain Train Packs, the sales of which will benefit NHS Charities Together, and I am proud that the agreement to produce these Class 69 models will present another opportunity for us both to give to a
deserving charity. In addition to Nos. 69001 and 69002, we will be producing a model of another member of the Class, the profits from the sales of which will be donated to a charity of GBRf's choice."
Bob Tiller, Engineering Strategy Director for GB Railfreight said: GBRf are delighted to work with Bachmann on this prestigious project, we are very excited for our new fleet of 69s and even more excited to see highly detailed Bachmann Class 69 models of these locomotives available to everyone. GBRf work with a number of highly respected UK charities including those affiliated to the NHS and the sums collected will help everyone in these times. We are producing a number of special liveries to ensure a colourful and interesting collection and look forward to seeing them enjoyed on our layouts."

Models of the Class 69 will appear in both the Bachmann Branchline and Graham Farish ranges in due course and further updates will be provided as the models develop.

Return to Page Top