Kernow Model Rail Centre announce Exclusive Bachmann Class 90, 90129 'Frachtverbindungen' in DB Red livery
Contributed by: Graham Muspratt
1 Feb 2022 00:00am
We announce an Exclusive, Class 90 "Frachtverbindungen" number 90129 in the distinctive DB Red livery complete with its eye catching white and yellow cab fronts, and will be available for delivery this month.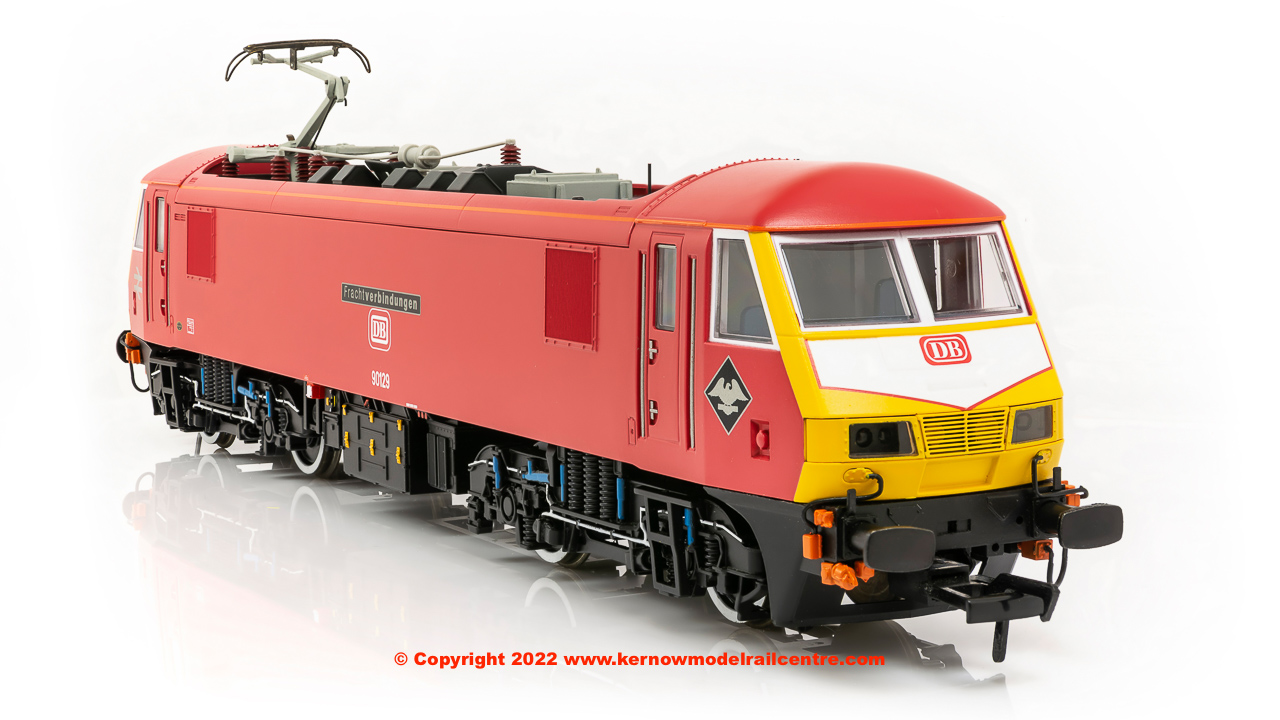 In 1991 Twenty-five of the original fifty locomotives were dedicated for freight traffic; they were reclassified Class 90/1 and renumbered 90126-150 by the addition of 100 to the original number, with a 26th (90125) converted in 1993. The modifications included lowering the maximum speed to 75 mph (121 km/h), isolating the electric train supply by removing the ETH jumper cables and, later, by removing the drop-head buckeye and associated rubbing plate.

The Freight Connection 92 Exhibition, September 1992, hosted in Birmingham was to build interest in the rail haulage option between the UK and mainland Europe in preparation for the opening of the channel Tunnel. As part of the exhibition, three Class 90s were repainted into DB, SNCB and SNCF liveries to draw attention to the seamless European rail network the Channel Tunnel would connect BR services with. These three Class 90s were repainted at Crewe Depot and were named in the language of a European partner nation and painted in that country's state railway colours.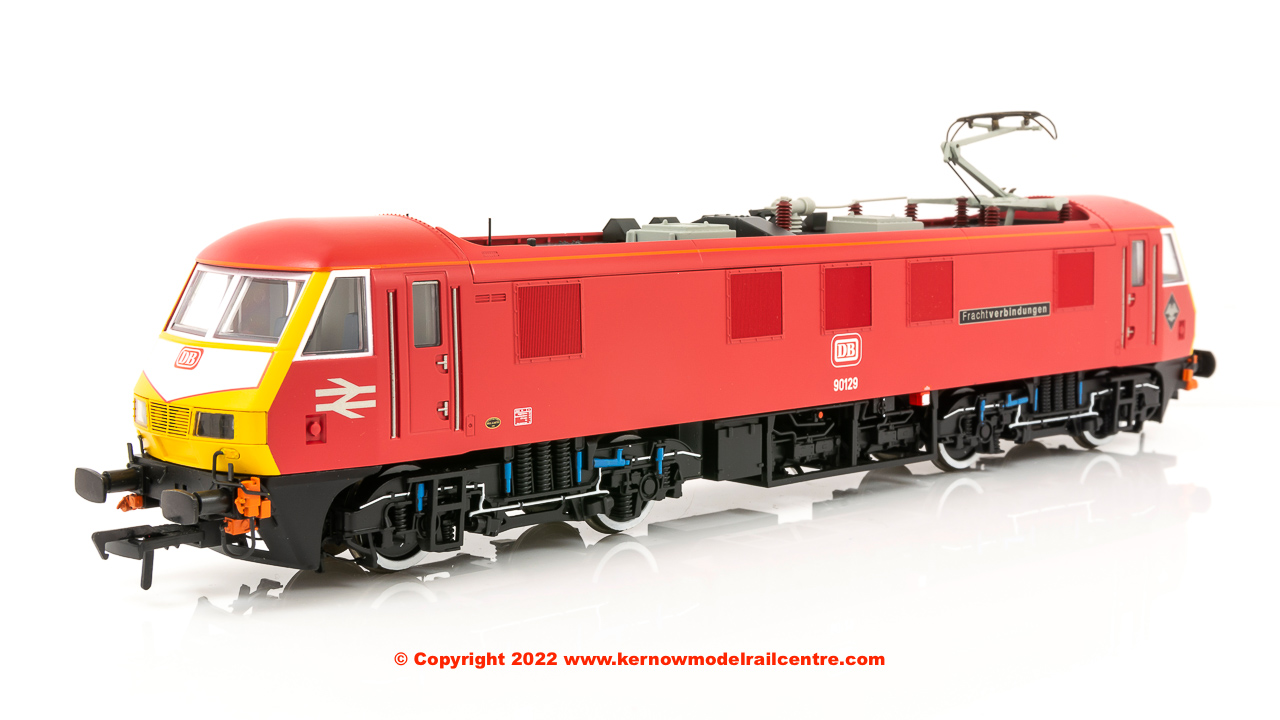 Four Class 90s were named to commemorate the Freight Connection 92 event:

90 022 was named "Freightconnection" and painted in the British Railfreight Distribution livery.
90 128 was named "Vrachtverbinding" and painted in the Belgian SNCB livery.
90 129 was named "Frachtverbindungen" and painted in DB Deutsche Bahn AG German Railways livery.
90 130 was named "Fretconnection" and painted in the French SNCF Sybic livery.

The Kernow Model Rail Centre Exclusive highly detailed model in 00 Gauge of 90 129 is being produced for KMRC by Bachmann and is supplied with etched nameplates and a numbered certificate of authenticity. The model has die-cast chassis block with a five pole, twin shaft motor with two flywheels providing drive to axles on both bogies.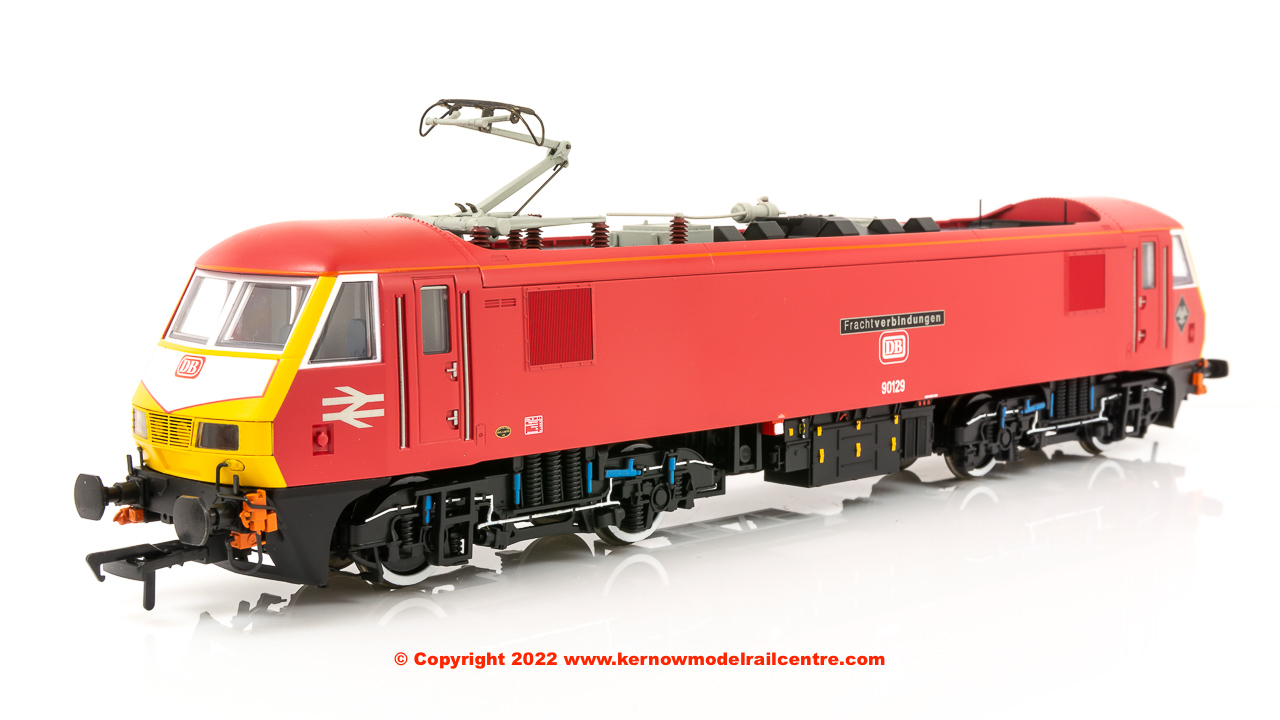 Features also include a metal posable or DCC-operated metal pantograph, an easy-access DCC decoder socket, sprung buffers correctly with original round with flat sides at end A and modern Heavy type at end B, original style slatted grill, TDM cables mounted at buffer sides, large battery charger, battery boxes and switch with hinged access panels that are ribbed, full-depth cab interiors and switchable day or night lighting modes. A close coupling mechanism is fitted at each end, each of which is fitted with coupling pockets to NEM362 standards.

DCC ready versions are equipped with a 21pin socket and the recommended decoder is the Bachmann specific class 90 decoder number 36-569A that is configured to operate the servo motor operated pantograph.

SOUND FITTED versions feature an ESU Loksound V5DCC Sound Decoder with Sound files produced specifically for the Bachmann Branchline Class 90 using recordings from real locomotives. SOUND FITTED models operate on DCC and Analogue control as supplied.

The Exclusive model available now is priced at £229.95 for DCC ready and £329.95 for DCC Sound Fitted versions.
32-612Z Bachmann KMRC Exclusive Class 90/1 Electric 90 129 Frachtverbindungen DCC ready £229.95
32-612ZSF Bachmann KMRC Exclusive Class 90/1 Electric 90 129 Frachtverbindungen32-612Z DCC Sound Fitted £329.95

Graham Muspratt, Development Manager, said: "The Class 90 number 90 129 in its striking DB red livery with its distinctive white and yellow cab fronts for the impressive Bachmann model was an easy choice for us to add to growing stable of Exclusive Limited Editions and we are sure it will prove very popular in both DCC ready, and Sound fitted versions."

Return to Page Top