Customer Layouts

Are you particularly proud of your layout handiwork?! We would love to see your layout and even showcase it here for all to see and admire! If your photo happens to include a KMRC Exclusive - well we won't be complaining! Please send photos into sales@kernowmodelrailcentre.com and pop in the subject line 'FAO Hayley Newsletter'.

Keep an eye out on new layouts appearing weekly! Please note that it is me, Hayley, so don't expect any 'professional' opinions :)


The Atlantic Coast Express loco change on Mr Calverley's layout:

Mr Ker has sent in this photo of his layout with the fabulous KMRC Ark Royal. In his words: "The layout definitely a work in progress, but all lower-level track is in place (and operational). A second station will be on upper level.
Layout is only 3.1metres x 1.5/1.8 metres (a slight L at the upper station) but will have good magician's sleight of hand to fit in a genuine double-track mainline (removable storage sidings to be added) and two small terminus stations (trackwork for one at top-right of picture) each capable of handling one 3-coach loco-hauled train with run-round for loco and a second platform for push-pull autotrains or 2-car DMU as well as small goods yard.
This is my Kernow D601 Ark Royal at the head of a short train of Hawksworth coaches, crossing my model of Maidenhead Bridge. Main arches are approx 80% compression (and there should be another three small arches each end, but you can barely see those on the real thing) but I'm happy with the overall feel of it - especially since it was my first attempt at scratch-building, made for an earlier, never-quite-completed layout and now in need of a bit of tlc after recent house move."
This is Mr Foster's layout called 'East Cheam'! It is a work in progress, but looking grand!
Some photos of Mr Barnard's Sandgate Quay layout. "Sandgate is a real place located in East Kent, but the railway and the Quay are a 'might have been'. It is modelled as it may have been 1958/1962. This was at the time of the change from steam to electric (with a touch of diesel)." Thank you!
Our Development Manager, Graham, is exhibiting his layout Canute Road Quay in Milton Keynes on August 19th so thought we could show off a photo of it!
Mr Howell
sent us a photo of his layout Yfanwen, which is a small branch line on the border between Wales & England. Mr Howell has said 'This has an interesting story, the local land owner in the 19
th
century owned the small village of Yfanwen his name was Sir Hayden Goode-Evans and he wanted a then new idea of a railway so he had a word with a neighbour Lord Elpus who had some of the directors of the GWR as contacts who spoke to his friends who said of course Evan we can look into the idea.
So it came to be the GWR agreed to build the short branch line. Sir Hayden was well please as he could get his cattle & sheep to market as well as bring coal in for the villagers to the local merchant Norman Slack, known to all and sundry as Nutty. Normally the train was a 14XX and Autocoach. This day there was a parcels railbus on crew route learning as the GWR inteded to use one of their passenger railcars in the event of the usual 14XX not being available.'
The name Yfanwen comes from his childhood. He was on a train in Wales and we were stopped at Afon Wen for about 5 minutes possibly waiting for the road and a voice said "its not a case of Afon Wen but if an wen":
Mr Evans has made
a homage to Barry scrapyard, with two narrow gauge lines and an engine shed area. I am loving the park area!
:

Mr Grant has made significant changes to this outdoor end to end imaginary shuttle branch line using Peco's Bullhead track with matching electrofrog points. His faithful AMR shuttle units keep automation with realistic slow starts and stops
:
I couldn't have been sent a more appropriate layout, with all this warm weather! Thank you Mr Nye for your West Country layout. His recently completed beach scene was inspired by the sea wall at Teignmouth, memories of the summer of 1976
:
This diorama, by Mr Gott, is one of several constructed for a Railway Modeller's series of articles showing what can be done with corners. (This one featured in the March 2015 issue). 'Named 'Polruan', it shows a Cornish salt-marsh estuary in the autumn, with various wild birds, two fishermen and a dogwalker. Oh, and a Beattie and clay wagons... The water is from Deluxe Materials ('Solid Water') mixed
very
thoroughly and protected from dust while curing by several lengths of clingfilm draped over a shallow 'yak' style framework of timber dowelling. Low-tech but it seems to have worked!' It looks fantastic!:

Thank you for sharing these photos of your layout Mr Hall. I am sure Greg had a smile when he spotted them! I am particularly fond of the photo with your feline friend:

In Mr Gigney's words - this is his firs,t and probably last layout, as it has taken 8 years and is still not finished. It is of nowhere special but just a dream of having this layout. Well I can say you made your dream come true with such a spectacular layout!:
This is a work in progress by Mr Garnor - Stanton Cliffs layout with our limited edition 08 passing by the allotments. We would love to see more!: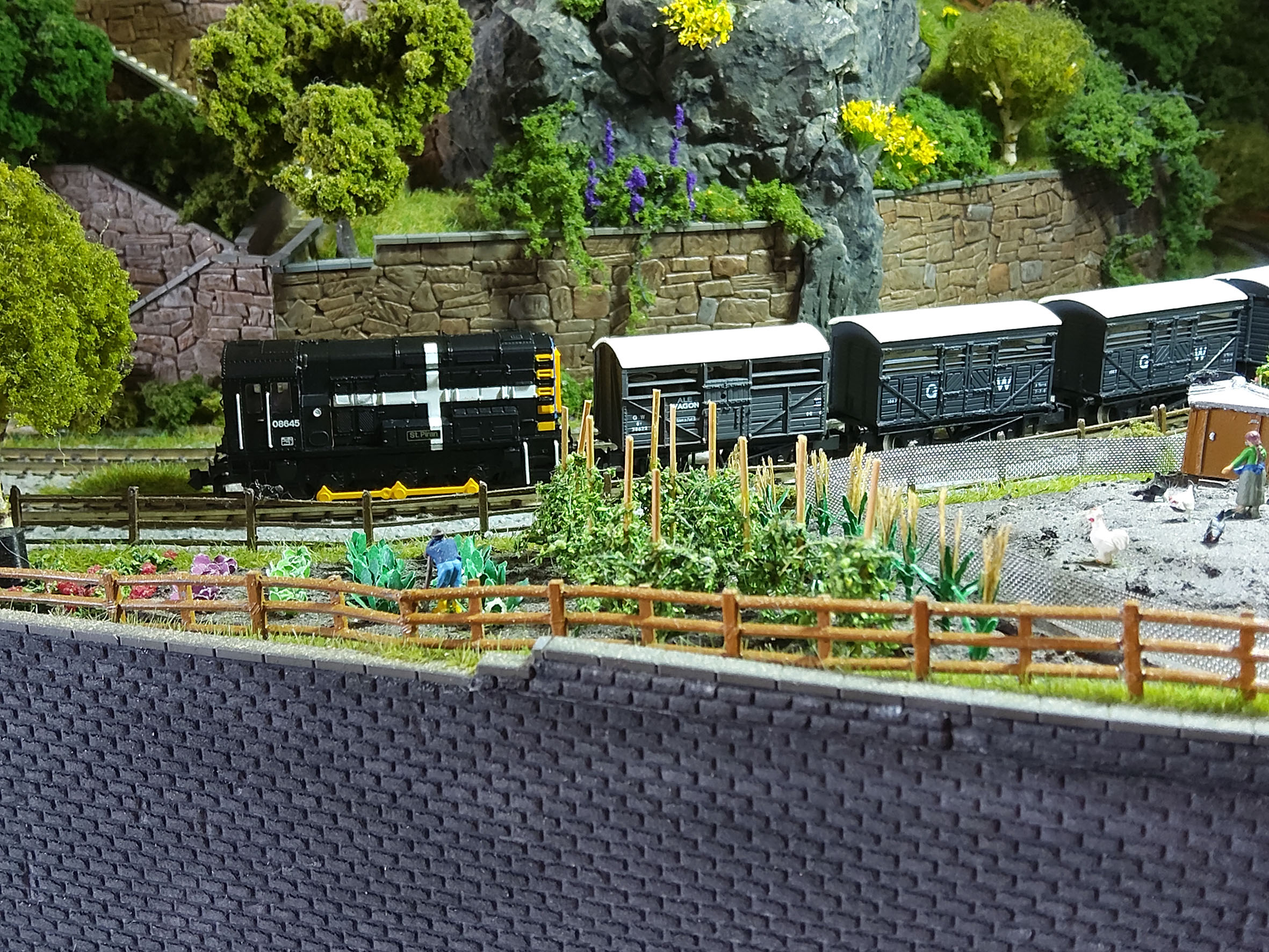 Mr Gunstone's latest layout 'Ewe'! This is the most recent chapter in his series of Sheep named layouts.In his words - It's a small cameo layout 4ft long x 16 inches wide. Set in 1960s East Anglia it uses RTR locos and stock from Bachmann and Hornby with Ready to plant buildings, again from Hornby and Bachmann. Track is Peco code 75 streamline with lots and lots of static grass:
Mr Javan started this layout again 2 years ago after nearly 40 years of it all being packed away! It's only analogue and a work in progress. Well we think it was definitely worth you getting it all unpacked!:

This is a special model railway layout, sent in from Anthony in Canberra. I think it is extra special as it has been in progress since the 1990s and is a family affair, with his nephew, niece and mum helping out! Absolutely wonderful!:
Some wonderful photos of Mr Haigh's layout - a beauty!:

Mr Scott has sent in these two photos of the layout they have been working on at the Swansea Bus Museum and Transport Heritage Centre. Spectacular! He mentioned that the layout is nearing completion and there will be a third loop at high level where the buses are parked:

This super photo is a shot of the standby loco at Mantles Wood, awaiting a possible call to action, on Mr Davis' layout: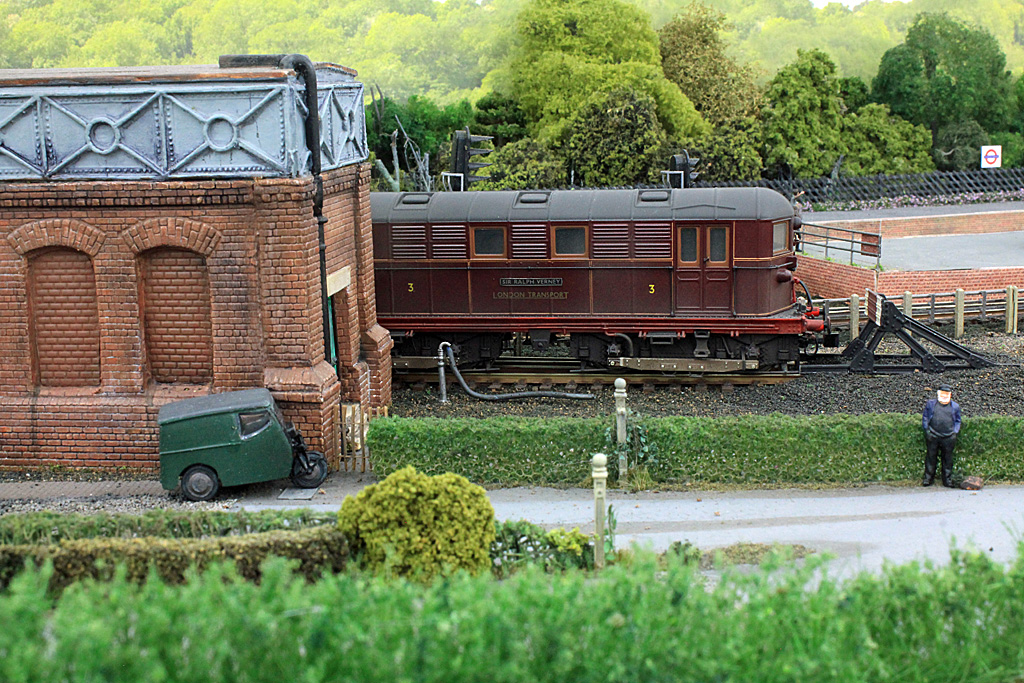 Wonderful photos of an almost completed Lynton Station and Goods Shed by Mr Lenz:



Mr Howell has sent in his most recent diorama, inspired by Kelling Heath Park Halt on the North Norfolk Railway:
This superb looking layout found its way to my inbox this week. Thank you Mr Hall! Lovely looking models :)
I was sent this photo last month but it is from an unknown sender! It looks like it was text to our email address - if that is possible?! If it is your photo then thank you for sending it in! A wonderfully detailed layout:
The lovely Syd sent in some wonderful night shots of his layout 'Trevelyan', of various locos in and around the station and locomotive shed:

Mr Simmonds, from Surrey, has sent in another view of his mightly diesel depot! As he put it, with a good mix of motive power on display:

Mr Howell received his order of backscenes from Gaugemaster recently and they are looking fab with the factory and Diorama! He mentioned he likes the one with the Coal Tank as he remembers the real one at Dinting in the 1970's, where it was based along with other notable engines like Bahamas, Leander & Scots Guardsman:

Here are some photos of Mr Bourne's London Underground layout! It is based on stations in the North West London area, as it was, late 1950's to late 1960's, with stock ranging from 1920's to present day:
This layout, "Waddlemarsh", lives around two walls in a London-sized flat in a room which it shares with a library, office, model-making area and bed! It is a freelance interpretation of a typical SW London location in the 1960. Looks fantastic Mr Squirrel - amazing use of space!:

This layout belongs to our very own Paul from the KMRC warehouse!:

Christmas for Mr Strickett's happy little grandson!:

Check out the Beattie on Mr Howell's layout!:
Mr Weager, from the Railway Enthusiasts Club (REC) at Farnborough, sent in these photos with the following information behind them.

"At the beginning of the lockdown The Fry's Show Train was mentioned in a conversation with Kevin Fry, of the Woking Exhibition, as part of our mutual knowledge of Keynsham near Bath.
I did my research, difficult as most archives were closed, and found that I needed to acquire GWR MONSTER vans and a Hornby C15 clerestory coach. The MONSTER Vans, by Ian Kirk, are no longer available so I had to scour the internet for them. The Two MONSTER Vans were modified with Keen corridor connections, at one end only, to form GIANT vans and the C15 was heavily modified to form a late version H2 restaurant car. The ends were also modified to take Keen corridor connectors. The livery caused a problem as I had photographs showing two different types. I experimented, for livery one, with making decals on my inkjet printer, but these failed as they were too transparent, so I defaulted to livery two and used Slaters plastic lettering. This isn't quite right but will have to do. The most difficult job was the lining, don't look too closely!".
The provided three photos of the finished train are on his barely started layout, but he did make note of the "Kernow" signal cabins! Mr Weager also mentioned in the first photo there is a prairie tank hiding!.

Thank you for this Mr Weager! I love to hear about the stories and reasoning behind the photos that get sent in:
Mr Howell has made a few amendements to his Welford Halt layout, in BR Eastern Region guise. These changes include the addition of the Dapol windmill, and some re-arranging of the fields at the front.

Mr Howell shared with me this little back story to his windmill choice: 'When I was building the windmill I wondered about a colour scheme so searched 'post mill' and one of the pictures came up of a post mill in the village of Wrawby, which is in North Lincolnshire. I knew this mill as I used to live in the town of Brigg, which Wrawby is near, and I used to pass the mill on my way to work at the airport, off the main A18 road which goes to Grimsby.' His layout includes the recognisable J70, one of Model Rails models:
Some layout photos from our very own Simon Paley. Very realistic, but then I wouldn't expect anything less!:




Mr Calverley sent in this wonderful shot from his layout. Lest we forget: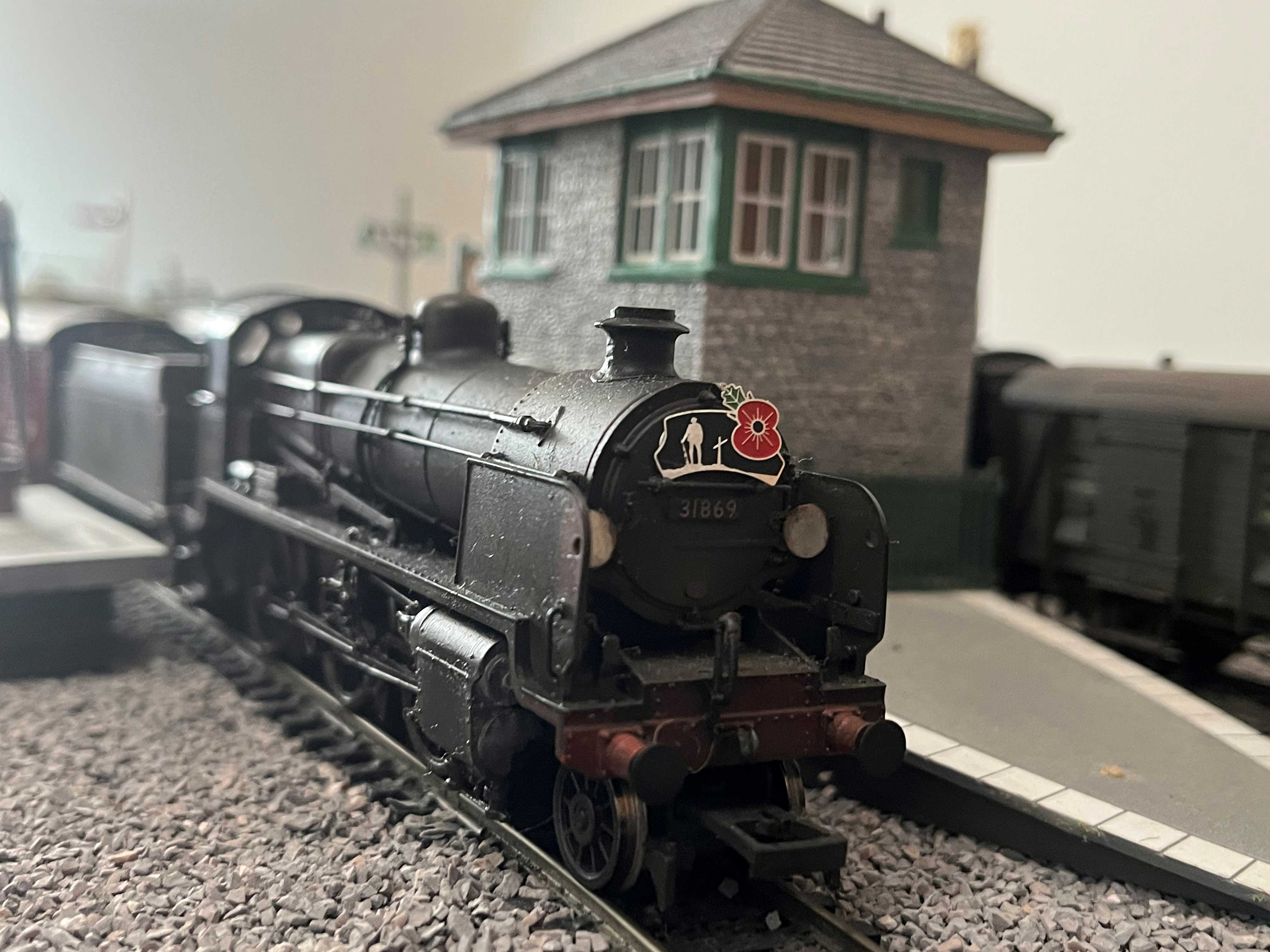 Mr Wright sent in his N gauge layout, Arisaig, based on the West Highland Line of the Mallaig extension. It is not an exact copy but a representation. Mr Wright mentioned that a full article appeared in the N gauge journal over three years ago. This article explained the origin and the interest on this station, which maintains the cardinal point of the station furthest West on the UK railway network. Apologies for the delay Mr Wright!:

Wolverhampton in 1977. In Mr Ganley's words ,'Buses are part of model railways, and Rapido and Richard at Rapido deserve a mention for a wonderful, illuminated Leyland Fleetline in WMPTE livery. The scene shows the WMPTE road 533 to Wolverhampton, which passed my office window all day in those days. In the rear to the left is a Midland Red Willowbrook Leyland Leopard on the 893 to Ironbridge, which took me home every day.' Mr Ganley - we love it!:

Mr Nye has just completed another section of his OO gauge West Country based layout, this time inspired by Forder Viaduct near Saltash. He couldn't resist using the derelict engine house to enhance the Cornish flavour - I don''t blame him! The photos are of various views taken with a variety of motive power, based around the 60s & 70s:
As it is getting ever closer, (and the shops think it is already time !!!) here are photos of Mr Kay's N gauge layout 'Averingcliffe' which were taken during it's Christmas Fayre in 2019. He said that the resident's of 'Averingcliffe' has a really good time!:
Mr Howell has amended his layout 'Welford Halt' and changed it to a GWR Halt using fencing and a pagoda hut from ourselves! In his words, 'I have also split the field in front of the station so I can have sheep & now cows. Also on Hamwich, which you have previously used, I have currently as a goods depot with brewery wagons from various retailers and the USA tank, which you will recognise as being one of the Model Rail ones.

Just for a laugh I put on a Canadian train I bought when I was over there in 2010. It's of the Whistler Mountaineer, which was a train operated by Rocky Mountineer and was an out and back in a day from Vancouver to Whistler.':



It is crew change time on Mr

Calverley

's layout:



A wonderful shot of Dukedog 9015 passing through Mantles Wood with an engineer's train, with father and son looking on, on Mr Davis' layout:



It is now less than 100 days until... Christmas! This was sent in by Mr Boffy last Christmas - a superbly lit O gauge layout!:


A wonderful story from from Mr Howell: 'I was looking for a pagoda shelter that I knew I had bought in the past but could not find, but came across a couple of railway pieces I bought when on the Rocky Mountaineer train in Canada in 2010. Why they were selling Whistler Mountaineer trains I don't know but I decided to buy the loco and a carriage as a souvenir. The carriage, by the way, is built by Rapido Trains and includes the ability to turn the carriage lights on & off with a wand; I think the new Genesis coaches from Hattons will work on the same principal. Anyway, I decided to put them on my Welford Halt layout as shown in the pictures. The Whistler Mountaineer bear was given to me when Rocky Mountaineer Vacations did a presentation at work; I used to work for Saga Holidays before retirement. The little badges he wears are given to passengers on the Rocky donating the class they are travelling. Nowadays, according to their website, is Gold Leaf & Silver Leaf, in those days it was Red Leaf in place of Silver. In Gold Leaf you get to travel in the Dome Car.' Thank you Mr Howell

:

Our shop window layout in our Camborne shop has had a little greenery refresh! The first image shows the before (looking rather tired and bare!)and after. Thank you Anthony for giving the layout a little more life!:

Mr Simmonds, of Surrey, says there is s

till more to be done but 'I offer you my diesel depot'. Thank you for taking the time to send in your photo. It is really appreciated!

:


Mr Self (a wonderful comedian - well I think so anyway!) sent in these photos, including one of his Adams family, on his OO

scale layout based on a BR Southern Railway branch line called Kemblehurst

:


This work in progress (really?! Look at that detail!) layout has been dedicatedly created by Mr Yates:


Mr Guess sent in a photo of one of our new Ex-LSWR Road Vans on a local branch freight on the E&SMRS's Colnebourne layout photographed last week. The Egham & Staines MRS reopened to members this week!:


Mr Howell has kept himself busy with another diorama! His latest diorama

is called 'Welford Halt' (he is a Leicester Tigers supporter!). He wonders if he should have added the sponsors name like Welford Road, Mattioli Woods Welford Halt? It is based in East Anglia, hence the Heljan W&M Railbus; he has all 3!:




Mr Blackburn's Hyn Haddon line:

This is Mr Mumford's latest diorama, in passenger and goods modes. In his words, "The platform on the passenger train is Peco, as are the buildings. The passenger station is named Hamwich, this was inspired by a road sign in Kent pointing to the town of Sandwich and also the village or maybe hamlet of Ham.":

This is Mr Woodward's shed layout, in the transition period of late 50's early 60's. The shed and coaling stage are scratch built based on Midland Railway practice. The layout is in his bedroom, in between purpose built wardrobes! Very impressive!:

This little beauty lives in a cabin at the bottom of Mr Roe's garden!:

Mr Warren is very pleased with his recent delivery of his new Hornby Ruston & Hornsby 48DS Shunter in Express Dairy livery. Here it is shunting the yard of a country creamery preparing a rake of dairy produce wagons in readiness for their dispatch to London:

Mr Saunders has shared photos of his work-in-progress OO gauge loft layout - Liskwithiel Road. What he says about his wonderful layout: "The station layout is based on Par, and the name draws element from Liskeard, Lostwithiel and Bodmin Road. This is very much a Cornish layout and based around the china clay industry. As well as the station, there are some sidings with china clay dries, Pencubitt Dries, named after the Pencubitt House Hotel in Liskeard".
Mr Moon sent in this snapshop of his Bachmann crane dealing with a damaged Lima Warship Diesel. The model had suffered catastrophic damage on the parcels shelf of a car during a house move 30 years ago! In the background is a heavily repainted Hornby Dublo 'Denbigh Castle' and coaches, now over 60 years old and still going strong. Thank you for sharing!:
Mr Kennedy subscribes to an American magazine 'Narrow and Short Line Gazette'. A few years ago there was an article with plans about a mine building that once existed in Colorado. Mr Kennedy decided to build an HO model in Evergreen Styrene, Grandt Line doors and windows, corrugated aluminium, and smoke stacks from various sizes of brass tubing. Now all that was left was to name his masterpiece! He mentioned that there were Cornish miners in Colorado (as everywhere else), so he decided that his version would have an expatriate Cornishman as its owner - hence its name! Bloody 'ansome!:
Mr Nye sent in a lovely bunch of photos of his Branch line, based loosely on the Fowey Branch. This is part of a larger layout still under construction, based in Cornwall. Here are a selection of photos to show off his amazing work!:



This detailed layout, by Mr Pestell, is his N gauge railway approximately 47 inches x 47 inches in an L shape. Look like a very accessible, and impressive, layout!:

I am feeling similar as Mr Boffy and missing things like the rush hour of the train station!:


This little diorama was put together this week by Mr Howell. In his words it features 'the wonderful Metcalfe kit of the Crofters Cottage and Barn. It fits quite nicely next to my railway board, as you will notice Michael Portillo is still making railway programmes in the background on the main board. The animals in the fields are Faller & Preiser, with flowers and other plants from Gaugemaster.' It looks proper!


A selection of photos, from Mr York, of his brilliant layout modelled on Uckfield Station in the early 60's:



A pair of ACE's from Mr Calverley!:
This amazing layout is by Mr Sheppard in Adelaide, South Australia! Spot the KMRC Beattie...! A little did you know from Mr Sheppard. Did you know... the wombat has square poo! Ha! I love this! Ouch indeed...:
We have had another delivery of this popular model, showcased by Mr Gower! The Hornby Merchant Navy 'East Asiatic Company' looking splendid:


This OO gauge layout, by Mr Trethewey, is based on Pangbourne in the Thames Valley. This is his second layout based on this location and smaller than the first. It shows the 4 track mainline, the A329 and the Thames. Thank you for sharing it with us!:



This fantastic layout by Mr Savin is named 'West Hill'. See more of his wonderful layout by clicking here!:
"The DMU parcels arrive at Penlyn and the prototype DELTIC has broken down so is getting a lift back to works!" Thank you for sending in your photos Mr Mytton!:

The other end... of Mr Howell's layout! He says - 'The locos on shed are both Bachmann, the G2A and Midland 3F. Being brought up in Cheshire both types were familiar to me. The G2As were known to us as Coffee Pots. The sheep outside the pub is a nod to the North Yorkshire village of Goathland. I used to park there when visiting the NYMR from my time of living in North Lincolnshire before I moved to Kent, a lovely drive from the Humber Bridge through the Yorkshire Wolds. The pub is the Cross Keys, looking at the names on the Metcalfe kit I used that one as I used to drink in a pub of that name!' Good enough reason to me!:

Mr Griffin
Mr Bottomley

Mr Lenz

Mr Mytton


Mr Gower



Mr Lowery
Mr Allin
Mr Grant

Mr Boffy

Mr Read

Mr Coote
Mr Krill
Mr Mathieson
Mr Young




Mr Turner


Mr Howell


Mr Calverley


Mr Maltby



Mr Au



Mr Howell
Mr Bracking
Mr Gower

Mr Boffy
Mr Grainger
Mr Hunt
Mr Mepham
Mr Gunstone

Mr Willcocks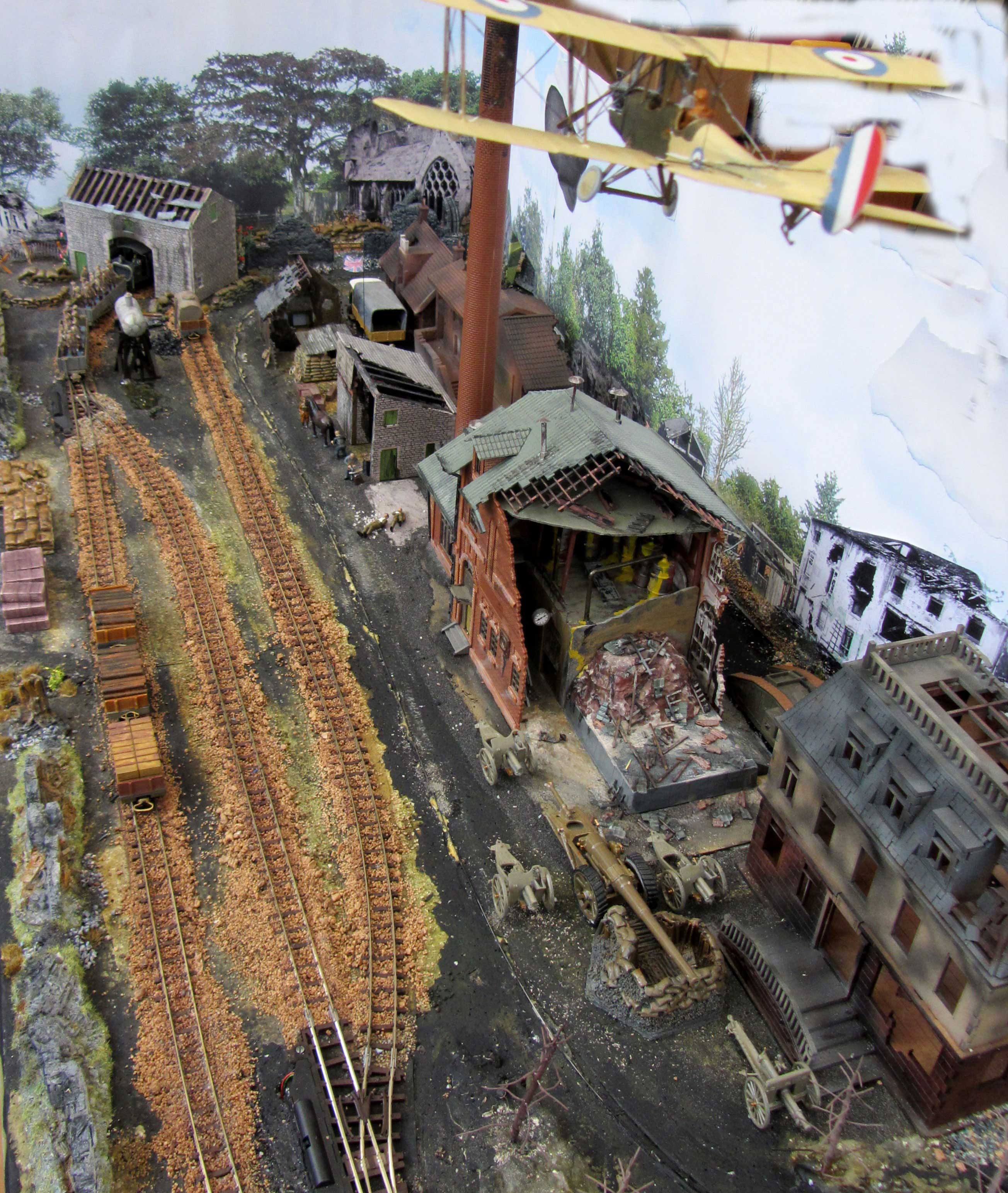 Mr Jones


Mr Hastings

Mr Burgess

Mr Sinden

Mr Dear

Mr Ruming

Mr Calverley

Mr Davis

Mr Faulkner

Mr Squirrell