KMRC Skrifa – SECR Birdcage coach sets
Author: Graham Muspratt
Bachmann first announced the introduction of these ex South Eastern and Chatham Railway 60ft Birdcage coaches back in 00 gauge March 2013 and the first arrived with us in September 2017. Since then they have been produced by Graham Farish in N Gauge.
Graham explores the history of these full of character coach sets and the versions available.
These 60ft three coach 'birdcage' sets were introduced by the South Eastern and Chatham Railway (SE&CR) between 1912 and 1915; and comprising of 62 sets were the most numerous sets compared to the previous 50ft examples. With the birdcage lookouts over each of the guards compartments these sets typify the standard SE&CR non-corridor coaching stock. The sets comprised originally of: 2nd / 3rd class composite Brake Lavatory (later declassified to Brake Lavatory Third (SR Diagram 162), a 1st / 2nd (later declassified to 1st / 3rd) Lavatory Composite (SR Diagram 315/6) and the Brake Third (SR Diagram 160), The Composites were built in batches with two distinct body side variations, with the initial batch having two wide windows on each side for the saloon, whilst the later batch had one wide and one narrow window for the saloon; Bachmann have tooled for both versions. The Southern Railway renumbered both the individual coach and set numbers between 1923 and 1929.
00 Gauge
The first production batch from Bachmann were in SECR Dark Lake Set 143, SR Olive Green Set 613 (Sold Out) and BR Crimson Set 595(Sold Out) and has now been followed by SECR Wellington Brown and Set 149 SR Malachite Green Set 622 liveries. The coaches are sold individually but correctly numbered to make up realistic sets.
| | | | |
| --- | --- | --- | --- |
| Livery | Brake Composite | Composite | Brake Third |
| SECR Dark Lake Set 143 | 39-600A | 39-610A | 39-620A |
| SECR Wellington Brown Set 149 | 39-604 | 39-614 | 39-624 |
| SR Lined Olive Set 613 | 39-601 SOLD OUT | 39-611 SOLD OUT | 39-612 SOLD OUT |
| SR Malachte Green Set 622 | 39-603 | 39-613 | 39-623 |
| BR Crimson Set 595 | 93-602 SOLD OUT | 39-612 SOLD OUT | 39-622 SOLD OUT |
N Gauge
Graham Farish have released 3 coach packs in SECR Wellington Brown Set 149, SR Lined Olive Green n Set 613 and BR Crimson Set 564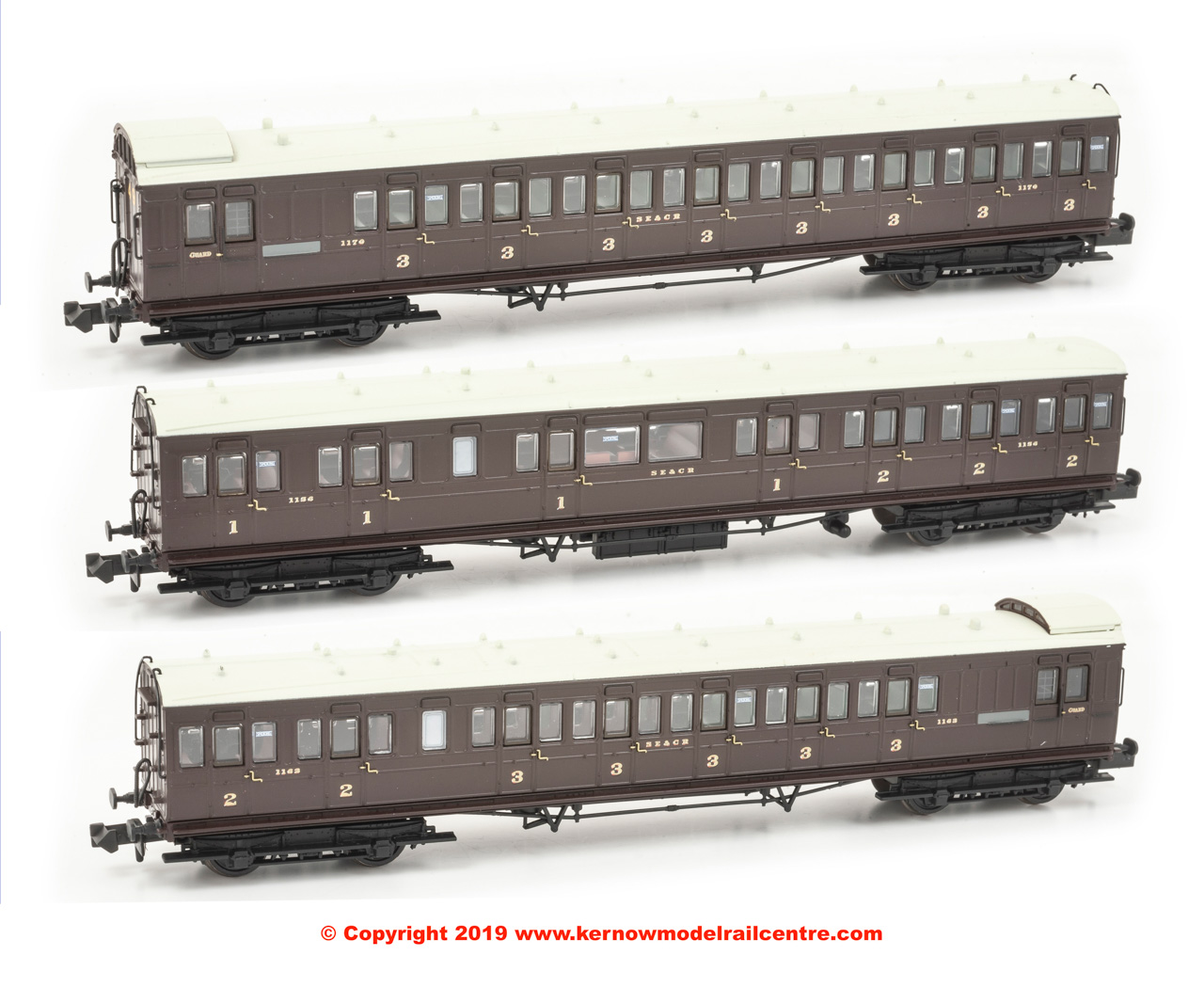 374-910 SECR 60ft Birdcage Stock in SECR Wellington Brown livery Set 149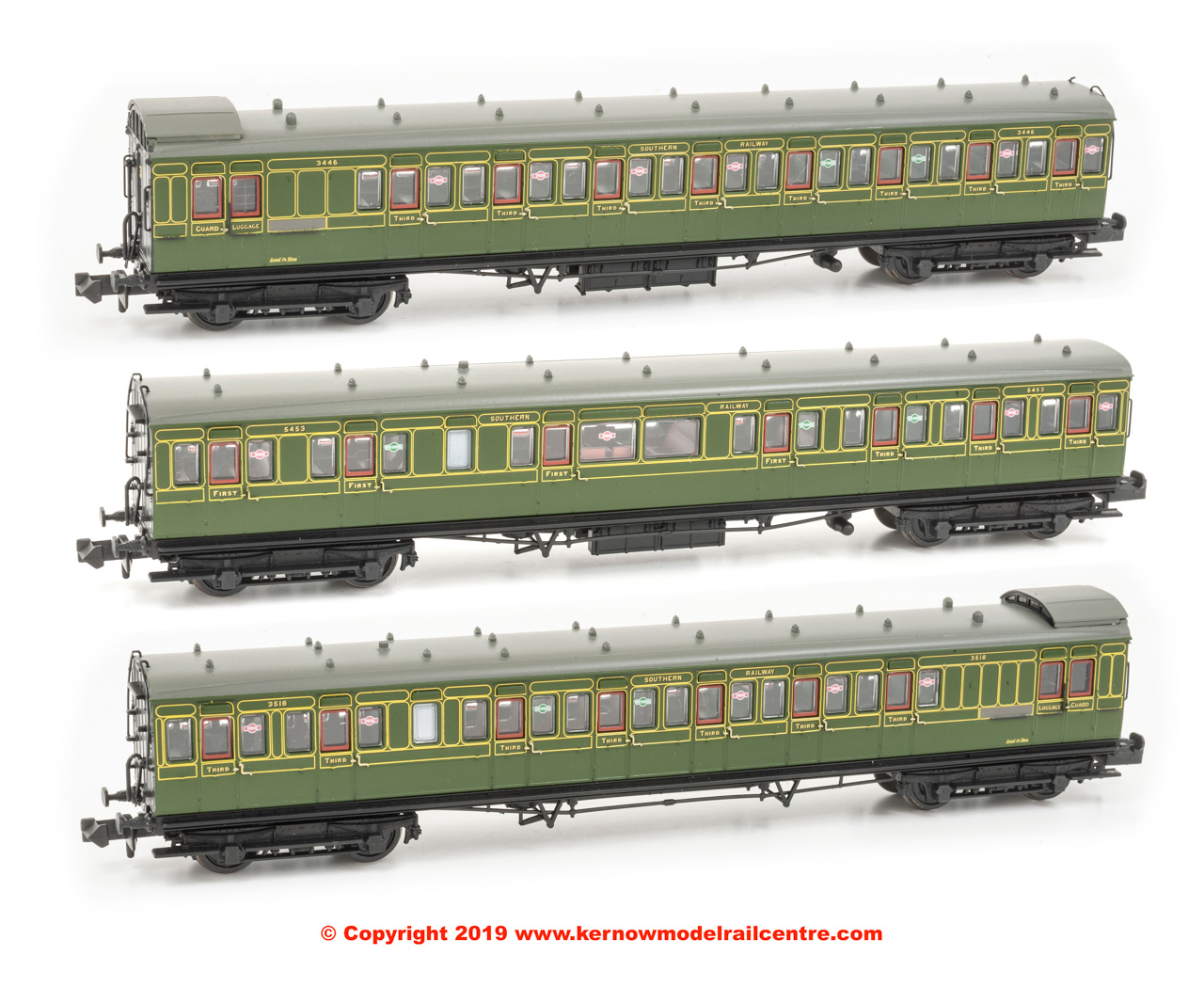 374-911 SECR 60ft Birdcage Stock in SR Lined Olive livery Set 613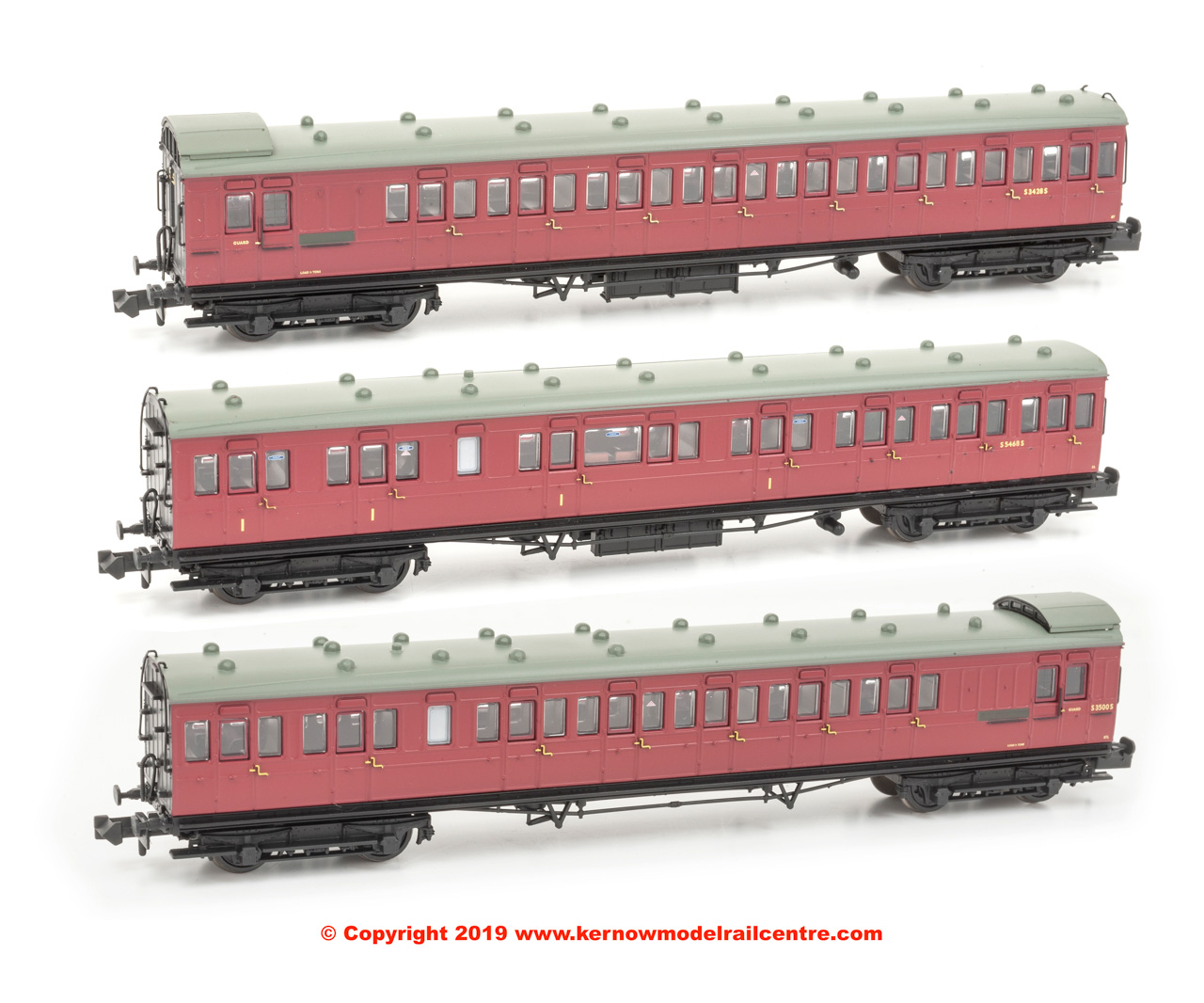 374-912 SECR 60ft Birdcage Stock in BR Crimson livery Set 595
The introduction of these sets with their distinct character, being of pre-grouping origin, that were long lived and little modified during their lifetime; along with recent South Eastern & Chatham Railway / Eastern Section Southern Railway locomotives such as the Bachmann C Class 0-6-0 and the Hornby H class 0-4-4T in 00 gauge and the Graham Farish C Class 0-6-0 in N Gauge enables correct style sets be paired with suitable locomotives.
Keep in Touch


What do you think? Get in touch with your thoughts, suggestions for future posts or suggestions for future models!


Please use kernowshow@live.co.uk to get in touch! Please note that although all emails to this address will be read, We will not be able to reply to every email.


For general email enquiries, order tracking etc, please use the Contact Us section of our website as usual.

Back to KMRC Skrifa Index