Accurascale announce the MGR, CDA and MHA Family of wagons in 00 gauge.
Contributed by: Graham Muspratt
10 Jun 2021 00:00am
Accurascale today announces its next extensive wagon project; the MGR coal hopper wagon family of HAA, HBA, HCA, HDA, HFA, HMA and HNA, as well as the CDA china clay hoppers and MHA ballast/spoil wagons in 00 gauge.
The full range of Accurascale MGR, CDA and MHA wagon packs are available to pre-order here>>>
A total of 10,961 of these iconic coal wagons were built between 1964 and 1982, with all but 162 constructed at Shildon (the other 160were built at Ashford). The standard MGR coal hoppers were initially coded 'HOPAB' complete with B-prefixed numbers from new. They then became HAA under TOPS and the B prefix was dropped in the mid-1970s. Canopy-fitted wagons from that time were classified as 'HOP 32 AB', which confusingly became HAA under TOPS before later being recoded as HCA.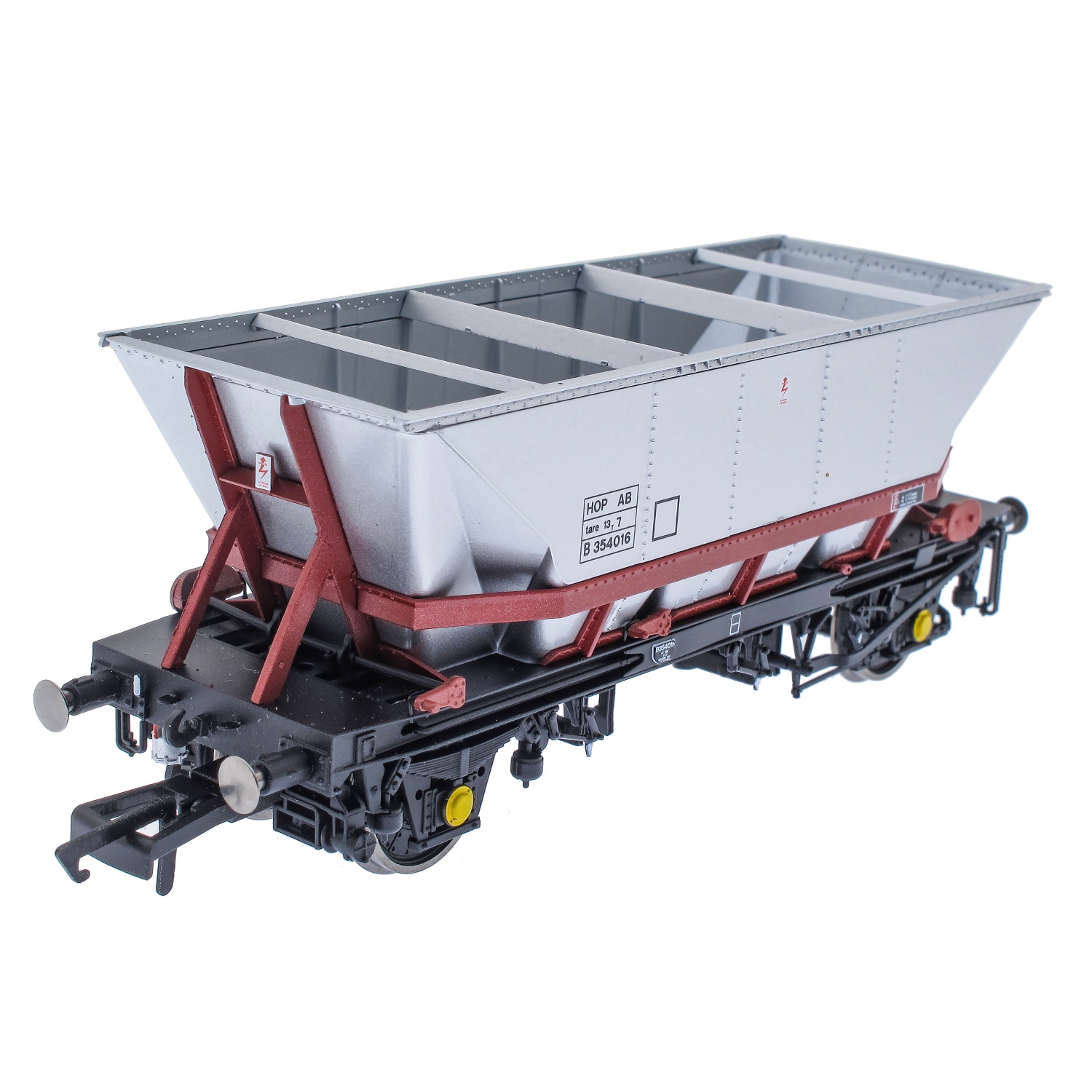 The last 460 wagons, built at Shildon in 1982, were given uprated suspension and brakes to allow them to run at 60 mph loaded and unloaded. These gained the TOPS code HDA and they were used on long-haul services and in shorter formations in Speedlink services. The main spotting feature of the HDA was the above-frame mounted air distributor at one end. By comparison, the standard HAAs were only permitted to run at 55 mph empty and 45mph loaded, although some were later uprated for 60mph empty.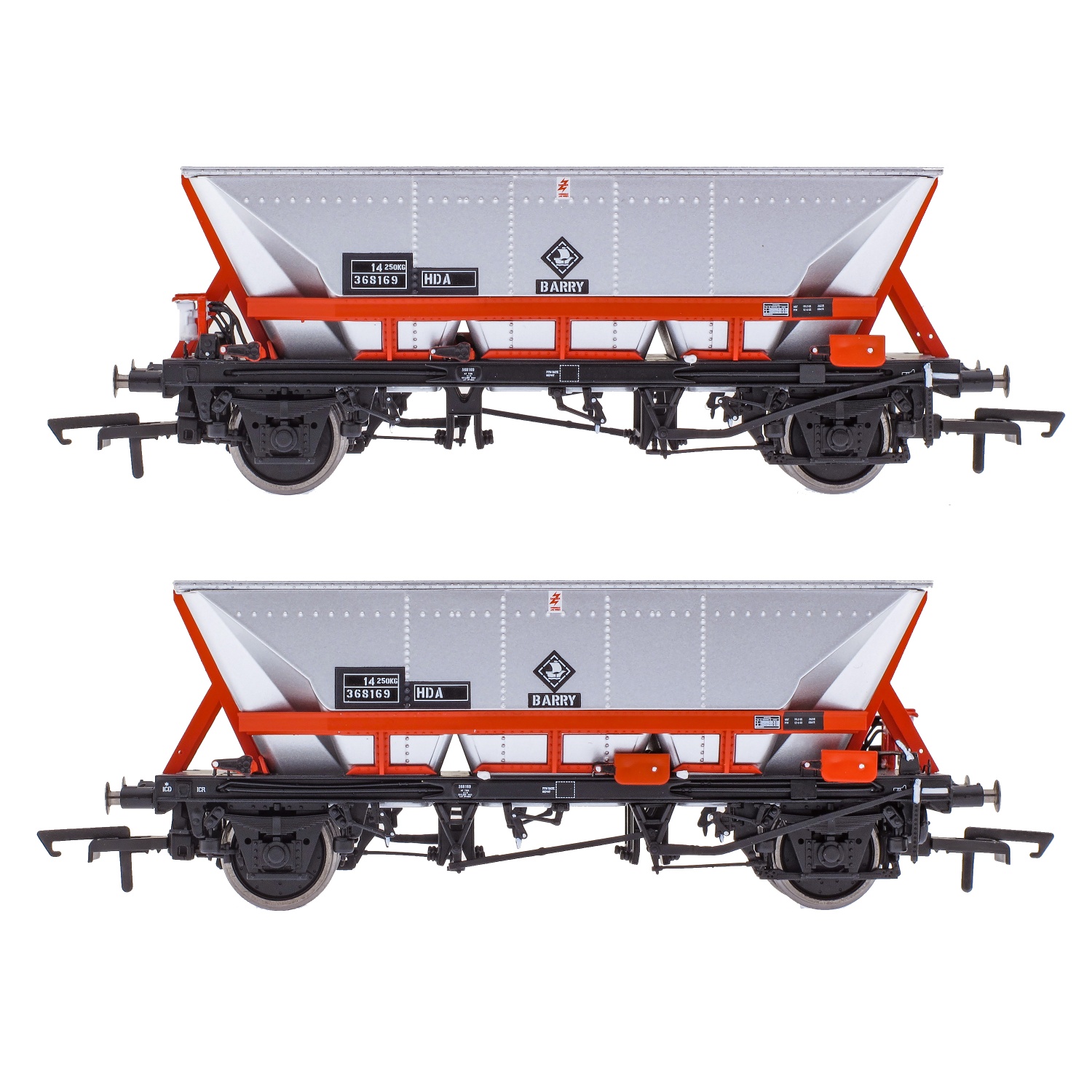 Initially built with four internal strengthening bars spanning the two bodysides, these were quickly damaged resulting in the body losing structural integrity. Around 1977, Doncaster Works began rebodying vehicles with a new style body with a horizontal strengthening beam along the top edge of the inside of the wagon. This can be easily observed by the tell-tale line of rivets along the upper half of the body. Wagons built after1977, including the HDAs, featured this from new.
As collieries closed in the years following the miners' strike, MGR coal flows started to get longer and Railfreight began a programme of refitting canopies to a wider number of wagons. Initially all HAAs were to be equipped with the canopy from new but many collieries were unable to accept the taller design, leaving a rump of around 150 dedicated to Scottish flows. The new "aerodynamic" canopy design introduced in the early 1990s was slightly modified from the original to cut down on coal dust being blown from the top of the wagons. The first to be modified was the entire fleet of HDAs between1991-2, these being recoded HBA, and they were followed by a large number of HAAs that became HFA.
Two other TOPS codes were introduced in the mid-1990s,both highlighting vehicles with uprated brake distributors. Mainline Freight began modifying HAAs from around 1995, these being recoded HMA, a scheme that was continued by EWS. Meanwhile canopy-fitted HFAs with similar mods became HNA. Around the same time Mainline and Transrail began removing the canopies from HBA and HFA wagons, the vehicles being recoded back to HDA and HAA respectively .Under EWS, mixed rakes of all types became common with HAA, HDA and HMA being seen in the same trains with HBA, HCA, HFA and HNA also being regularly marshalled together.
The MGR hopper design was considered a huge success and it was developed for into wagons for three other commodities. The most famous is the china clay version (TOPS code CDA), which was introduced in 1987-8, 124wagons being built at Doncaster Works and delivered wearing ECC English China Clay branding with blue frames. A further 15 were rebuilt from HAA hoppers in1989. CDAs are currently still in use on these trains in EWS and DB liveries, some still sporting original evidence of their original blue cradles and hoods. The other two HAA derivatives carried lime (TOPS code CBA) and gypsum (TOPS code PFA).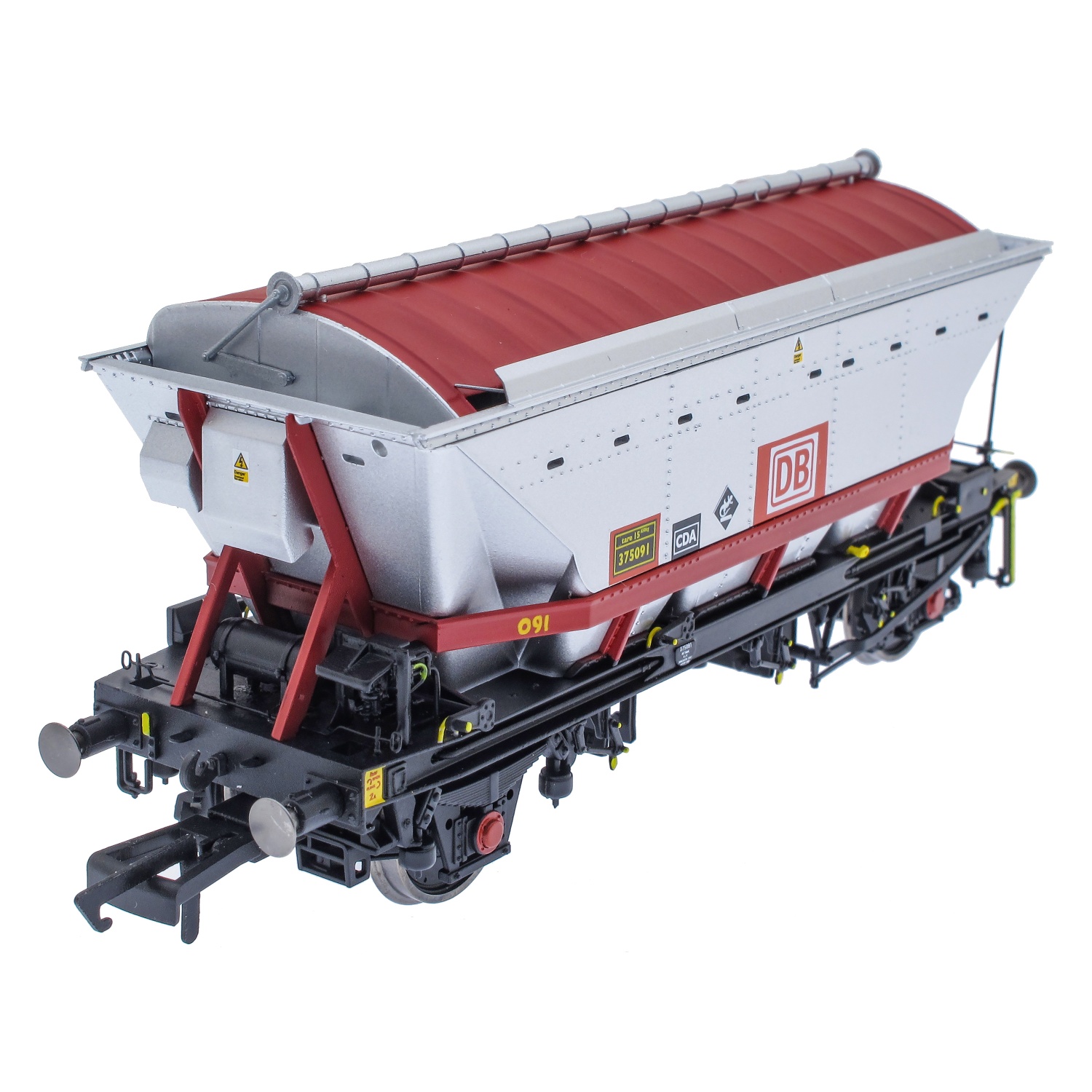 By the late 1990s between 5,000-6,000 MGR wagons still existed although around 10% of these were stored for repairs or conversion. The most important of the rebuild programmes was the creation of a fleet of MHA ballast/spoil box wagons built on the stripped down HAA underframe.
These were built by RFS(E) Doncaster in 1997. The initial order for 250 was extended several times until eventually over 1,150 wagons were converted using two distinct body styles. Early examples wore the fishkind name "Coalfish".
The introduction of the first Thrall-built bogie HTA hoppers in December 2000 was the beginning of the end for the MGR coal wagons, and the final services ran to Longannet power station in Scotland in2008, with Drax, Aberthaw, West Burton power stations and Westbury cement works also seeing deliveries in the latter half of that year. The MHA and CDAs are still in service today, albeit in depleted numbers.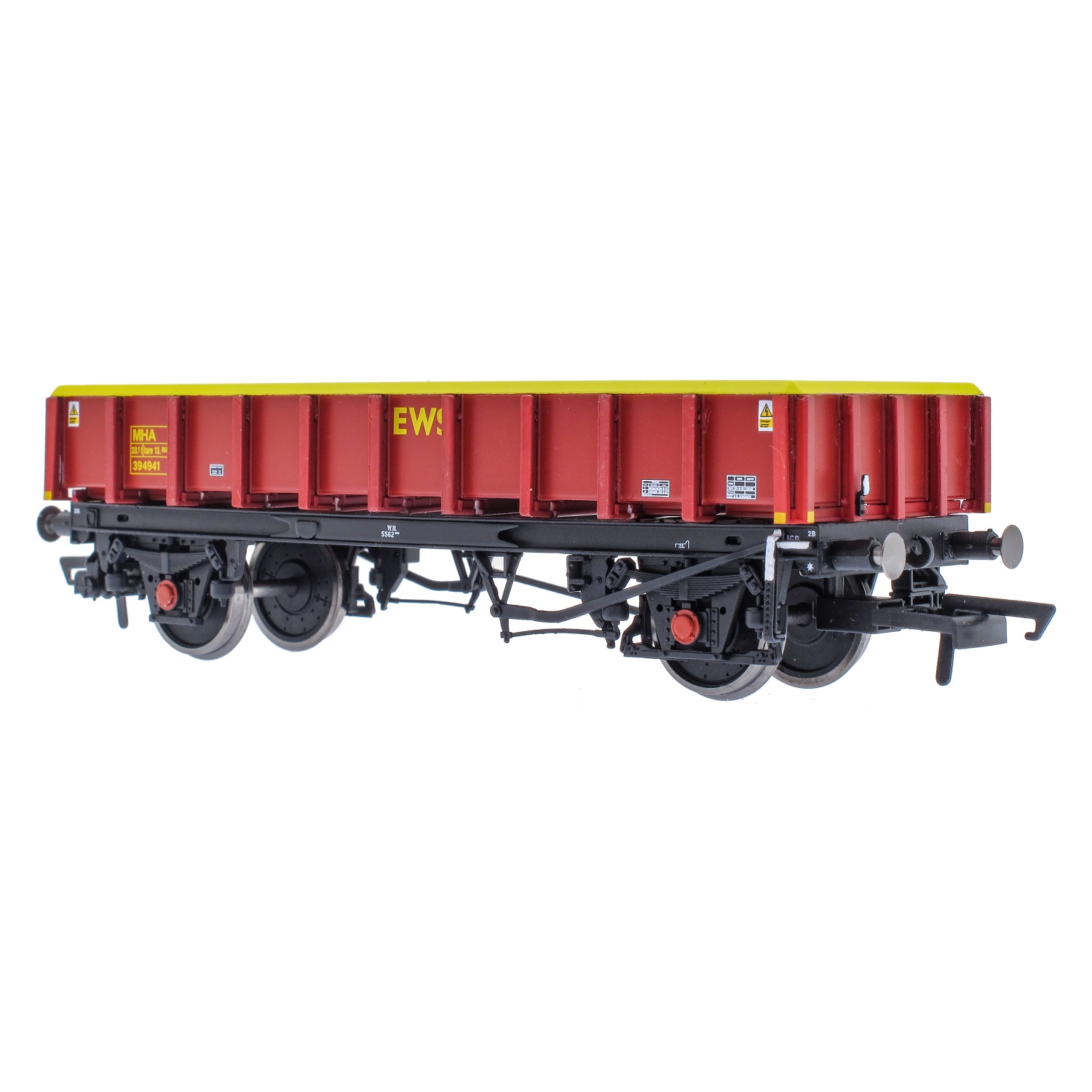 With such a vast array of detail variations to incorporate into the tooling suite, the Accurascale research team undertook extensive surveying of a number of variants when embarking on this complex project. Since Accurascale debuted in 2018, the HAA and its constituents have been the most requested wagon through customer surveys, emails and forum/social media posts. An essential component for Accurascale's "Powering Britain" range of coal wagons, work began on the project in early 2019. It soon became clear that this family of wagons would be a colossal undertaking with various detail differences to be catered for and presented a fantastic opportunity to do these wagons justice for modellers demanding a fresh approach to these icons.
Accurascale's approach to the MGR range is no different to any of their previous models, with a large tooling suite to account for the diverse range of detail differences across the MGR family. The full breakdown of the Accurascale tooling suite is as follows:
· CDA china clay covered hopper
· HAA/HOP AB as built body
· HBA 'rebodied' style body with uprated brakes/suspension and 'aerodynamic' canopy (ex-HDA)
· HCA/HOP 32 AB with 'as built' style body and canopy
· HDA 'rebodied' style body with uprated brakes/suspension
· HMA 'rebodied' with modified brake distributor (ex-HAA) · MHA with later-style body
· HAA rebodied · HFA rebodied with 'aerodynamic' canopy
· HNA 'rebodied' with modified brake distributor and 'aerodynamic' canopy (ex-HFA)
· MHA early- and late-style bodies
· CBA lime hopper
· MAA/MAB box open
Like all Accurascale projects, each model will consist of a wealth of separately-applied detail and quality materials, such as a fully diecast chassis to provide ample weight for excellent running capabilities, as well as much use of lost wax casting and etched components and high quality injection-moulded plastic to capture these stylish wagons in model form.
A grand total of 23 different three-packs will form the first production run, split into two batches. Batch one will consist of the HAA, HCA and CDA which are due in Q4 2021, and batch two will be formed with the MHA, HDA, HMA and HBA which will follow in Q2 2022. Liveries are a smorgasbord across the life of these wagons, with original BR freight brown on HOP ABs all the way to DB livery on the CDAs and MHAs across 23 different packs.

The full range of Accurascale MGR, CDA and MHA wagon packs are available to pre-order here>>>

Note images for illustrative purposes only.
Subject to alteration.
Return to Page Top