LSWR GATE STOCK PUSH-PULL SET
We have commissioned the much-requested LSWR Pull-Push Gate Set in OO Gauge. This will be produced from tools owned by Kernow Model Rail Centre and will be to the same high standard as the Beattie Well Tank and Adams O2 Models. We worked closely with Graham Muspratt and Mike King to ensure the models are as accurate as possible.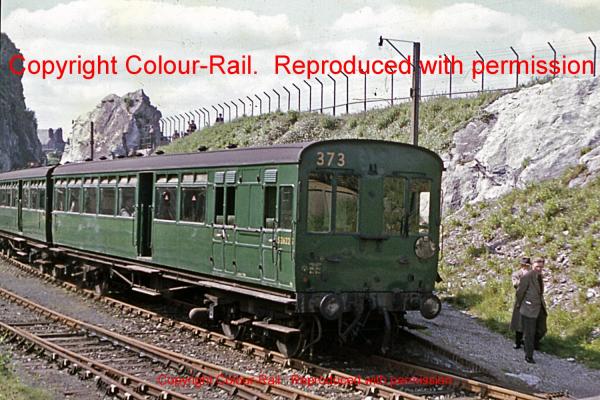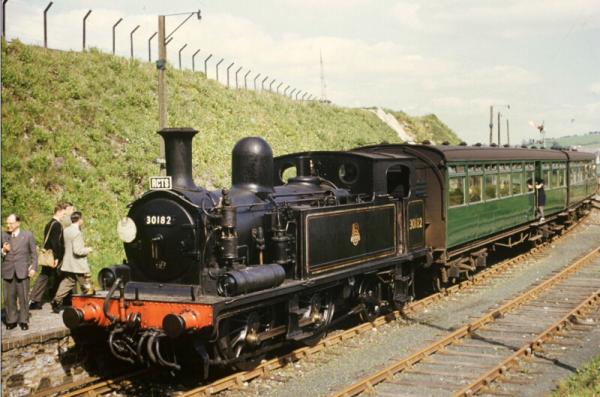 Four versions of the 1914 Stock will be available: -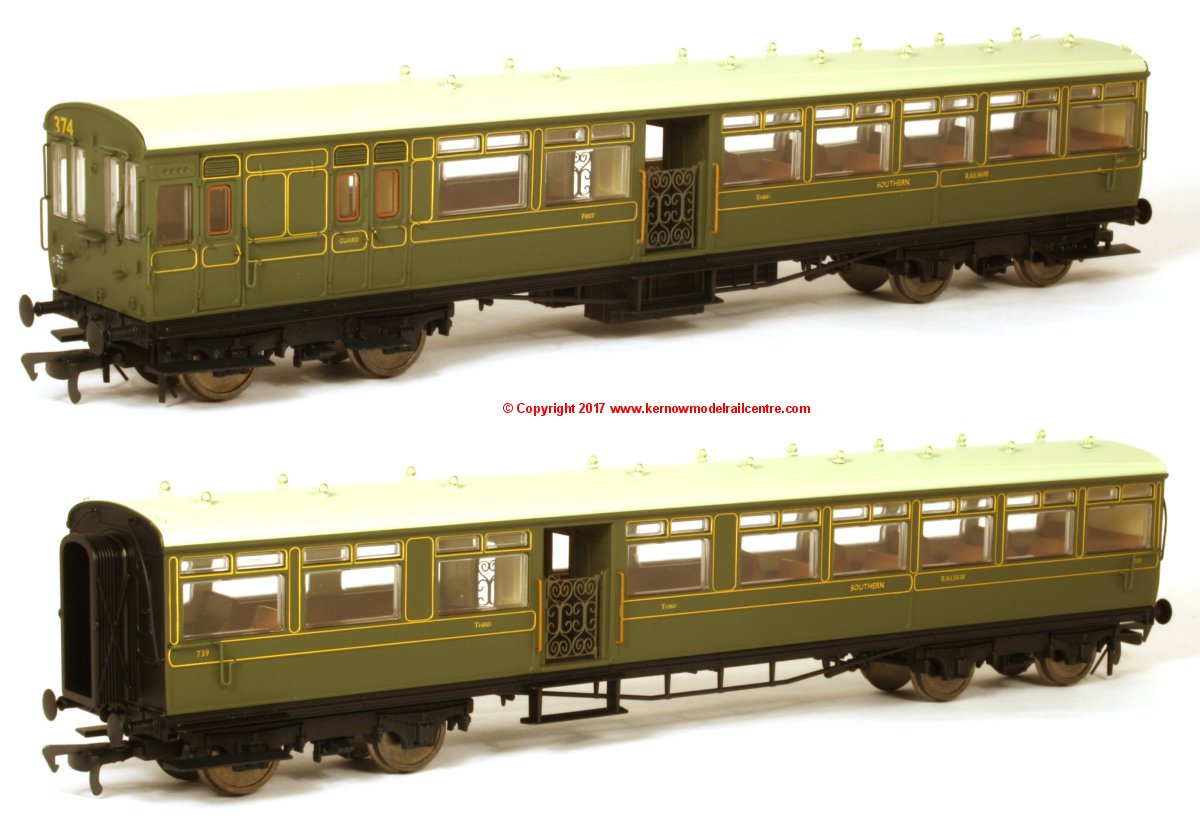 K1001 Set number 374 in SR Lined Maunsell Green livery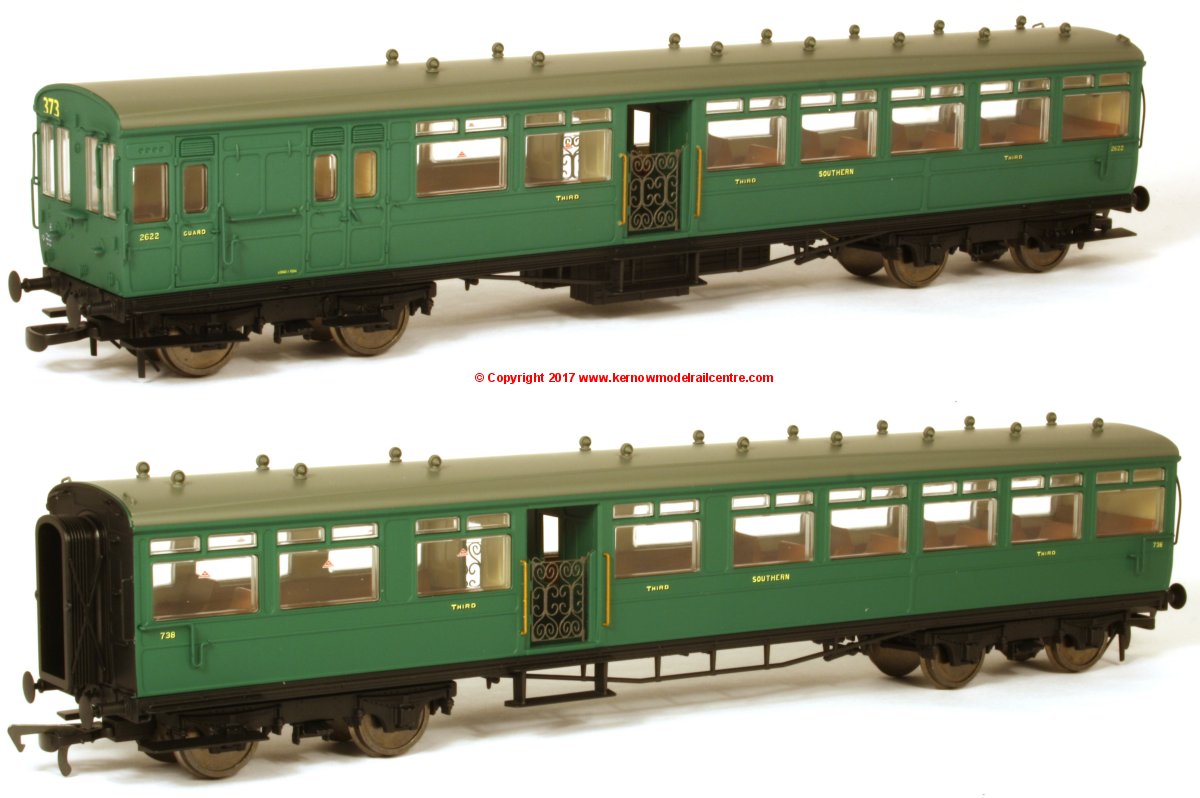 K1002 Set number 373 in SR unlined Malachite Green livery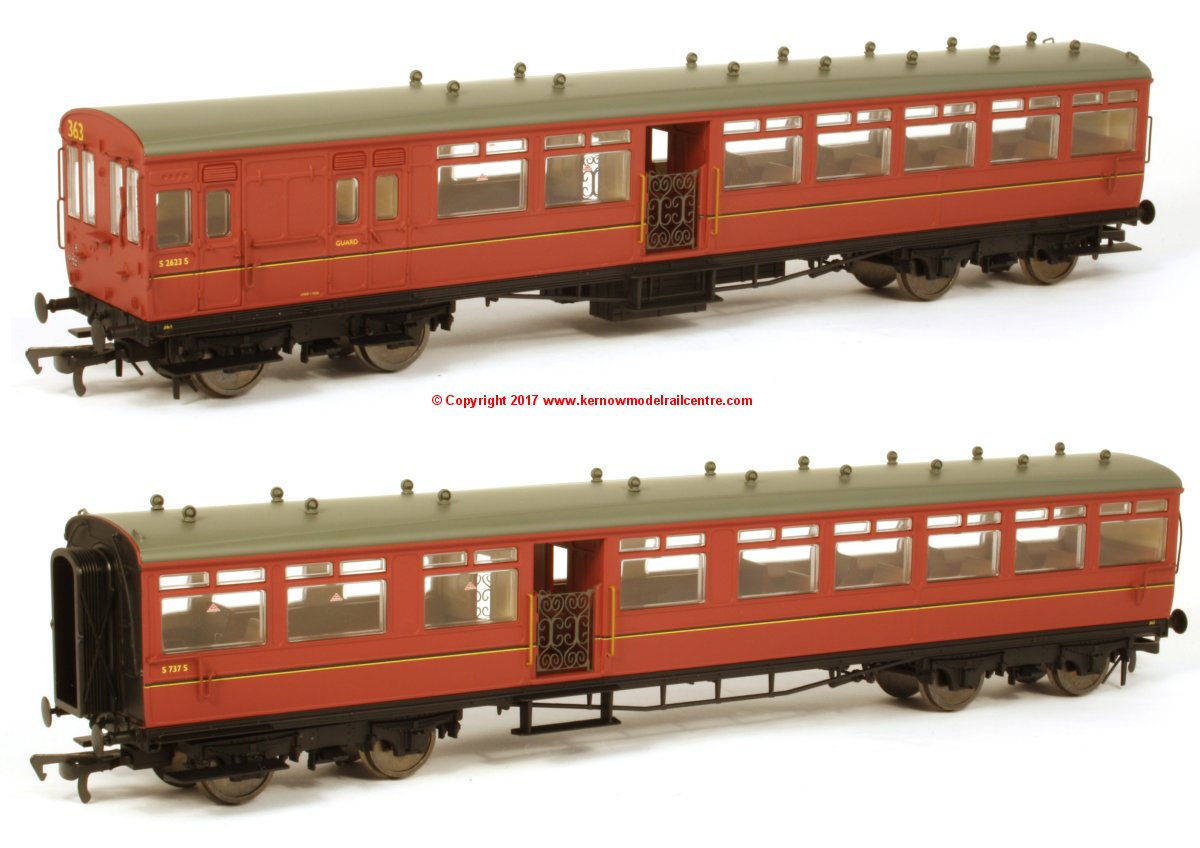 K1003 Set number 363 in BR Crimson livery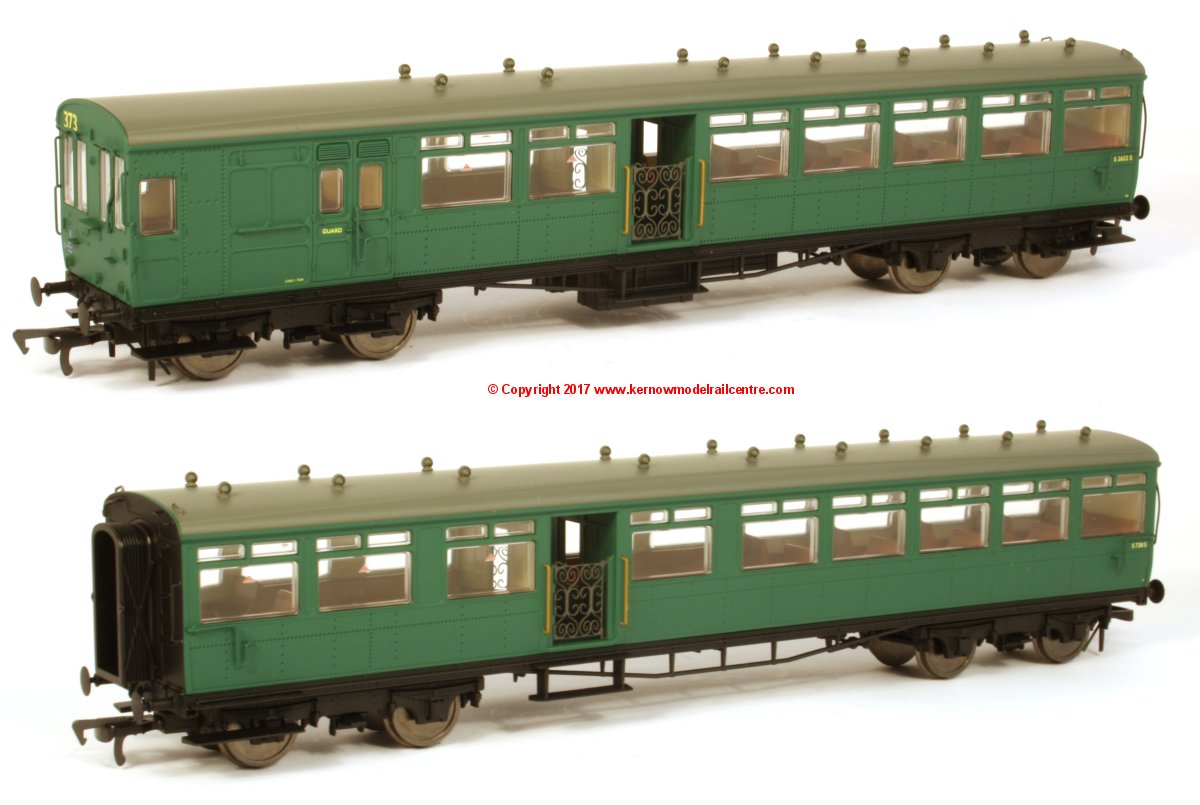 K1004 Set number 373 in BR (SR) Green livery
Each twin pack will contain the Driving Brake Composite (which was downgraded to Driving Brake Third during 1939) and Third coach and will be priced at £129.99. (Existing orders placed prior to 27th October 2016 will be held at the original price).
Each set has unique details which will be reproduced on the models, including representations of the steel plating applied to K1004.

Spot the differences in the image below!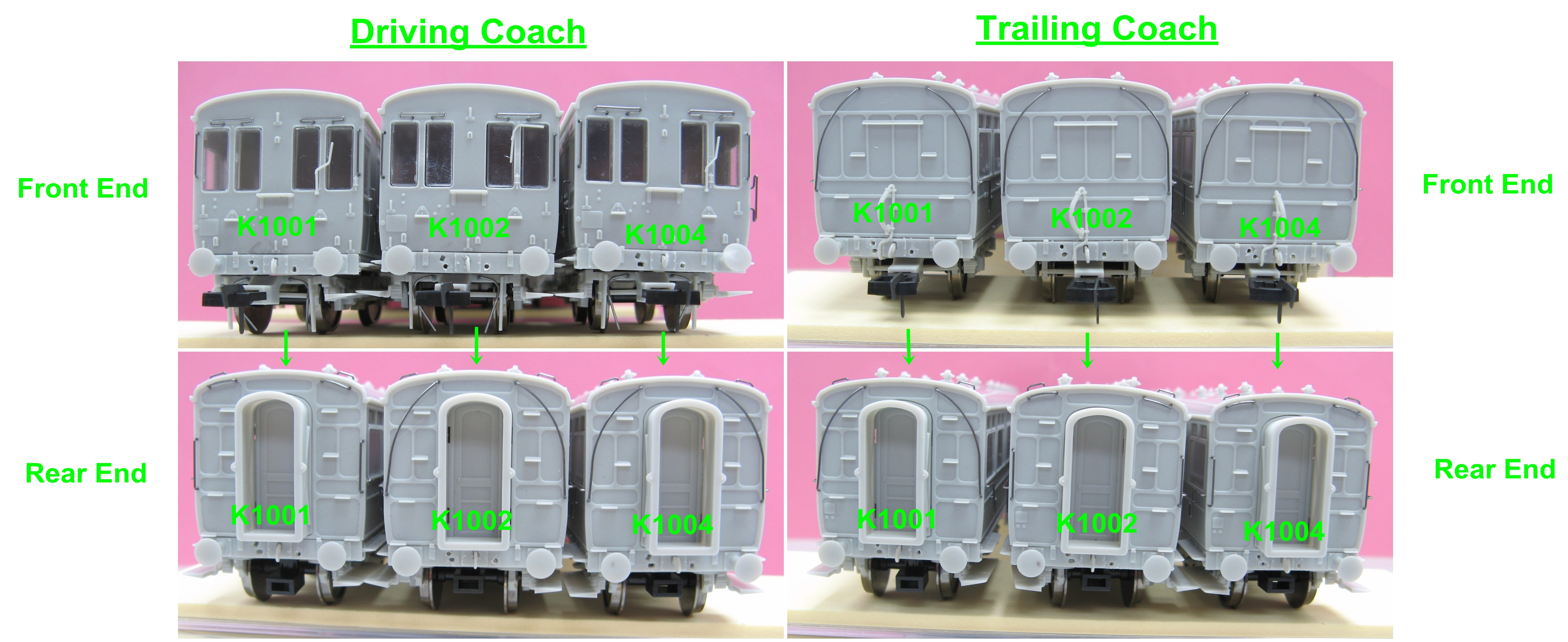 In December 2013 we received the cad-cams for this model. Several minor changes were made and tooling commenced in February 2015.

The first shots from this tooling were produced in June 2015 and the image below shows the result of this.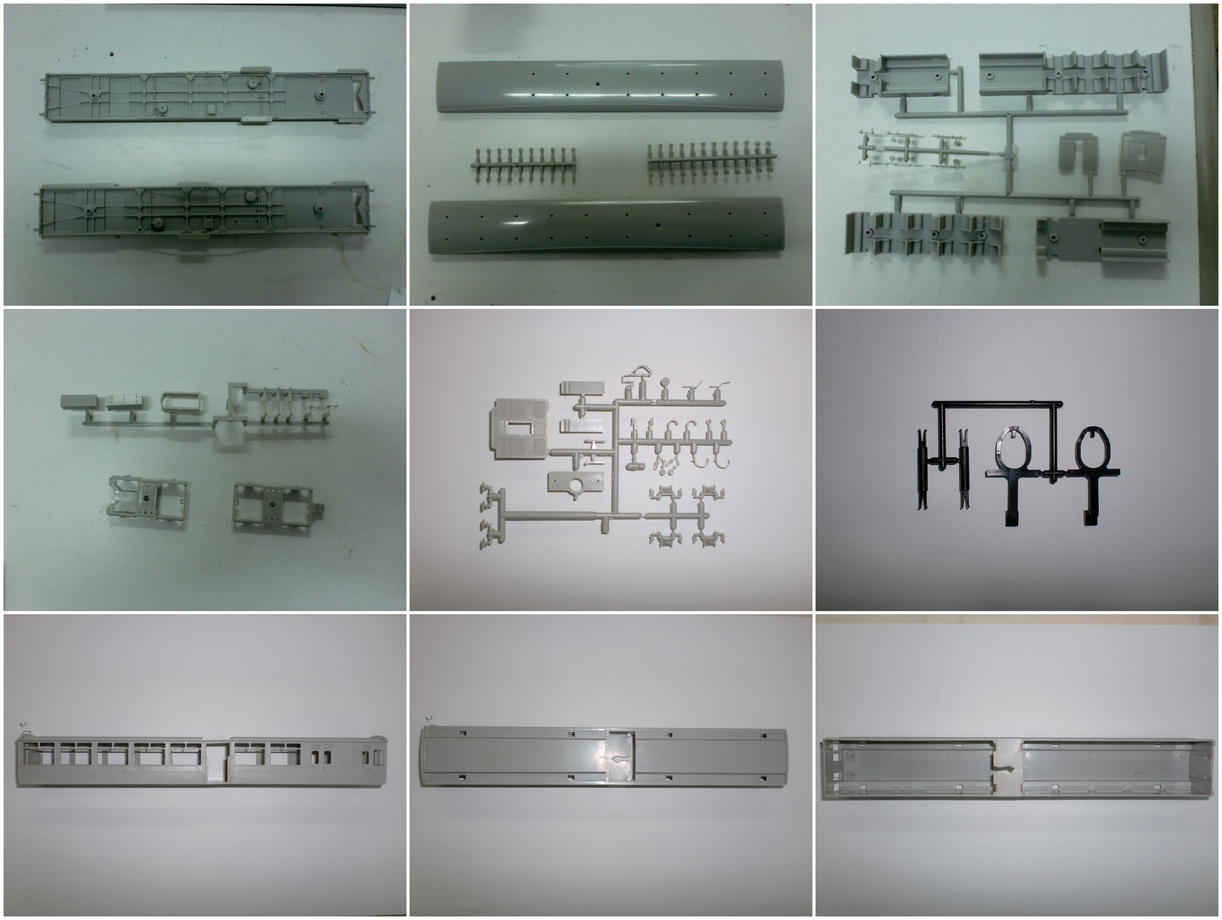 This image was taken in the factory and we received a fully-assembled model towards the end of June. The first shot is to check for the main dimensions and check that the assembled parts fit correctly etc, and does not have the full detail.

The first shot has been checked and several changes have been made. The second shot arrived 27th October 2016 and was extensively test run. Livery artwork was submitted in November 2016.

The first livery samples were received on 17th March 2017 and comments fed back. The latest livery sample was received on 12th May 2017 and production authorised subject to a couple of minor corrections. Production was completed in September 2017 and the models are due to be shipped any day.

PROJECT UPDATE 19TH SEPTEMBER 2017

Please find below a copy of the email which will very shortly be sent to Gate Stock pre-order customers.


Dear Mr

Thanks for your order for our LSWR Gate Stock model(s).
These models have taken far longer to produce than we ever anticipated when we announced the models in 2011! Despite having to change manufacturers and the exchange rate collapsing, along with rising prices in China, we have still managed to maintain the price. The good news is that the wait is almost over – the models have been made and are ready to leave the factory in China.
The bad news is that our supplier has changed terms and conditions and now requires payment before the goods will leave. Having already paid a substantial sum for the tooling some time ago (and the credit / interest fees that go with it!) we could now seek further finance to arrange the shipment. The additional credit / interest fees on this would mean we could no longer honour the original price.
We would instead like permission to charge you for your models today. This will mean we can honour your original price and the models will ship from China on 6th October, to arrive in Southampton on 5th November. It would then take a further week to pass through customs and for onward delivery to Cornwall ready for us to send on to you. Distance Selling regulations prevent us from charging for goods that cannot be supplied within 28 days without the express consent of the customer which is why we are contacting you today.

If you choose not to pay in full now but wait for the models to arrive you will need to pay the full current price of £129.99. As the models are due within two months anyway we hope this will be acceptable.
You can let us know how you wish to proceed with your order by either replying to this email or by phoning the number below and speaking to a member of our team. If your card details have changed or expired you can also update these by placing a new order on the website. If you place your new order through our website, please remember to add a customer note to say the order replaces your pre-order so that we can correct the price for you.
THE PRE-ORDER PRICE OFFERS WILL EXPIRE ON 18TH OCTOBER 2017

Many thanks for your continued support with this project. Further updates will be given on our website and our weekly email newsletter.
You do not need to wait to be contacted by us if you have a pre-order and wish to proceed, you can contact us as soon as you wish!

PROJECT UPDATE - 4th October 2017 - GATE STOCK LEAVES CHINA!

The Gate Stock has now left the factory and will be loaded on board the Zhong WEI/5PVE2N which departs Hong Kong 6th October and is due to dock in Southampton around 5th November. We have negotiated a deal with the factory to allow us to pay the balance upon arrival at Southampton, thus giving us a few more weeks to complete the pre-order processing.

Updates will be added to this page as and when they become available and when updates are made we will also announce it in our newsletter.